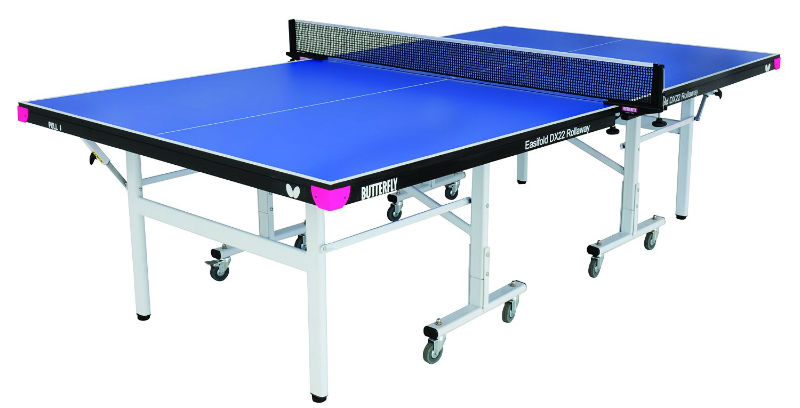 Are you in search of the best mini table tennis board? You surely were unable to find one. Not to panic, we are here to help you with this quest. During the pandemic, we are forced to be indoors and at a time like this, we may think of buying an indoor game which will help us cut time. If you are a beginner to the Table Tennis game, you will surely look for a budget-friendly and small-sized table that should be under your budget. 
Here we have listed some of the mini tables available on the online market which can be useful in the process of getting yourself an actual playing table.
Top 5 Mini Table Tennis Boards
#5 Pongori PPT 130 
The following table is suitable for a beginner as well as an expert. Comes at a budget-friendly price and also easily fits in a small place. Its foldable feet and detachable tabletops make it easy to install and store. Stability is guaranteed by 20mm feet and it also comes with a locking system. The 12 mm tabletops are made of high-density wood particleboard brings you 2 years of warranty. Composition : Board : 100.0% Wood Structure : 100.0% Steel Packaging : 100.0% Cellulose Main fabric. Table Tennis Board price Rs 5,499

back to menu ↑
#4 Stag Mini Table Tennis Table 
1 stag table and 1 net set, the Stag Mini table comes with a top thickness of 12mm and the table features the size of 1800*900*760 mm. Try enjoying the game with the best quality paint which provides attire and consistent bounce. Moreover, it also preserves the surface and makes the table long-lasting. If you are short on space and want to have a fun activity in your home or at your office, this is the best choice you can get. Table Tennis Board Price Rs 7,999. Flipkart.

back to menu ↑
#3 GSI Table Tennis board
Table Size: 182*91*76 cm ( 6ft*3Ft), Board Thickness: 18 MM, Base Frame Size: 1″ Square, Wheel Size: 50mm*25mm, Board Color: Blue, Board Type: High-Quality Lamination, Base Frame Material: MS Steel, Construction: 2 wheels with lock & 6 wheels without a lock. 
The following table comes with a child safety lock system. It can be easily moved from one place to another anywhere indoor. Moreover, it comes with powder-coated instead of spray paint making it a unique table. The best feature of this table is that it does not require any special installation method. Table Tennis Board Price Rs 7,999.

back to menu ↑
#2 Gymnco Mini Table Tennis Table
A type 18 mm table, pre-laminated particle board, base frame material: steel. Table tennis board size comes with 40 mm X 25 mm, leg size: 25 mm X 25 mm, wheel size: 50 mm. However, the table comes with an installation process. It includes a sticky user manual. All in all, you get a pair of table tennis racquet, balls and a Table with a net stand.  Amazon. Flipkart 

back to menu ↑
#1 DEUCE Mini
A foldable & roll away Table Tennis board comes with a size of 180*90*67 CM (L*B*H). 18 MM Pre – Laminated Top. Frame Size: 25*25 MM, made using MS Steel. MS Steel Legs: 25*25 MM & 50 MM wheels. Manufactured for die-hard table tennis players wanting a table for playing with family or friends. Amazon, Flipkart (different supplier)


The above information is based on the information provided on Amazon.in
If you find this article to be useful please share it with your friends and loved ones. However, if you feel there must be some changes, please let us know in the comment section. 
Also Read: Seagate Backup Plus Ultra Touch 1 TB External Hard Drive (Best 1 TB Hard Disk)