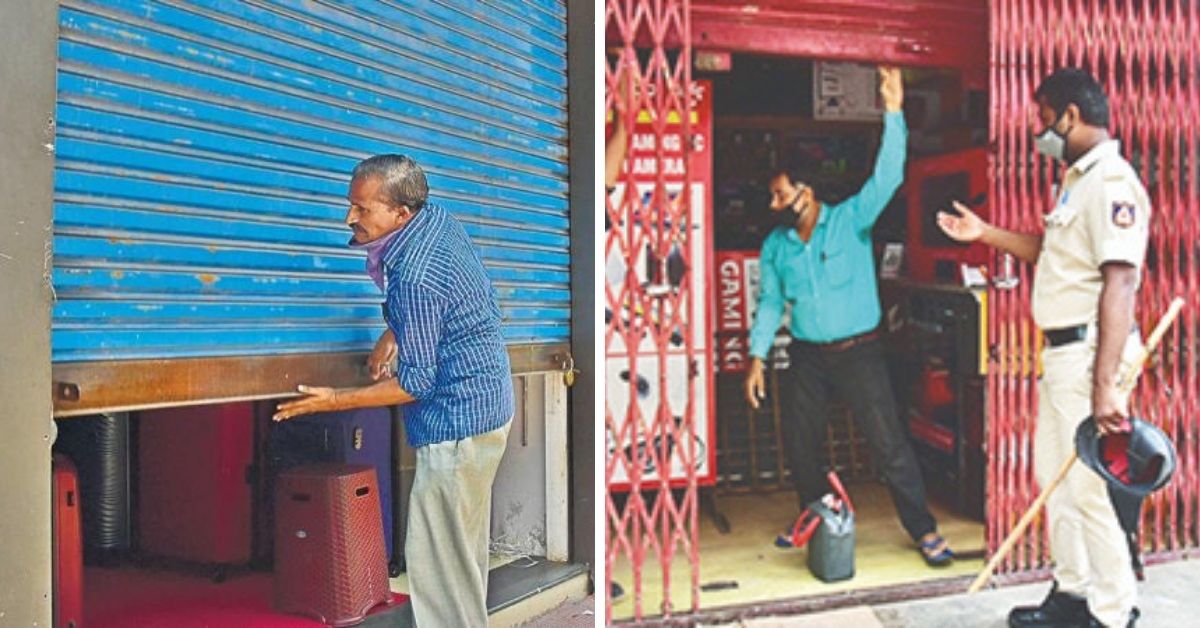 Yesterday Karnataka government, making changes in its Covid guidelines, issued a clarification. The government said that only shops selling essentials like fruits, vegetables, groceries, fuel, medicines can stay open on weekdays.
Revised protocols
Yesterday, it was total confusion among traders who thought that the order of the Covid protocol was related to the weekend curfew. However, unaware of the situation, traders started to open their shops. Immediately the police and senior municipal and district-level officers reached there asking them to close following revised guidelines.
Earlier, the government had announced a night curfew from 9 pm to 6 am every day and a weekend curfew till May 4. Chief Secretary P. Ravi Kumar, on Wednesday night, issued guidelines on enforcing night curfew and weekend curfew, which were revised with the next day to include a sentence that asserted shops and establishments other than those listed in the order will stay shut.
In this revised order, shops like ration, grocery, wholesale vegetable markets, restaurants and hotels (only takeaway products), standalone liquor shops and bars, food processing related industries, banks and insurance companies, delivery of e-commerce, and barber and salon shops are permitted to operate with strict adherence to the COVID protocol.
Activities related to construction and industries are also permitted only if employers are ready to follow COVID-19 protocol.
Partial Lockdown
After the event, the busy streets of Chickpet, Balepet, Chamarajpet, Cottonpet, and neighboring trade centers came to a halt. A few of the traders speaking to some news agencies said the closing of shops is "partial lockdown", which would bring them a critical blow to their businesses, which is already suffering for the past three to four years.
Closed on Weekdays
 Schools, colleges, educational/ training/coaching institutions, etc. shall stay shut. Online learning to continue.
 All cinema halls, shopping malls, gymnasiums, yoga centers, spas, sports complexes, stadia, swimming pools, entertainment/amusement parks, clubs, theatres, bars, and auditoriums, assembly halls will remain closed.
 All political, social, religious gatherings have been banned.
 Places of worship will stay shut.
Open on weekdays
Shops selling essentials can function.
Restaurants and eateries can provide only takeaway service.
Standalone liquor shops are allowed for takeaway only.
Banks, insurance offices, and ATMs are allowed.
Cold storage and warehousing services allowed.
Barbershops and salons can function on one condition that will have to follow the COVID-19 guideline.
Petrol/diesel pumps, gas stations shall be fully operational.
Source: India.com
Also Read: 50% Of Village Population In Karnataka's Belagavi District Tests Positive