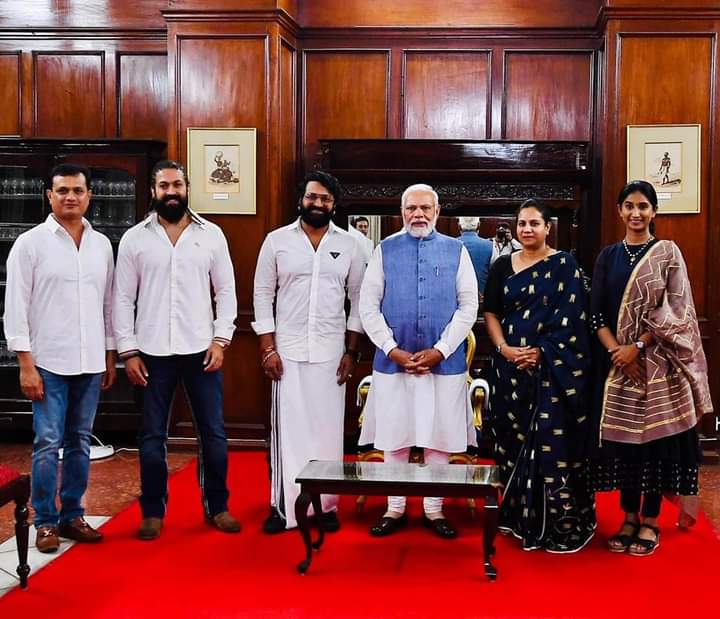 Kannada film actors Yash and Rishab Shetty had the opportunity to meet with Indian Prime Minister Narendra Modi during his visit to Bangalore on February 13th. The meeting was a momentous occasion for the actors, who have gained significant popularity in the Kannada film industry.
Prime Minister Narendra Modi is in Bangalore for Aero India 2023. When he is in the city, Yash, Rishab Shetty, Ashwini Puneeth Rajkumar, Aiyyo shraddha, and others meets Prime Minister Narendra Modi. BJP Karnataka tweeted that the Prime minister met the leading figures of the Karnataka film industry in Bengaluru. He discussed the contribution to culture, new India, and the progress of Karnataka.
ಪ್ರಧಾನಿ ಶ್ರೀ @narendramodi ಅವರು ಬೆಂಗಳೂರಿನಲ್ಲಿ ಕರ್ನಾಟಕ ಚಿತ್ರರಂಗದ ಪ್ರಮುಖರನ್ನು ಭೇಟಿಯಾದರು. ಸಂಸ್ಕೃತಿ, ನವ ಭಾರತ ಮತ್ತು ಕರ್ನಾಟಕದ ಪ್ರಗತಿಗೆ ಅವರು ನೀಡಬಹುದಾದ ಕೊಡುಗೆಗಳ ಕುರಿತು ಚರ್ಚಿಸಿದರು. pic.twitter.com/XMjNLdMXB0

— BJP Karnataka (@BJP4Karnataka) February 13, 2023
KGF 2 is the highest grosser of Kannada film industry with more than 1000 crores and followed by Kantara, which collected over 400 crores. Both Yash and Rishab Shetty tweeted that PM Narendra Modi congratulated to them for the success.
Inspiring meeting PM @narendramodi ಅವರು as we discussed role of Entertainment industry in shaping New India and Progressive Karnataka. Proud to contribute towards #BuildingABetterIndia 🇮🇳 Your visionary leadership inspires us & your encouragement means the world to us @PMOIndia pic.twitter.com/M95vv2cJk2

— Rishab Shetty (@shetty_rishab) February 13, 2023
ದೇಶದ ಅಭಿವೃದ್ಧಿಗೆ ಭಾರತದ ಚಿತ್ರೋದ್ಯಮದ ಕೊಡಗೆ ಅಪಾರ, ಈ ಬಗ್ಗೆ ಪ್ರಧಾನಿಗಳೊಂದಿಗೆ ಕನ್ನಡ ಚಿತ್ರರಂಗದ ಜನಪ್ರಿಯ ನಟ @TheNameIsYash ತಮ್ಮ ಅನಿಸಿಕೆಯನ್ನು ಹಂಚಿಕೊಂಡಿದ್ದಾರೆ. ಅಷ್ಟೇ ಅಲ್ಲದೆ ದೂರದೃಷ್ಟಿಯನ್ನು ಹೊಂದಿರುವ ಶ್ರೀ @narendramodiಯವರು ಸದಾ ದೇಶದ ಸರ್ವತೋನ್ಮುಖ ಅಭಿವೃದ್ಧಿಗೆ ಚಿಂತಿಸುವ ನಾಯಕ ಎಂದು ಅವರು ಶ್ಲಾಘಿಸಿದರು. pic.twitter.com/7lgwvnu5OH

— BJP Karnataka (@BJP4Karnataka) February 13, 2023
The Prime minister also met Ashwini Puneeth Rajkumar, the wife of late Puneeth Rajkumar. Shraddha aka Aiyyo shraddha popular in social media influencer also met PM Modi & she wrote in the tweet that, the PM's first word for her is Aiyyo…
Namashkar, yes, I met the Honorable Prime Minister of our Country. His first word to me was 'Aiyyo!'.
I am not blinking, that's my 'O My Jod, he really said that, this is really happening!!!!' look. Thank you @PMOIndia! pic.twitter.com/zBYexcy1I2

— Aiyyo Shraddha (@AiyyoShraddha) February 13, 2023
Also read about: Dr Bro