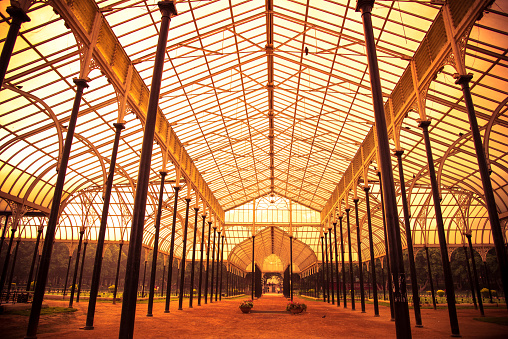 Have you been in search of the perfect Places to visit in Bangalore on Valentine's day? From amazing adventures to exciting activities, this guide will introduce you to the top ten places to visit that will take your breath away!
Here's 10 Places to visit in bangalore:
Bannerghatta National Park

Lalbagh Botanical Garden

Wonderla amusement park

Thippagondanahalli Reservoir

Nandi Hills

ISKCON Temple

Bangalore Palace

Cubbon Park

UB City

Rasta Cafe
Go adventuring at Bannerghatta National Park:
Bannerghatta National Park is a great place for outdoor exploration and adventure. It's home to more than 250 species of birds, eight species of arcids and primates, 12 species of predators, and 27 species of reptiles. You can also enjoy safari trips through the park, bird watching, trekking, and camping. Enjoy a unique experience as you witness many wild animals in their natural habitat! it is one of the must places to visit in bangalore on valentines day or any other day.
Take a stroll in the Lalbagh Botanical Garden:
Lalbagh Botanical Garden is one of the most spectacular sights to behold in Bangalore! This sprawling park has 247 acres of lush gardens with hundreds of tropical and exotic species of plants, trees, and flowers. Stunning lakes, ancient rocks, an aquarium, and a Glass House are also found in this botanical paradise. This is one of the best Places to visit in bangalore on valentine's day or with any of your friends. Bring your friends along to marvel at the wonderful sight and take a stroll around the park!
Enjoy crazy rides at Wonderla amusement park:
Wonderla is a great spot for groups of friends who are looking for some thrilling outdoor adventure. With over 50 exhilarating rides including the highest Boomerang, the most innovative roller coasters, amusing water rides, and even play zones – there's something that will excite everyone! Enjoy crazy rides and have some uninterrupted fun with your buddies at this amusement park.
Explore Thippagondanahalli Reservoir and let nature relax you:
Take a break from the hustle and bustle of city life and let nature soothe your soul. Thippagondanahalli Reservoir is a great place to explore with friends and relax in its pristine natural beauty. You can go camping here, visit the bird sanctuary.  Or simply sit by the lake and have long conversations under star-lit skies. The stunning lake views offer a perfect backdrop for unique photo ops that you can share on social media with family and friends.
Hop on a memorable journey to Nandi Hills Station lookout point to experience breathtaking sunsets & sunrises:
Nandi Hills sits atop an ancient mountain range that was once the summer retreat of Tipu Sultan. It's the perfect spot to experience a beautiful sunrise or sunset. The view from the station lookout point is simply stunning, offering a panoramic view of Bangalore's landscape and beyond. It is one of the Places to visit in bangalore. Go there with your friends and watch as day turns into night and expansive skies turn from blue to black, changing into a bedazzled canvas of millions of stars. Don't forget to snap some photos – the breathtaking views make it the perfect place for photography!
This temple is a major landmark in Bangalore and is a popular place of worship for the Hindu community. The temple is also known for its stunning architecture and serene atmosphere making it a great place to visit for those looking for a spiritual experience. Visitors can also enjoy the beautiful gardens and courtyards that surround the temple. As well as the stunning views of the city from its terrace.
This beautiful palace was built in the 19th century and is a great place to visit for those interested in history and architecture. The palace is a perfect blend of Tudor and Gothic styles, with intricate carvings and beautifully designed gardens. Visitors can take a tour of the palace to learn about its history and admire its beauty, or simply relax in its beautiful surroundings.
This is a large public park that covers over 300 acres in the heart of Bangalore. It is a popular place for picnics, walks, and other outdoor activities, and is a great place to spend a day with friends. The park is home to a variety of flora and fauna, as well as several interesting monuments and memorials. This is one of the best Places to visit in bangalore. Visitors can also enjoy the beautiful lake that is located in the center of the park or simply relax and take in the peaceful atmosphere.
This is an upscale shopping and dining destination in Bangalore, featuring luxury boutiques, fine dining restaurants, and a central courtyard for relaxing. Visitors can indulge in some retail therapy, sample delicious local and international cuisine. Or simply enjoy the stylish atmosphere of the city. UB City is a popular destination for those looking for a unique shopping and dining experience and is a must-visit place for anyone traveling to Bangalore with friends.
Rasta Cafe is a popular cafe located in Bangalore, India. It is known for its laid-back, casual atmosphere and its reggae-inspired decor. The cafe offers a variety of vegetarian and non-vegetarian dishes, including pizza, pasta, sandwiches, and burgers. It also has a wide range of drinks, including coffee, smoothies, and cocktails. Rasta Cafe is a popular hangout spot for students and young adults and is known for hosting live music and jam sessions.
So these are the best Places to visit in bangalore on valentine's day or with your friends.
Thank you
Also read about – Top Restaurants in Bangalore