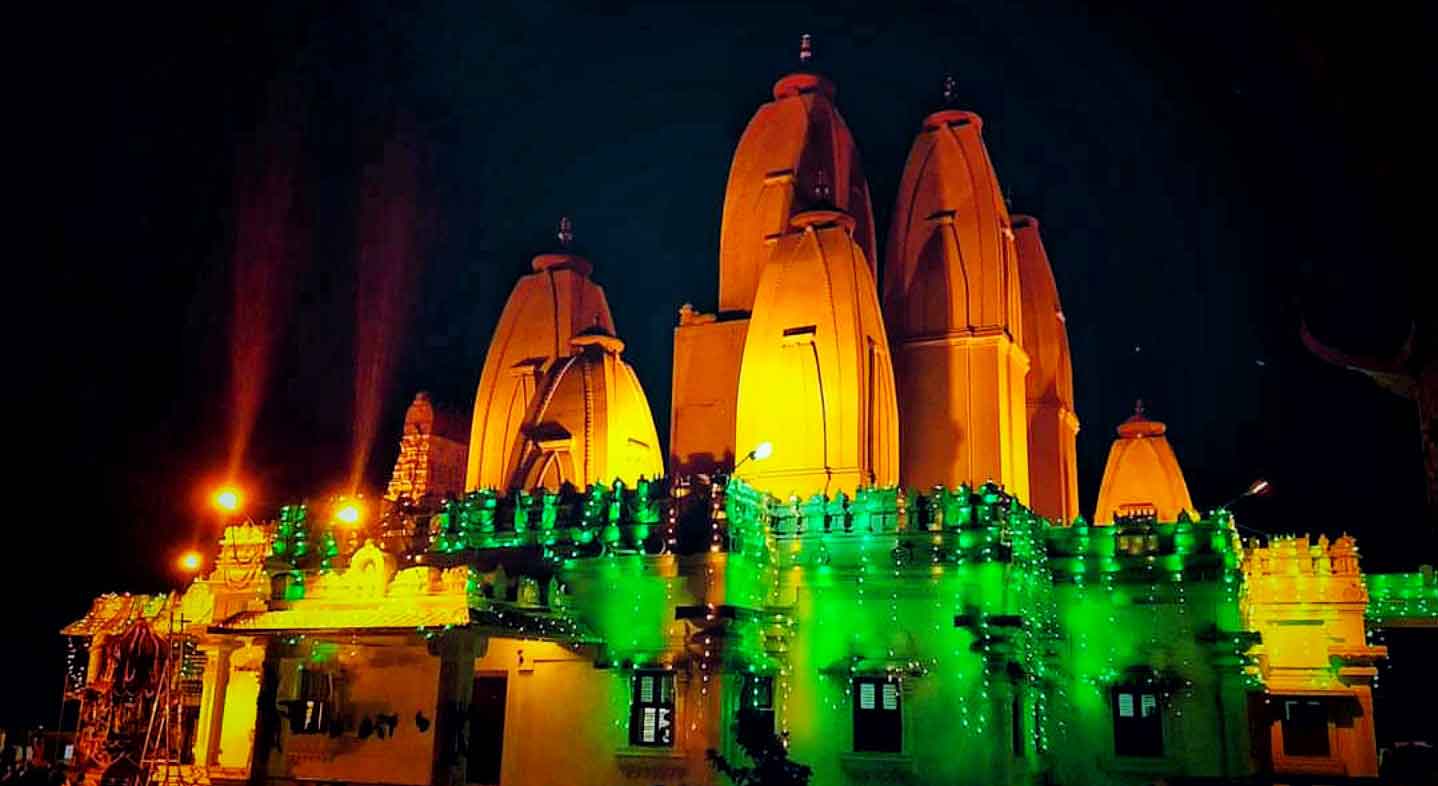 Although Bangalore city is commercialized and turned into silicon city, But it is still carrying its rich cultural heritage. Travel across the city you can see a lot many historical and famous temples in Bangalore in almost all areas. Most of them have thousands of years of history which are built in Dravidian, Chola architectural style, and many other ruling dynasties. Few have got a modern touch. Few have lost their identity in-between concrete buildings.
Keeping the religious aspect aside if you are interested in the history of India, if you are interested in ancient architecture, you will surely have a great experience having a visit to any of these temples. It doesn't just give a piece of mind visiting these places but also tells stories of ancient India.
We still see a lot many foreigners visiting these temples every day to know the richness of Indian culture, One must visit these famous temples in Bangalore when you are around. 
13 Famous Temples in Bangalore
Big Bull Temple and Ganesh Temple
Also known as Dodda Basavana Gudi this was built by the former ruler of the Vijayanagara Empire in 1537, situated in south Bangalore. It is believed to be the biggest Basava/Nandi (Bull) temple in the world. The Nandi idol in the temple is about 15 feet and it is carved from single granite rock. Nandi is Lord Shiva's Vahana (vehicle). The temple is built by Kempe Gowda in a Dravidian architectural style.
The Bugle Rock park and the Ganesha idol are the other two attractions when you visit this place. During Hindu month "Karthika" November or December this place Kadlekaye Parishe (Groundnut Fair) is held, Devotees from all over offer groundnuts to the deity on the last Monday of this season.
Location: Basavangudi, Bull Temple Road, Bangalore
Gavi Gangadhareshwara Temple (Gavipuram Cave Temple)
A cave of the lord who adorns the goddess Ganga, Gavi means cave Gandhareshwara is another name of Lord Shiva who adorns the river Ganga on his head. The temple is situated in Gavipuram, Bangalore it is remarkable for being cut into the rock and its special astronomical significance. Built-in the 9th century the place looks magnificent. During Makara Sankranti (A Hindu festival) in mid of Jan before an hour of sunset, the sun rays will pass on Shivalinga here attracts thousands of devotees every year. It is undoubtedly one of the Famous Temples in Bangalore. 
Location: Gavipura, Kempegowda Nagar, Bangalore
Kadu Malleshwara Temple
Kadu Malleshwara is one of the famous temples in Bangalore. This temple is of Lord Shiva; it is said that the temple was built by Venkoji, Younger brother of great Maratha empire Shivaji during the 17th century when he was ruling a place called Thanjavur in Tamilnadu. The neighborhood Malleshwara got its name because of this temple and now it is known as Malleshwaram. The temple also has the statues of Nagara Kallu (stone snakes) with are fascinating which are installed by devotees as offerings for the fulfillment of their wishes. During Maha Shivaratri, A Hindu festival during Feb/March a great fair would be held here for a week wherein thousands of devotees from different places gather. Close to this temple, there is a mysterious temple called Dhakshinamuka Nandi Teertha Kalyani (a pond) a stream falls on the idol is must visit. 
Location; Malleshwaram, Bangalore
Dharmaraya Swamy Temple
Located in the heart of the city has a great history behind it. Nearly about 800+ years old, one of the fewest temples dedicated to the Pandava's brother Dharmaraya (from the epic Mahabharatha). An iconic "Karaga" festival happens here every year wherein lakhs together devotees take part during March/April. The priest dresses up as women carry a flower cone on the head in the procession.
Location: Thigalarpet, Bengaluru
Banashankari Temple
One of the most famous temples in Bangalore for the Hindu goddess Banashankari (Parvathi, Lord Shiv's wife) constructed during 1915 with a simple facade. Devotees here in this temple have a unique practice of offering prayers to Banashankari Amma during Rahukala the time which is considered as inauspicious. Especially, on Tuesday and Friday devotees offer prayers by lighting oil lamps made from hollowed-out lemons.
Location: Banashankari, Kanakpura road, Bangalore
Ragigudda Sri Prasanna Anjaneyaswamy Temple
Situated at the hilltop of the Jayanagar, This is one of the peaceful places in Bangalore. The temple is built in the year 1969 which is dedicated to Lord Hanuman, During Hanuman Jayanti (birthday of Lord Hanuman) the festival is celebrated with great gusto. The name Ragi Gudda is named after the pile of ragi (ragi grain) turned into a huge hill.
Location; Jayanagar 9th Block, Bangalore
Shivoham Shiva Temple
A famous Shiva temple built a couple of decades ago which has a 65feet Lord Shiva statue, Shiva is sitting in a meditation posture signifies the calmness. In the background, we get to see the structure of the mountain range of Kailasa. The interior beneath the enormous Shiva idol exhibits the famous Shivalings all over India. There is an entry fee in the temple, However people feel that this place is too much commercialized.
Location; HAL old airport road, Bangalore
Shrungagiri Shanmukha
One of the rarest temple dedicated to Lord Shanmukha (son of Lord Shiva), the structure of the temple is six giant faces of Shanmuka (shan means 6 and mukha means face), This is a branch of Sringeri Sharada Peetham, This is situated on a small hill in Rajarajeshwari Nagar southwestern part of Bangalore. Constructed during the year 1995 fascinating devotees and tourists from all over. It is undoubtedly one of the Famous Temples in Bangalore. 
Location; Rajarajeshwari Nagar, Bangalore
Kote Venkataramana Temple
Constructed in the year 1689 in typical Dravidian architectural style, making it one of the oldest temples in Bangalore. Venkataramana (a form of Lord Vishnu) the beautiful and elegant statue of lord Venkataramana is peaceful to watch.
Location; Basanavanagudi, Bangalore
Jagannath Temple
Located in Sarjapur road in Agara, Dedicated to Lord Jagannath (Lord Shiva). One of the incredible temples in Bangalore. Thousands of worshipers gather every year to offer prayer during Ratha Yatra. The procedures in worshiping here are just similar to the style in Puri Jagannath Temple.
Location; HSR Layout, Bengaluru
Someshwara Temple
Another oldest temples of Shiva in Bangalore which is close to Ulsoor lake constructed during Chola era, Later renovated by the ruler Kempe Gowda in the 16th century. The stone carvings on walls that depict the marriage of Shiva and Parvathi are a highlight. A must visit the temple during the weekend. The temple itself is quite pleasant and calm. Quite a change from the frantic pace of life outside the walls. You can find peace, calmness, and divinity.
Location; Halasuru, Bengaluru
Dodda Ganesha Temple
Situated on the Bull Temple Road of Basavanagudi, Which has a huge idol of Lord Ganesha about 18feet high and 16 feet wide. It is also known as the Shakti Ganapati temple. It is said and believed that the statue of Ganesh is grown to its present size. This is one amongst the temples built by the constructor of Bengaluru Kempegowda. This attracts visitors from everywhere during the Ganesha festival. The temple is calm and surrounding is peaceful. You would enjoy sitting and spending some time
Location; Basavanagudi, Bengaluru
ISKCON Temple
Nice place, the Best modern temple on a hillock. Many steps to climb before reaching the temple. A trick is to go to the car park area and take the lift from there. In non-peak hrs. they allow usage of lift. Lift directly takes to the idol. You can sit, meditate, relax, and pray. The eatery on the ground floor offers various delicious options. They have a mega gift shop too that offers a wide range of gifts n books on Lord Krishna. Truly serene and has a whole lot of spiritual and motivational books to purchase. They even run a charity center where they help educate underprivileged children, through the funds from the shops inside.
Location; Rajajinagar, Bangalore
website: Iskcon Bangalore
These are some of the Famous Temples in Bangalore. Which are the temples from this list you have already visited? Comment them below. Also please suggest some other temples which should be on the list.