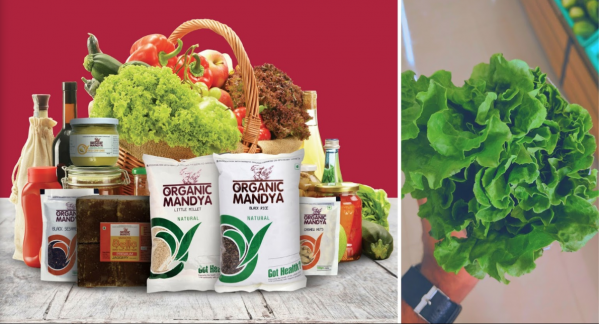 If you are residing at Electronic City, Bangalore, and Looking for Organic Groceries, Milk, and other Organic Food items near you. You must continue reading this article.
Organic food simply means is the food produced without the use of chemical fertilizers, pesticides & any other chemicals. It essentially means going back to our roots, basics, of producing food which is sustainable, environment-friendly & safe consumers, producers (Farmers) alike.
Organic products are naturally grown & proven to have high Antioxidants value & nutrients then the produce sourced by using fertilizers. Antioxidants help in building human immunity.
In this competitive world, it is very difficult to find a trustable store where you can buy all the organic needs without worrying about their source and safety. So, the trust places a major role while shopping for Organic Grocery and trustable stores for Organic Groceries around Electronic cities are very far and few. 
One such store is Organic Mandya. 
About Organic Mandya
Organic Mandya is a homegrown and most trusted Organic food store chain across Bangalore & Mysore area and they have 7 Stores across Bangalore to cater to their customers.
Organic Mandya, Head Quartered in Mandya where the Founder of the Organization Mr. Madhuchandan created the wave of adaptation towards Organic Farming & created a Farmers Self Help group called "Mandya Organic Farmers Co-operative Society". 
Organic Mandya is a fair-trade organization with a threefold mission
a) Help provide sustainable livelihoods to farmers

b) Offer 100% honest organic food to people,

c) Make Mandya district chemical-free.
So the benefit of returns from the sales goes to the Actual farmers who grow them rather than a company or some multinational Organization.
So what's Special about Organic Mandya Products?
They have a wide array of products ranging from Daily Cereals, legumes, pulses, Cold-pressed Oils, Desi Cow Ghee, Desi A2 Milk, and so on.
Best Organic Groceries and Other products from Organic Mandya Store are:
Desi Cow Ghee

Jaggary and their products(Mandya is known for its Jaggary producing specialty)

Desi A2 Milk. (Milk from Desi cow breed like Hallikar, Malnad Gidda)

Cold-pressed Oils

Unprocessed Honey

Rajamudi Rice  

Multiple Varieties of Millets.

Organic Mandya is one of the pioneers in making Desi Cow's A2 milk accessible to Bangalore residents. Desi A2 Milk is the most preferred milk for small babies because of its higher nutritive value. 
Their Desi cow ghee & Mittayi Laddu made in combination of Desi cow ghee, Jaggery & Coconut are simply drool-worthy!!

Organic Mandya Electronic City Address and Contact Number
You can explore many more organic groceries and other products at the store located in Ananth Nagar near Electonic City Phase II.
Organic Mandya Shop is available in all days a week from 10 AM to 9 PM. One can reach them through their mail ID at [email protected] & store contact number +91 9108074728.

They are also available to order from Swiggy Store App & Naruvis.
Suggested Article: Where Can I buy Goat Milk in Bangalore