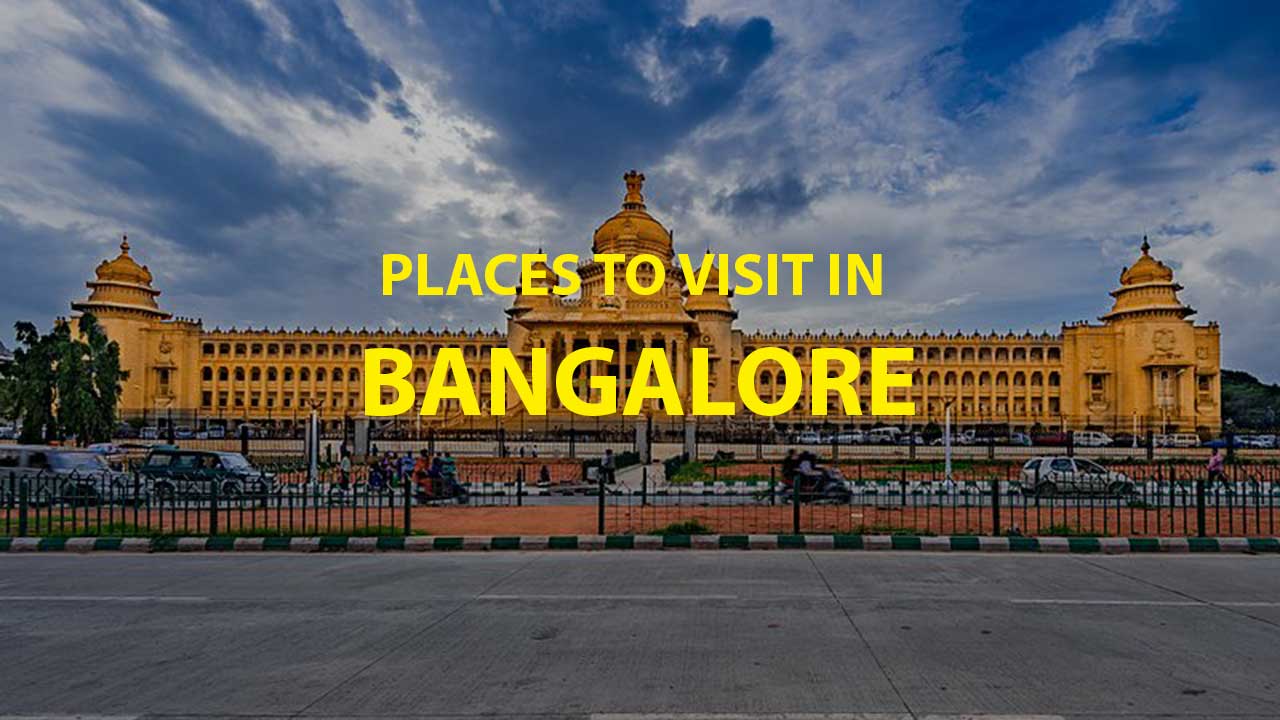 People from all over the world are attracted to Bangalore; but what makes Bangalore so special for people to move in? Yes; it's special because of its climate, facilities, and amenities it has. Restaurants; Resorts, Hotels, Pubs, Clubs, jobs, and whatnot, there is nothing that you cannot find it in Bangalore. Of course, you should bear with some traffic. But I must say, it's an awesome place to stay in.
Are you left with thinking about your weekend plans? It's difficult to decide the place…right? I understand… let me give you a glimpse of all possible Places to Visit in Bangalore which will ease your planning. Here it goes…l
Few Popular Tourist Places to Visit in Bangalore
Lal bagh botanical Garden– this place is located in south Bangalore, it attracts tourists as it has more than 1000 species of plants and here Lal bagh flower is a sight to watch. Flower shows are held twice a year which is on Independence Day and Republic Day. If you are looking out for some calm and beautiful place, then this is the spot you cannot miss out when you are in Bangalore.

Cubbon park– this is a public park, mainly located within the heart of the city which is near MG road. It's famous for its flora and fauna plantations. This is the best place for a weekend gateway with your family. Cubbon Park is popular among the best places to visit in Bangalore.

Tipu Sultan Summer Palace-located in Chamarajpet Bangalore. This palace was used by Tipu Sultan to stay during summer. Your thoughts will go back to that historical times. Well maintained building and garden. Wood's work is great. From distance, the monument looks like an ordinary construction but when you enter into this building it has marvelous design built-in 1870. To construct the wall of the palace, they have used an ancient technique that contains lime and shell powder and the good thing is that they have kept the wall as it is. Compare to other palaces, it is a small but wonderful experience.
Bangalore Palace– The palace is open every day. It has been designed and built with fortified towers, battlements, and turrets. The interiors are decorated with elegant wood carvings, floral motifs, and relief paintings on the ceiling. It is located in Vasanthnagar, Bangalore. The building is well decorated and looks beautiful. You will get some amazing pictures from the external view. Bangalore Palace is one of the interesting places to visit in Bangalore.
Vindhana Soudha– this place is located in Ambedkar Bheedhi, Sampangi Rama Nagara, Bangalore. Vidhana Soudha is a seat of the state legislature Karnataka. You will be Mesmerized to see the great architecture of Karnataka's legislature and get some great pictures from its external view.
Are you fond of parties and wondering what are the best ones? These are the pubs you can turn up to on your weekends
Popular Pubs in Bangalore
Skyye bar – this place is one of the fanciest spots in the city for parties which is located on the 16th floor at UB city. If you are looking out for a rooftop party, then this is the best place. It has beautiful views of the city skyline. The ambiance is amazing, this place is bliss to visit.
High ultra lounge – this place is located in Sheraton grand Bangalore hotel at Malleswaram west. Looking out for the rooftop party? Then this is one of the best places one can choose for. It has a breathtaking view. Impeccable food and service by the staff. This place can be one of your weekend party gateways.
Toit – this place is located at 100th feet road Indiranagar. This is the most happening place in Bangalore. The ambiance is perfect, music is great, and freshly brewed beer is what one can look out for. This is a great place to hang out with friends.
I bar– located at MG road The Park hotel. This place is the ultimate stop for party lovers. This place outlines the dynamic nightlife of Bangalore. One of the best places to be in during weekends. The bar is the pioneer of the nightlife in Bangalore and remains the leader. A great place to rejoice, unite, party, and have a great time.
Byg Brewski Brewing Company- Located in Sarjapur Road. This place gives you a 5-star experience. This place is so pretty with the perfect ambiance. Coming to food- a lot of variety available! Special pottery classes for children and other activities. Best place to brunch and hang out with your friends and family. For bookings visit Byg Brewski Brewing Company Website.
Many of us are fond of shopping, isn't it? When in Bangalore you cannot miss out these places to get some trendy clothes and fill up your wardrobe
Best Shopping Places in Bangalore
Commercial Street – this place is one of the oldest and busiest streets in Bangalore. if you are looking out for some fashionable, branded and trendy clothes … then this is the place you cannot miss out. If you are a shopaholic, then I bet, you won't get bored of this place even if you spend the whole day here.
Brigade Road– looking out for some branded clothes? Then this is the place you can go for. This place gives you an awesome feeling. You will find some eatery joints, cafes, and pubs. Brigade road is one of the attractive spots for the Youngsters out there.
Church street- Tibetan Market – Tibetan market is more o less like a complex, wherein Tibetans have small shops in the entire complex and each shop sells the best trendy and fashionable clothes. Prices are reasonable. This place is for men and women too. Ladies can find the best party and casual wear here.
Jayanagar 4th Block shopping complex- its good place to shop for jewelry, footwear, vanity bags, purses. There is a wide range of options for clothes, but you need to search for places that have good stuff first and then buy. Worth a visit at least once. College going students can find cool stuff here.
Chickpete – this place is located in the heart of the city. Situated near majestic. If you are looking out for sarees and especially silk sarees, you will find it here. This place is usually crowded and gets closed by 6 pm on Sunday's.
if you are keen about shopping in malls; then the list below might give you an idea you can look out for –
Best Shopping Malls in Bangalore

Phoenix Market city – this mall is one of the biggest shopping malls in Bangalore which is situated in Whitefield. Best shopping brands, live concerts and dine outs. The ambiance of this place is too good. Great place to chill and hang out with friends.

Garuda mall– this is one of the premier shopping malls in Bangalore which is situated in Magrath Road. This mall is worth a visit. It has good shopping brands, a Multiplex called INOX, food court, Amoeba [a play area ] for kids, scary house and there are few seats available to chill and relax. On the whole, the best place to spend your precious time with your family and friends.

Manthri Square – This is one of the biggest shopping mall situated at Malleswaram. Fairly crowded most of the time. It has great connectivity via Metro, one can go shopping for everything that's Is from grocery, clothes to shoes. This is Mall is very maintained. Best place to spend your weekend with your family and friends by watching Movie as it also has a multiplex, food court to eat out and relax.

Gopalan Arcade Mall – this mall is just another one of those huge malls in Bangalore, but with a difference. The front look is amazing and appearance is like a palace.  Weekends get crowded but on normal weekdays the space is ideal for family shopping. FStar Bazaar fills in the gap for routine grocery needs. This mall is located in south Bangalore at Rajarajeshwarinagar.

Orion mall – this mall is one of the beautiful malls in Bangalore, it defines the modernization which Bangalore is known for. The infrastructure of this place is awesome. Shopping here is quite a little expensive. Luxury brands are available here. There is a man-made lake behind the mall wherein you can sit, relax, chill, and click some amazing pictures with your family and friends. There is a food court, restaurants to eat out, blue bowling alley to play and PVR multiplex to watch recently released movies.
Check out our article Best Temples in Bangalore, if you love to visit Temples.
Well, I have mentioned all the possible and the best places to visit in Bangalore. This is the best place to stay in. I have mentioned a few of them while they many available… please let me know if they are many more exciting places if you have come across in the comments below.
Author – Ambika Khemkar