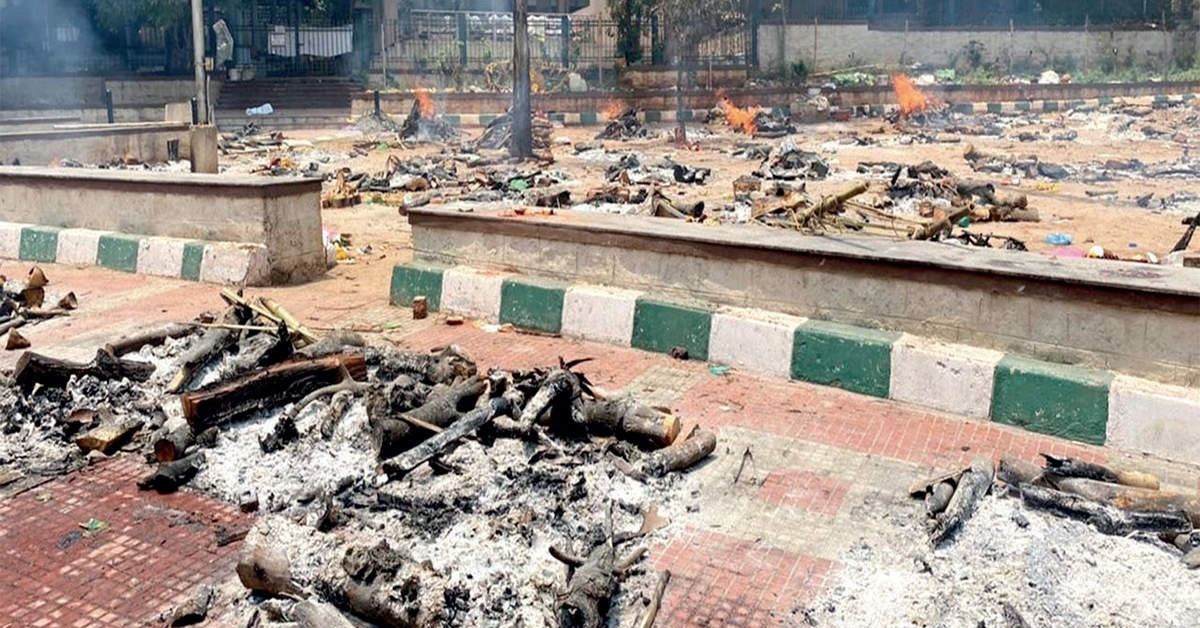 Shocking visuals from TR Mills compound after it began accepting covid bodies. The number including non-covid bodies is growing close to 100 bodies every day.
Delhi like situation in Bangalore?
With hardly any space left on the ground, the bodies are being cremated next to each other with less than six feet.
With a small given space, we are trying to make the best use of it so that people don't have to wait for long hours. On Tuesday, we cremated about 60 non-covid bodies and 34 covid bodies. Earlier we used to shut by 6 pm but now we have been asked to extend our timings," a crematorium staff spoke to media.
The shocking scenes are very comparable to Delhi and with an increasing number of covid positive cases and fatalities, the open cremation grounds could soon run out of space too if the numbers don't stop growing. We all are aware of the situation in Delhi. The total death toll because of covid stages at 14,628 in Delhi. Bangalore may appear far behind with 6,139 total deaths, but the City recorded 137 deaths on Wednesday which is alarming.
#Agnipareeksha: #Bengaluru's TR Mills compound flooded with dead bodies pic.twitter.com/XZQQTNvGUY

— Bangalore Mirror (@BangaloreMirror) April 29, 2021
Bodies cremated next to each other
As the crematorium has diverse entries and exits for covid and non-covid cases, the bodies are being cremated next to each other on the same ground. Families of patients, both covid and non-covid deaths, were seen gathering inside the cremation ground with no fear," said a local staff.
"Some families who were down by the loss of their loved ones were seen mourning outside the crematoriums. At the gate of the cremation ground, about 20 ambulances and 50 private vehicles were parked carelessly, producing a big traffic jam," he added.
No safety kit for staff
According to a report over 15 staff are said to be deployed to carry out the cremations did not have a PPE kit.
"The dead bodies are arriving one after the other and we have not sat for a minute. Seeing so many bodies, we have just given up. We are losing track of how many bodies we are being cremated. It's very difficult to wear the kit the entire time. We're scared it might catch fire since bodies are being cremated close to each other," one of the staff revealed.
With more bodies, there is a high chance of a shortage of firewood. As addressed by the witnesses, to carry out cremations, the staff was seen plucking up half-burnt pieces of wood from pyres to use for new cremations.
Meanwhile, a police constable, deployed outside the crematorium said that it is difficult to manage people outside the crematorium.
"They deliver the last rites outside and drop their clothes, towels, and other things at the place. We have been asking people not to scatter the place. To which, many lose their temper and get into arguments. We intervene and try to calm them down," he said.
Reported on bangaloremirrorTOI
Also Read: Karnataka Govt Announces Full Lockdown From April 27 For 14 Days