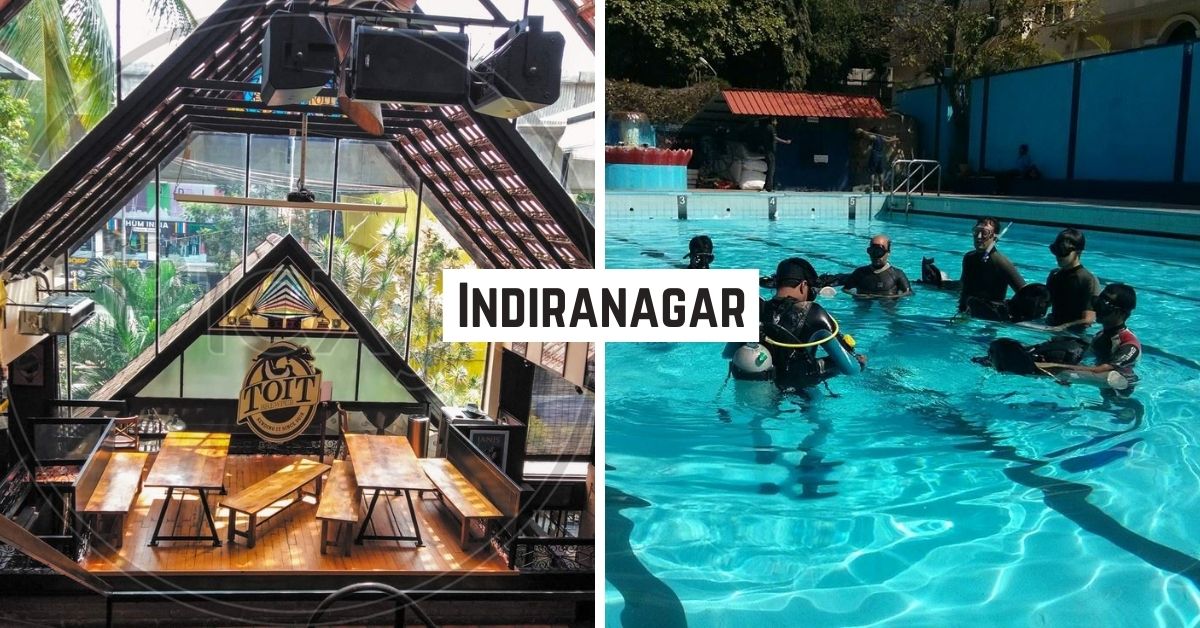 Bangalore's Indiranagar is a place where people of ages have a great time. It is not just a residential area anymore, the neighborhood is now a party center. A place to catch events like stand-up comedy, poetry hub, concerts, a romantic dinner, or even taking a walk, it is just a dream place for every Bangalorean in the city. Therefore, in today's read, we have come up with this list of things to do in Indiranagar.
Things to do in Indiranagar:
Planet Scuba India

Truffles

Equilibrium Climbing Station

Laser Castle

The Otherworld Shop

Slurp Studio

Toit Brewpub

Taco Bell

Nagarjuna Restaurant

Smoke House Deli

Bob's Bar
#1 Planet Scuba India
Scuba Diving in Bangalore? Indeed, yes. If you wanna check out what happens beneath the water, come and try diving. Before diving in, you will be briefed about how to use your mask, regulator, buoyancy control device, all of which will be given by Planet Scuba. To be Noted: Every scuba diving lesson will cost a person Rs 2500.
When: Monday to Thursday, 9 am to 12.30 pm; Friday to Sunday, 3 pm to 7.30 pm
Address: 1315, Indiranagar Double Road, Eshwara Layout, Indiranagar
#2 Truffles
A simple eatery with classy décor, this place has the best and hygienic food to satisfy your taste buds. If you are celebrating your birthday or anniversary this is just the place to spend time with your companion. This place is certainly known for having varieties of burgers and beverages. If you wanna consider our advice try out their Shrimp Burger, Peri-Peri Prawn, Classic Stuffed Chicken Steak, Crunchy Veg Burger, Kahlua Mousse, Ferrero Rocher Milkshake. The place offers these dishes with an affordable price which is surely not gonna cut your pockets.
Timings: 11am–10:55pm
Address: 307, K. P Square, Ground Floor, 100 Feet Rd, Binnamangala, Stage 1, Indiranagar, Bengaluru, Karnataka 560008
#3 Equilibrium Climbing Station
Are you fond of climbing? Head to Equilibrium Climbing Station, an especially designed place for climbers. This place requires absolutely no reservations to visit. It's an indoor rock height climbing studio that allows you to climb mountains being in the city. So Wear those climbing shoes, get strapped up to the suspension, and climb towards the wall.
They also have room for a shower. Additionally, they have shoe rental services, in case you don't have suitable shoes, you can rent a pair.
Timings: 7 am–9 pm
Address: 3rd Floor #546, Chinmaya Mission Hospital Road above RBL Bank, opposite Motherhood hospital, Indiranagar, Bengaluru, Karnataka 560038
#4 Laser Castle
If you wanna go toe to toe with your friends in the battle of guns, then this place is surely recommended. Certainly not the real war, but an old-school laser fight. They have a wide variety of time packages 10, 15, or more minutes. In fact, if you go with a large group of friends, there are chances you get a great discount.
Address: #3, 80 Feet Rd, HAL 2nd Stage, Indiranagar, Bengaluru, Karnataka 560075
#5 The Otherworld Shop
Fill up your house with creative Decors and furniture. Head to the Otherworld Shop, a design store that is all about salvaged goods. They use a wide range of materials like soft rubber, porcelain, etc. There are furniture sets created from metal and used tires, which is perfect for a garden or a groovy home. The prices here start from Rs 500 for smaller things and Rs 750 for the larger decor pieces. Furniture begins at Rs 1,500.
Address: 152, 18th Main Rd, 5th Phase, HAL 2nd Stage, Indiranagar, Bengaluru, Karnataka 560008
#6 Slurp Studio
Experience the magic of cooking here with workshops at Slurp Studio. The cookouts here function as entertaining. Bring your gang, engage them up for a cooking session and make food and enjoy together.
Timings: 11:30am–10pm
Address: 1079, 12th Main Road, HAL 2nd Stage, Indiranagar, Bengaluru, Karnataka 560038
#7 Toit Brewpub
One of the well-known places that offer beautiful décor, comfortable ambiance, and quick service, Toit Brewpub is just the place you want to be. This place also offers a wide variety of drinks and delicacies to choose from.
The best thing about this pub is they have live music sessions and beautiful outdoor seating with amazingly friendly staff and efficient service. If you ask us Veggie Attack, Cheesy Potato Skins, Mushroom Bites, Chicken Piccata, Baked Pizza, Fire Shots are the best delicacies to go for.
Timings: 12pm–12am
Address: 100 Fleet Road, Near-Drops Total Spirites, Indiranagar, Bengaluru, Karnataka 560038
#8 Taco Bell
All the tacos lovers head to Taco Bell, this place offers unique Tacos alongside burritos, nachos & other specialties with bright flavors, quality ingredients, and quick customer service. The place is beautifully decorated to make your mood more cheerful. The best dishes to try out here is Taco, Chicken Quesadilla, Rice Bowl and many more.
Timings: 11 am–11 pm
Address: UNIT NO. 840/1, 100 Feet Road Indira Nagar Binnamangala, 1ST STAGE, B.B.M.P, EAST, Bengaluru, Karnataka 560038
#9 Nagarjuna Restaurant
This popular place is recognized for its eye-catching décor, comforting ambiance, and certainly for delightful dishes. The food here is served on a banana leaf which makes the dish more charming. The food here is hygienic and is perfect to soothe your taste buds. Don't forget to try their Andhra Meals and Biryanis which are bestsellers in the restaurant. Vada Curry, Sweet Lime, Dal Palak, Mutton Masala, Chicken Roast, Mutton Pepper Fry are the best dishes to go for.
Timings: 12–4 pm, 7–11 pm
Address: #195, Indiranagar Double Rd, Near HDFC Bank, Stage 2, Hoysala Nagar, Indiranagar, Bengaluru, Karnataka 560038
#10 Smoke House Deli
An outlet popularly known for serving Italian, European, and American cuisines, it is the best place to hang out with associates. Nevertheless, if you are planning to have a romantic date with your companion, the view, the interiors, the lovely dishes, and the soft music is surely gonna make your evening splendid. Hazelnut Mousse Flan, Watermelon Caipiroska, Mushroom Gratin, Cucumber Spritzer, Flourless Chocolate Fudge, Lamb Kibbeh are the go-to dishes. The places also have a bar menu.
Timings: 9am–9:30pm
Address: plot no 1209 ward, No. 72, 100 Feet Rd, HAL 2nd Stage, Doopanahalli, Indiranagar, Bengaluru, Karnataka 560038
#11 Bob's Bar
Come and enjoy the beautiful nightlife of Indiranagar in Bob's Bar with delicious and unique food and drinks. This place is filled with people of all ages who just come here looking for an escape from their daily busy lives. The elegant music here will make your mood cheerful. The great food, music, eye-catching ambiance and a glass of wine is the best way to spend your time. Popular things to watch out for: Banana Cutlet, Masala Soda, Ghee Roast Masala, Egg Roast, Pork Ribs.
Timings: 11:30 am–1 am
Address: 777/I, 100 Feet Rd, HAL 2nd Stage, Doopanahalli, Indiranagar, Bengaluru, Karnataka 560008
If you find this article helpful please share it with your friends and loved ones. If you have any suggestions please let us know in the comment section.