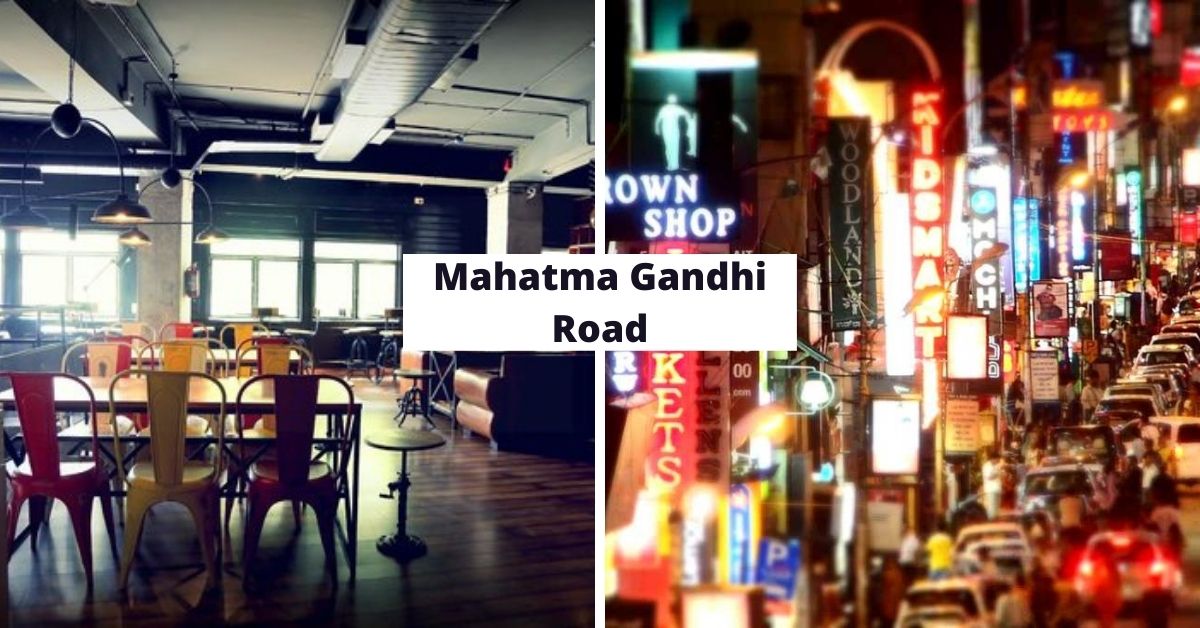 Weekends usually mean finding a better place to have fun with friends and companions. The first place that comes to mind for every Bangalorean is 'MG Road'. On MG Road, we can find all the awesome places like malls, cafes, pubs, street food and also music. And the best part? You need not spend more money to have fun here.
We decided to go ahead and make a list of places where one can hang out and have a lot of entertainment. Places to go in MG Road:
#1 Brigade Road
The most popular shopping spot 'Brigade Road' has a fair mixture of high-end showrooms and street retailers, therefore it will contribute enough options to buy new clothes notwithstanding your wallet size.
#2 Commercial Street
If you are looking for more shopping, take a tour of Commercial Street. The place is filled with shops that sell everything and anything. From dresses to accessories, books, furniture, electronics, street food, and many more.
#3 Nagarjuna Restaurant
This popular place is recognized for its eye-catching décor, comforting ambiance, and certainly for delightful dishes. The food here is served on a banana leaf which makes the dish more charming. The food here is hygienic and is perfect to soothe your taste buds. Don't forget to try their Andhra Meals and Biryanis which are bestsellers in the restaurant.
Timings: 12–4pm, 7–10:45pm
Address: Shubham Rd, beside Galaxy Theatre, Shanthala Nagar, Shanti Nagar, Bengaluru, Karnataka 560025
#4 Meghana Foods
If you want to try out the best Biryanis in the place, head to Meghana Foods. The taste here is just outstanding, especially if you are a non-vegetarian. Try their Chicken Biryani, Lollypop Biryani, and Mutton Biryani. For Vegetarians, they can also go for Allo Dum Biryani, Paneer Biryani, and Mushroom Biryani. The place has a very classy interior providing spacious seating order. The prices for the meals are worth for what you get on your plate.
Timings: 11:30am–4pm, 6:30–10:45pm
Address: Jayalakshmi Chambers, 57/1, 1st, Residency Rd, next to Old Galaxy Theatre, Bengaluru, Karnataka 560025
#5 Tandoor Restaurant
This place is an easygoing dining restaurant offering a variety of delicious delicacies- Tandoori Special, Tawa Specialist, Non-Veg Special, and many more. The most eye-catching thing about this restaurant is the way they present the dish and the beautiful ambiance.
Timings: 12–3pm, 7–11:30pm
Address: Mahatma Gandhi Rd, Craig Park Layout, Ashok Nagar, Bengaluru, Karnataka 560001
#6 Indian Coffee House
For all the coffee lovers out there, the Indian Coffee House in Brigade Garden is just the place you need to look out for. The old-school vibe in the outlet makes it more charming. Rose Milk, Filter Coffee, Hot Coffee, Omelette, Masala Dosa, Cheese Omelette, Finger Chips, Cutlet, and Palak Pakora are best sellers here. The prices here are pocket-friendly so just sit back and enjoy your meal.
Timings: 8 am–9 pm
Address: No-19, Ground floor, Unit No. 37-38, Brigade Garden, Church Street Behind Mahatma Gandhi Road Metro Station, Bengaluru, Karnataka 560001
#7 Blossom Book House
Out from the buzzing streets, this book store is a better place to explore books. The Blossom book house has floors covered with books, with subjects ranging from fiction and non-fiction, self-help, history, bestsellers, science, maths, philosophy, photography, kids books, and many more. If you crave to modernize your library at your place they have second-hand books offered for a cheaper price.
Timings: 11 am–9 pm
Address: 84, 6, Church St, opp. Amoeba, Haridevpur, Shanthala Nagar, Ashok Nagar, Bengaluru, Karnataka 560001
#8 Arbor Brewing Company (ABC)
This classy dining and bar eatery is popular for selling the best delicacies in the city. The unique accommodation, live sports screening, and a full bar is just the thing everyone expects. The place also allows outdoor seating and offers some delicious food and drinks. Smooth Criminal, Flaming Chicken, Chocolate Beer, Irish Stout, Artichoke Dip, Drunken Chicken are the best things to try out.
The only thing you need to watch out for before heading to this place is to make a reservation before visiting.
Timings: 12pm–12:30am
Address: 3rd Allied Grande Plaza, No. 8, Magrath Rd, Ashok Nagar, Bengaluru, Karnataka 560025
#9 Cubbon Park
Taking a time out from this buzzing city, one can head towards Cubbon Park to experience the best part of nature. Take a relaxing walk around the park with your companion, enjoy the fresh air that hits you while walking in the park. You can also visit the State Archaeological Museum located within the grounds of the park and discover about the rich past of Karnataka.
#10 Ulsoor Lake
One more place where you can find nature's love in the city, the Ulsoor Lake. The beautiful Ulsoor Lake, located in the city heart, is just a place to relax away from the daily hustle. You can fancy yourself boating in the place. As you boat along the lake, you can find different species of birds, including herons, purple swamp hens, and Brahmani kites, and many more.
Address: Ulsoor, Halasuru Near MG Road, Bengaluru 560008
#11 Rangoli Metro Art Centre
For the Art and Music lovers in the city, head to the Rangoli Metro Art Centre. At this place, one can enjoy jam sessions, traditional dance performances, plays, arts, etc.
Timings: 10am–7:30pm
Address: Metro Station, besides, Mahatma Gandhi Rd, Shivaji Nagar, Bengaluru, Karnataka 560001
#12 Communiti Pub
With unique interiors and flashy ambiance, Communiti Pub is one of the popular destinations for people exploring fun. With the varied range of brews and craft beers, it is famous for its cocktails as well. The delicacies here are just outstanding. Bbq Lamb Pizza, Passion Delight, Lasagne Verde, Scotch Egg, Devilled Egg, Steak Diane are the best sellers here.
Timings: 11 am–1 am
Address: N0.67/68, Brigade Solitare, Residency Rd, Bengaluru, Karnataka 560025
#13 Church Street Social
Have you imagined yourself sitting in place having your favorite drink alongside charming music? Well, this is just the place.
It is a nice place to chill out with friends and have a great time, especially during the weekends. The comfortable seating arrangement and a relaxing ambiance will make you more lively. Recommended -Crispy Sesame Honey Chilli Fries, Gunpowder Calamari, Taco Soup, Jalapeno Cheese Nads, Breakfast Tray, Bombay Bhel
Timings: 9am–9:30pm
Address: 46/1, Cobalt Building, Church St, Haridevpur, Shanthala Nagar, Ashok Nagar, Bengaluru, Karnataka 560001
If you find this article helpful please share it with your friends and loved ones. If you have any suggestions please let us know in the comment section.