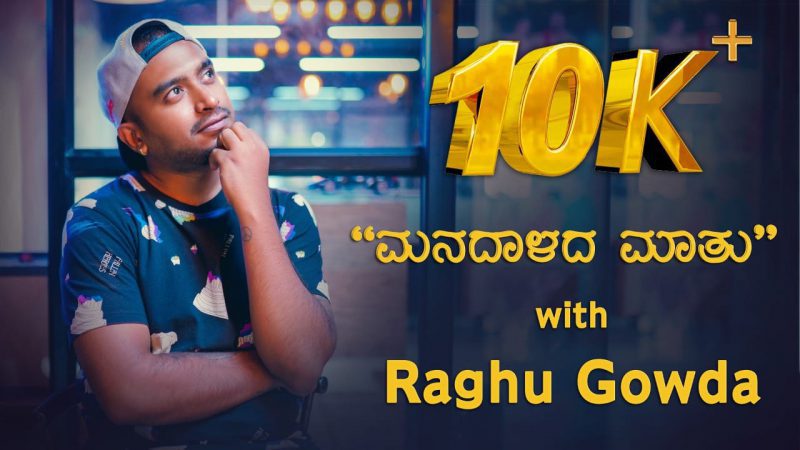 Raghu Gowda who is widely popular for his funny videos remains to trend more on Social media in Kannada these days. He has a great sense of humour and is one of the most talented artists of this present generation. Apart from funny videos, the 31-year-old has made a lot of other contents which includes celebrity interviews, product reviews, public talks and food vlogs. For the past couple of years, Raghu has won the hearts of a million Kannadigas through his creativity, the style of talking, and the way he makes the videos. We are sure you will be fascinated to know more about this guy and you are at the right place. Now let's know more about our Raghu Gowda aka Raghu Vine Store.
If you have not watched the Video Manadalada Maathu Interview with Raghu Gowda; You can watch it here
Childhood
Born into a middle-class family, the 31-year-old survived with a family of three(Father, Mother and himself). He was born and bought up in Bangalore surroundings of Rajajinagar. Raghu lost his father when he was in the 4th grade. From then his bond with his mother blossomed very strong. As he describes in the interview, Raghu's mother was very strict when it came to taking a career decision, however, she also remained friendly.
While being in school, his mother always urged him to concentrate more on his studies. Until his 10th he did not disappoint his mother and achieved great results in his school. Later while pursuing PUC, his mind got deviated and had lost interest in studies. Nevertheless, he came back strong and did well in education. Many people in his society would take Raghu as their inspiration for their studies. Later he completed his BCA at Vijaya College. In the meantime, he also made a lot of friends in his school with whom he used to have fun and learned some sense of humour too.
Love for Kannada
He had an immense love for the Kannada language. He claims to be a die-hard fan of the local language. Kannada being his mother tongue he respects the language a lot and feels more comfortable while using it. He has more interest in Kannada movies, songs, and literature.
Work-Life:
After completing his BCA, the artist was too passionate about making films but there were no proper skill sets to give him a heading. Consequently, there was a time he could not decide on his career and had fallen prey to depression. Soon criticism came knocking on his door, everyone in his family mocked him for not having a proper career to earn his living.
The days past and the young man decided to make a move. One day he determined to make a comeback and entered a corporate company. All was going well, but his life was not yet done with battering, at the age of 24, he lost his mother.
The saddest part was, his mother attempted suicide because of depression. It literally left Raghu broke.
His life was back on track when he married Vidya Gowda, who became a complete family to Raghu. Raghu Gowda's wife was always supportive in all his works and stood by him in all of his Up's and Down's. She even participated in some of Raghu's funny videos.
The time flew out of the window and it was already 7 years, he worked as a freelancer for some social media channels which helped him bring back his passion. Later he couldn't balance both of them due to improper timings.
Following Passion
At the age of 30, he took a bold decision to follow his passion and decided to quit a well paid IT job. Initially, he started making videos on his personal social media account, however, he received a lined up criticism from his viewers and friends asking him to drop the idea. 
Being sensitive by nature, Raghu used to take everything to his head and used to think too much about his criticism. It was finally time for an expert's advice. He discussed this matter with Divya, and the only suggestion her wife gave him was to follow his dreams and rub off negativity. 
Since then he began his new journey as 'Raghu Gowda the Actor'. He started doing videos with his dearest wife based on real-life situations and it rose to become a hit idea. He came up with more duo funny videos (Raghu and Divya) and short videos on Facebook and received a lot of love from the audience. He also added his little son (The Rebel Baby) in his videos which earned him lof of praises. 
Immediately he started to gain confidence as people showed a lot of interest in his videos and began to come with more such ideas. Then he got his first chance for promotional activity from Namma Karnataka Memes for a Kannada Movie. For that interview, he got more than 2-3 lakh likes and got many other chances of promotional videos. 
Raghu has done a lot of work with the online channel Metrosaga and he has earned a lot of respect with his solo performance such as Rowdy Manja and Google guy. He also started to shoot some review videos of famous hotels across Bangalore and involved in street talks which were a great success.
raghu gowda age 31
Raghu Vine Store
Raghu Gowda wanted to make his name a brand. He aspired to have a separate social media page but was unable to find a fitting name for it. After thinking for 6 months, he crossed by a local bar, he saw the name written on the board and was fully influenced by it.
Hence he named his page 'Raghu Vine store', a page that will make you ROFL. To be noted, Vine here doesn't mean a drink. Usually, Vines are termed as short one-minute videos. Raghu videos were always short so he found this name more apt for his page. Raghu would handle all the criticism on his videos in a positive manner and used to work on each video harder through the reviews of his viewers.
Raghu Gowda in Bigg Boss
Raghu Gowda has taken part in Bigg Boss Kannada Season 8. He is one of the strong contestants. Follow him on Instagram: raghu gowda instagram

Final Words:
Raghu Gowda finds pleasure in whatever work he does. When it comes to taking life's toughest decisions he never backs down. Moreover, his family remains to be the pillar of his life. They are always ready to be with him during the thick and thin aspect of life. We can finally say that Raghu Gowda had worked hard in the most struggling period and went through lots of ups and down's in his life but still he never gave up and followed his passion. He stands as an inspiration to many young aspiring artists and it is because a man's true potential is witnessed in his hard times.
You can follow Raghu Gowda using the below links:
Raghu Gowda Facebook Profile
Raghu Vine Store Youtube Page
Raghu Vine Store Instagram