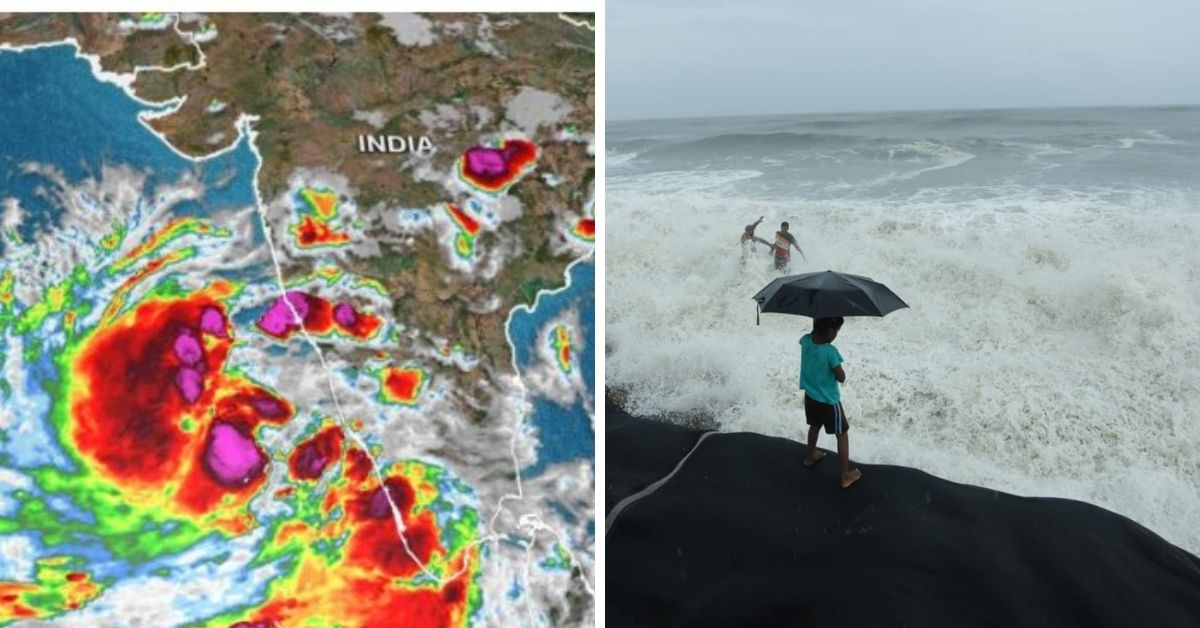 Cyclone Tauktae is expected to enter Kerala, Maharashtra, and Karnataka, and later Gujarat, bringing an immense amount of rain and storm.
Cyclone Tauktae to bring heavy rainfalls
The storm is likely to increase further into a "very rigorous cyclonic storm" in the next 24 hours. More than 50 teams of the NDRF (National Disaster Response Force) are put on high alert in five states – Kerala, Karnataka, Tamil Nadu, Gujarat, and Maharashtra.
Earlier today, 5 NDRF teams from Bhubaneswar, left for Rajkot, Gujarat in a special IAF aircraft, the teams will be stationed at coastal areas like Dwarka & Porbandar. The cyclone currently centres over Lakshadweep, has intensified into a cyclonic storm today morning.
As the country faces the wrath of the second wave, this is the first cyclonic storm this year.
Weather experts say that this cyclone will bring 'very heavy' to 'extremely heavy rainfall', creating flash floods and landslides over the coastal districts of Kerala, Karnataka, and Goa till Sunday and Saurashtra, Kutch in Gujarat on Tuesday and Wednesday is suspected.
The cyclone is likely to cause massive rain – of changing intensity -in parts of Tamil Nadu and Rajasthan too. Fishermen have been ordered to avoid going to the Arabian Sea till Tuesday and important precautions have been advised for naval operations in the apprehension of the stormy sea.
Western states prediction
Here is the detailed forecast shared by India Meteorological Department for all the western states:
In Kerala, it is expected 'heavy' to 'very heavy rain falls' at some places on Saturday, and at remote places on Sunday and Monday.
In Karnataka, it is expected 'heavy' to 'very heavy rain falls' at some places, with extremely heavy falls at isolated places over coastal and near ghat districts of South Interior Karnataka on Saturday. Also, heavy falls at isolated places on Sunday.
In Maharashtra, it is assumed 'heavy' to 'very heavy rain falls' at some places over South Konkan and Goa and at isolated places over North Konkan on Saturday. Also, heavy to very heavy falls at isolated places across the region on Sunday.
In Gujurat, the rainfall shall begin from Sunday with a notable increase during the following two days. Complex rainfalls are expected at isolated places over the coastal districts of Saurashtra on Sunday, with 'heavy' to 'very heavy rainfalls' at a few places on Monday, and 'heavy' to 'very heavy rainfalls' at a few places from Monday onwards. Isolated extremely heavy falls are on the cards over Saurashtra & Kutch on Tuesday.
In Tamil Nadu, 'heavy' to 'very heavy rainfalls' at isolated places over the Ghat district of Tamil Nadu on Saturday.
In Rajsthan, heavy rainfalls are predicted at isolated places over southwest Rajasthan on Tuesday and Wednesday.
In Lakshadweep, 'heavy' to 'very heavy rain falls' are expected in isolated areas on Saturday, and isolated heavy falls on Sunday.
Some Karnataka districts like Kodagu, Hassan, Chikmagalur, Shivamogga, Dakshina Kannada, Udupi, Uttara Kannada, and Belagavi districts have been put on alert.
Meantime, the coastal areas of Karnataka are also likely to be struck by strong winds. Raging winds blowing at speeds between 40-60 kph, gusting up to 60-70 kph, are likely at the coasts of Kerala and Karnataka, with gale winds reaching 60-70 kph, gusting to 80 kph on the cards come Sunday.
"We should practice absolute caution in districts and adjoining districts where it is a Red and Orange Alert. The cyclone is growing and advancing faster than anticipated. It is expected to drive north from the Kerala coast by tomorrow. The northern districts of Kannur and Kasaragod are most likely to be influenced by the winds. Hence, it is necessary to be prepared for the risks of strong winds," said the India Meteorological Department.