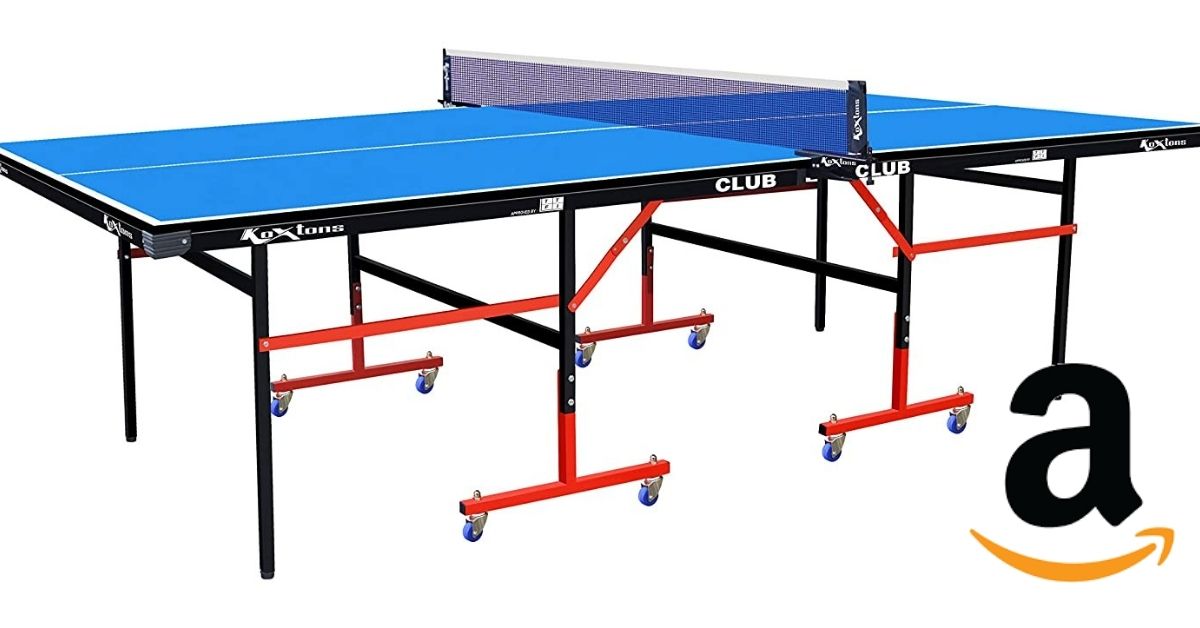 Are you a Table Tennis freak and looking forward to buying a new board for your home or at your workspace? You are reading the correct article. It's not an easy task to decide on which board to buy. There's a lot of options available to go for. Keeping things in the mind of different brands, quality and prices we have made a list of some best quality table tennis boards available on the internet. 
Best Table Tennis Board In India
#1 Fieldsheer Deuce 701
Deuce Table Tennis is one of the fastest-growing table tennis equipment brands in India. A made in India company, its products are also widely exported all across the globe. Coming to the Deuce 701 table, this full-size TT table is good for both pro as well as beginners table tennis games. It comes with a steel frame and the legs are covered with rustproof powder coating to increase its durability. The best thing about the table is that it comes with wheels which makes it comfortable to shift from one place to another. This table tennis board price is Rs 16,399.
Furthermore, you can easily assemble the table without any help, which is not a challenging task as the user manual will provide you with all the required instructions.
Description: Deuce 701 board, 18 mm high quality pre-laminated both side laminated top, regulation size: 2740*1525*760 mm, mainframe made of 20*40 mm ms steel with rustproof powder coating. 25 mm square legs with rustproof powder coating, wheels: 50 mm with stopper safety locks, foldable & roll way model best suited for practice play at home, Schools, Clubs, Offices, solo play & multiplayer playing
This comes with special long-lasting paint which provides long life and good bounces, it also protects the surface and makes the table durable material.
back to menu ↑
#2 STAG ACTIVE 25 table tennis board
The thickness of 25mm on the surface provides accurate bounce and friction for a professional player. The surface is protected by the DuPont Polyurethane Anti-Glare paint which allows a smooth bounce and durability.
This table is built using quality wood and wood derivatives, making them suitable for personal as well as professional use. Additionally, the materials used in the table make it stable and durable, providing a standard play experience. 
Each leg is fitted with height adjusting knobs to suit your play height. Additionally, the base knob is also made to offer a better grip over all kinds of floor surfaces. This table tennis board price is Rs 34,199
This table tennis table comes with a solo play option. With the installation of the playback mode, you can simply unfold half the table and use it to train yourself, even without a companion.
back to menu ↑
#3
Suzuki Table Tennis board
This TT table from Suzuki is perfect for you if you want to shine in table tennis. All the essential features are provided by the company which makes the gameplay quick and precise. Because of its steel frame, you will get a perfect bounce. This TT table is amazing as it is a perfect choice for those who are willing to go for the professional level.
The best thing about this board is it will allow you smooth bounce due to its optimal frame size and board thickness.
back to menu ↑
#4 Bronx Ultimate table tennis board
Bronx is one of the companies which are well recognized for their TT tables. This table This is one of the best options presented by the company as you will get all the characteristics required for a perfect action in table tennis.
The board is painted with Polyurethaneantiglare paint which provides uniform and consistent bounce throughout the game. It also offers protection to the surface of the table and increases its overall durability. This table tennis board price is Rs 17,999.
Table tennis board size: Table Top Thickness: 18 mm, Table size (H X L X B): 30 x 108 x60 Inches, Frame Size: 1 x 1.5 Inches iron tube, Leg Size: 1.5 Inches Square Tube. 100 mm wheel (6+2 Stopper wheels), Powder Coated Frame, and leg.
Package inclusion: 1 Bronx table Full Size, 1 net set, and 1 table cover, 2 racquets, and 6 seam balls. 100 % 
back to menu ↑
5# GYMNCO Practice Full Size 
Up next we have Gymnco, this table tennis board will provide you with all the features which are a must for perfect gameplay. The wheels attached to it make it portable and easy to fit in a small space. Comes with a blue-colored board, this board is layered with materials that make it scratch-resistant. Moreover, you can improve your TT skills in this table as it will allow you to play on a perfect bounce because of its steel frame.
The installation process is easy, it can be done easily with the help of the user manual that comes along with the kit. There are many other accessories available along with this TT table like rackets, balls, net, and table cover.
Table tennis board size: Approved by: TTFI Approved, table tennis board size H X L X B: 30 x 108 x60 inch, board color: blue. Board thickness/ type: 25mm, pre-laminated particle board, base frame material: steel. Base frame color: violet mica blue metallic and silver Suzuki metallic, base frame size: 50 mm x 25 mm, leg size: 40 mm square, wheel size: 100 mm with 6+2 wheel stopper, installation: Sticky User Manual and Self-installation required, Foldable: Yes
Includes in package: table tennis racket, balls, tt table, tt net, net stand, user manual, tt table cover, and one pair of tt table racket.
Why buying a table tennis board online is reasonable? 
It is better to buy products online. We live in a society where most of us are too busy to go shopping. Hence, we do most of our shopping online from the ease of our home or office and get everything we need to deliver at our doorstep. You don't need to jump from one shop to another to find the desired product. When you shop online, you can find everything you need in one place. 
If you find this article helpful, please share it with your friends and loved ones. If you have any suggestions, please let us know in the comment section.