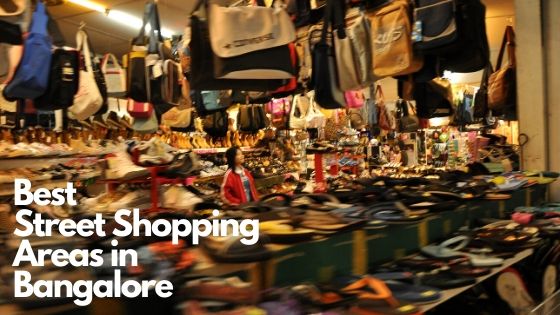 Who doesn't like shopping? The best thing to go on street shopping areas in Bangalore is we can walk in the open air and enjoy the vibes of people juggling around and that experience is totally different. Our green city, Bangalore is not only famous for its greenery and its IT sectors but also a very good tourist spot attracting them for its history and culture. What not you can find in our city?? A perfect blend of an old and new tradition, Bangalore offers tons and tons of options to our shoppers. Street shopping is like a favorite to most of Bangaloreans where they can get a wider variety of choices of each and every product! Let's now get to see the Top 10 BEST street shopping areas in Bangalore.
Best Places to do Shopping in Bangalore
 1. BRIGADE ROAD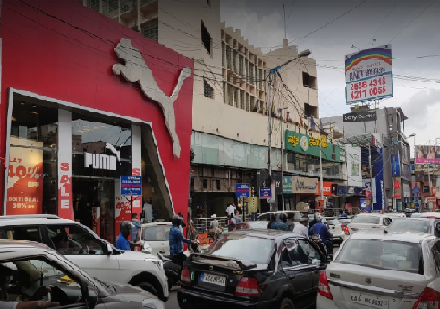 This is one of the busiest and biggest street shopping areas in Bangalore. Brigade road is located between residency road and MG road. There are almost 1400 cars parked here on average. This place is a shopping hub specially for youngsters. Brigade Road is a must-visit place for shopping if anyone is visiting our garden city, Bangalore. You can walk through the footpaths to explore branded showrooms selling garments, electronics, footwear, and jewelry. You can find a whole bunch of places to shop for at a reasonable price.
Brigade road is lined with stores of some popular brands like Allen Solly, Van Heusen, Reebok, Nike, etc. There is a Dubai plaza and wild cats are the best place to get trendy clothes. Apart from shopping for clothes, Brigade road has several cafes, restaurants, and many street foods, vendors.
NEAREST METRO STATION: Church street and MG ROAD metro station.

2. CHICKPET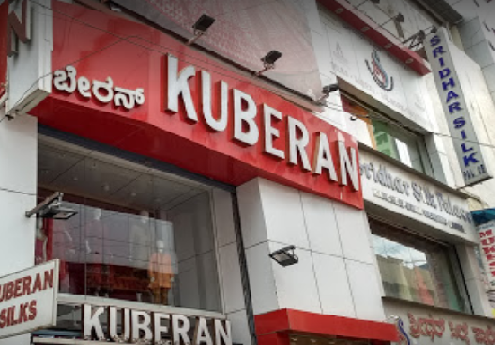 Chickpet is one of the oldest and famous street shopping areas in Bangalore. It is also the most shopping place visited by most of Bangaloreans. In chickpet there are more wholesale vendors. People often visit this place for any shopping for big ceremonies like family functions,marriages etc. Chickpet is mainly famous for Kanjeevarams, Mysore silks, Benarsis, tussars and even breezy crepes and chiffon sarees. It is also known for gold and silver jewelry especially in the Raja market.
The roads are very small covered by shops and street wonders totally. finally, it would be really worth shopping in your estimated budget.
NEAREST METRO STATION: Chickpet metro station

3. COMMERCIAL STREET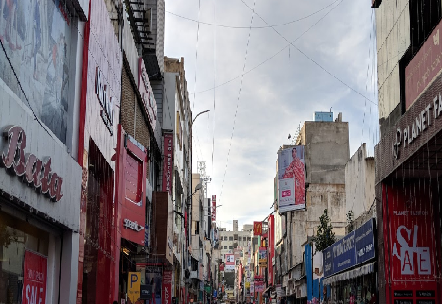 It is almost everyone's favorite shopping destination for street shopping. Here in the commercial street, we get clothes ranging from costly to medium, to cheap each of them having a superb quality. It is like a one-stop destination where we almost get everything needed. As mentioned earlier as well, Commercial Street is the place where one can buy anything from trinkets to the trendiest clothes. Basically, the Commercial Street shops are there for anyone and everyone.
Remember to bargain hard with the sellers and ask for discounts. While shopping you will also find some food vendors selling some yummy street foods.
NEAREST METRO STATION: MG ROAD metro station
4. JAYANAGAR 4TH BLOCK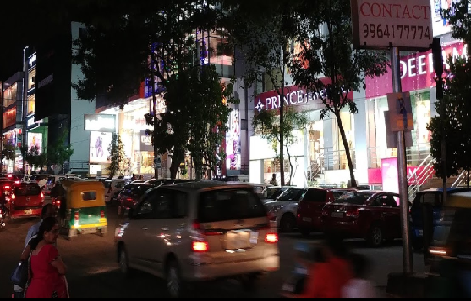 This destination is a must-stop destination for the south Bangalore people. It is near to the main bus stand in Bangalore.Its a shopping spot for garments and accessories. There are many shopping complexes as well as street vendors. One can definitely get everything they want under the sun in this particular area. This place doesn't have a proper parking facility, so we would suggest you to use some public transport when you visit this place.
NEAREST METRO STATION: Rashtriya Vidyalaya Road metro station

5. MALLESHWARAM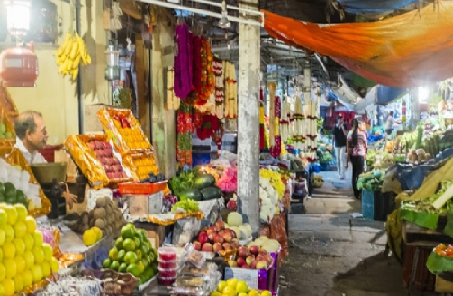 This destination is one of the most traditional markets in Bangalore. Here we get a unique experience of shopping. Malleswaram is famous for its flower market, herbs, spices, and vegetables. It is also famous for many temples situated in a lane. There are many street vendors, who sell clothes, accessories, footwear, bags, and many more. These products are sold at a cheap rate with good quality. There are many must stop restaurants which serve authentic style of Bangalore's famous foods. Anything you shop in this area is truly budget-friendly and there will be huge savings from your pocket. Do visit this place and get a wonderful experience of shopping.
NEAREST METRO STATIONS: Mantri square sampige road metro station

6. AVENUE ROAD
This is the most busiest road always occupied. This destination is known for its traditional trade in used books, garments and textiles, jewelry and pawnbrokers. This is the shopping hub for many students as they get most second-hand books for cheaper rates and worth taking it. Apart from books, you can shop for raw materials for decoration and gift packing, jewelry, garments, and stationery.
 NEAREST METRO STATION: Chickpet metro station
7. GANDHI BAZAAR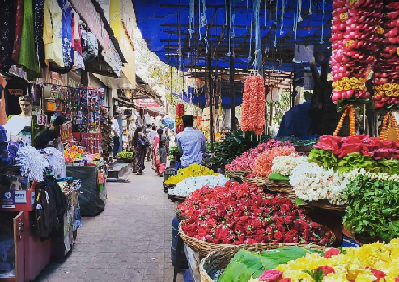 This is always an overcrowded area located in Basavanagudi and street shopping areas in Bangalore. It is said to be traditional and conservative are said to be the oldest area in the city. The area will be fully glowing in the festival times. Usually, many people prefer to purchase all the needed items for festivals and any rituals from this area. The price is a little expensive but very high-quality products. There are some traditionally old restaurants wherein still people hog and wait for a longer time to eat in those restaurants.
There is Bangalore's famous temple called Bull temple and there's a fair every year in the month of November for 3 days called kadale kai parshe. Thousands of people gather for the fair and enjoy it.
NEAREST METRO STATION: National college metro station
8. KR MARKET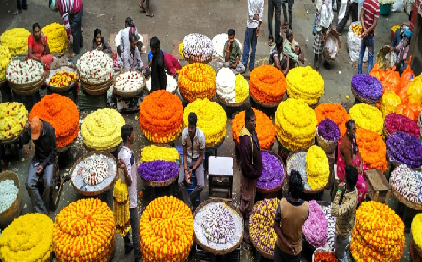 KR Market or Krishna Rajendra Market or City Market is the largest wholesale street shopping areas in Bangalore. The KR market is known to be one of Asia's largest Flower Market. This market will be entirely busy during the early mornings as there are more retailers rushing to the wholesale vendors in the market for their daily business. If you visit this market, you will be guaranteed to return back with some fresh vegetables, fruits, flowers, etc. Additional to this, the prices are so budget-friendly compared to other paying at the supermarket near home.
NEAREST METRO STATIONS: KR MARKET metro station
9. MAJESTIC MARKET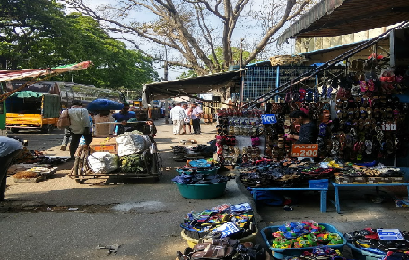 Looking for some fancy or attractive things?? This destination is a must-visit to shop what you are exactly looking for. There is also a national market near this which is also called has a grey market. One can easily find clothes, accessories, phones, cameras, and tablets there at a relatively lower price. Here one must be careful before purchasing any product and there may be many defect ones. 
NEAREST METRO STATION: NADAPRABU KEMPEGOWDA metro station
10. SHIVAJINAGAR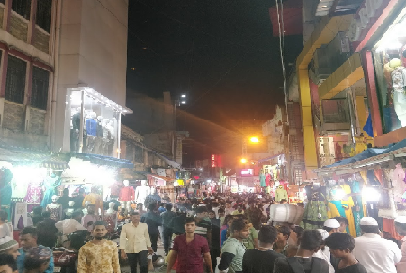 This destination is famous for a wider variety of goods at the most rock-bottom rates. All kinds of apparel and home furnishings, awesome kolhapuris, antique porcelain jewelry can be bought at a very cheaper price. A must visit place if you want to purchase anything at a lower cost.
NEAREST METRO STATIONS: MG ROAD metro station
Hope you found some best places for shopping in Bangalore. Do explore and don't forget to share your experience with us. If you have any other best shopping streets in mind please drop them in the comments section below.
Also, read this article: Why is it Right Time to Start Using Made in India Products?