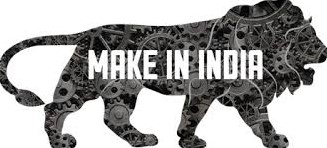 It is such a heartbreaking situation to say how the world and our lives are changing over the past few months. The novel coronavirus pandemic has resulted in unimaginable losses to the global economy and the loss of human lives. Government and health professionals are constantly working against this hazardous disease. In this article, we have explained why it is the right time to start using made in India products. 
Present Economy Situation in India
Present India's economy is going very low. The global spread of coronavirus has sent shockwaves through global equity markets. Until February India was less effective economically like other countries. Once the World health organization declared that this disease was pandemic, there was a huge fall down in the Indian market.

This fall down in the market effected many Sectors, Large scale, and small scale Industries and many migrant workers. The IT sectors who adapted themselves for 'Work from home' gave a chance to many people to work across globally. Right now this change in working policy has been a great barrier to the culture change in work.
BOYCOTT CHINA PRODUCTS
Since the virus first originated from china in a wet market in Wuhan, people around the world are criticizing the Chinese government and the citizens for consuming wild animals. Many health experts believe that the new strain of coronavirus started spreading through bats and pangolins. Since then the virus started spreading through person to person contact.
Some Indian users on social media have been calling for a ban of TikTok, an app owned by Chinese. We must boycott china products as they provide very low-quality goods, there are territorial conflicts involving china. We Indian's must not fill their(Chinese) stomach when we are sleeping hungry in this current pandemic situation.
Its Time to Start Using Made in India Products
PM NARENDRA MODI, addressed the nation about the importance of encouraging a strong and self-reliant economy in the wake of coronavirus pandemic.
In the 40min speech, he talked about 'Atma Nirbhar' or self-reliance. He repeatedly stressed on the importance of the local economy.
"Be vocal about the local" is one of the highlighting phrases he used to convey the importance the Indian products that we must not only use but also endorse and promote locally made and locally sourced products.
While the impact of novel coronavirus on businesses has been devasting worldwide, the human cost has also been staggering.
Purchasing the locally produced Made in India Products helps reducing imports and helps to have the Better GDP. The prices of goods reduce because it doesn't involve complex packing and processing. The money saved from locally produced goods can be invested back in the businesses which will further improve the net worth of companies. Indian products are very environmentally friendly, so they don't affect badly on the environment.
By doing this it mainly helps in improve our economy and increases our GDP. 
SOO FINALLY,
LET'S STOP BEING DEPENDENT ON CHINA OR ANY OTHER FOREIGN COUNTRIES FOR ANY GOODS OR PRODUCTS AND RATHER START USING OUR OWN COUNTRY'S PRODUCTS AND START BRINGING UP OUR ECONOMY. NOW AS THERE ARE MANY PEOPLE WHO ARE SLEEPING IN HUNGER, LET'S HELP THEM LITTLE BY FILLING THEIR STOMACH BY SHOPPING SOME LOCAL PRODUCTS. SO NOW IT'S THE RIGHT TIME TO START USE OUR Made In India Products.
Also read this article: Donations for Coronavirus