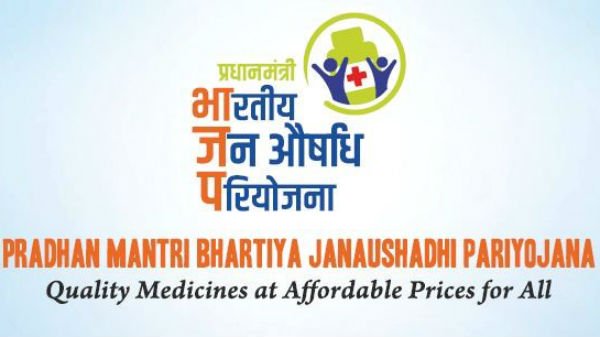 शरीरे जर्जरीभूते व्याधिग्रस्ते कलेबरे ।
औषधं जाह्नवीतोयं वैद्यो नारायणो हरिः ॥
Shareere jarjareebhoothe vyaadhigrasthe kalebhare |
Aushadham jaahnaveethoyam vaidyo narayano hari ||

When the body is deteriorating and is ridden with disease/illness, the sacred water GANGES is the cure, is the only medicine and (in KALIYUG) now doctors are visible LORDS and their medicines should be consumed with the positivity that it is equivalent to GANGES.

A person cannot escape from illness due to some reasons and to cure one is possible only by medicines. Medicines today are the subject matter of profitability due to high innovations of improved drugs and the cost of research is compelled to levy by a consumer. Today's medicines to economically back are a nightmare to afford.
In this regard, the government focusses on providing quality and efficacy of generic drugs at a considerably low price and is named as Pradhan Mantri Bharatiya Janaushadhi Pariyojan (PMBJP). This was started in the year 2014 under the governance of Prime Minister Shri. Narendra Modi and is supplied to the public through special stores named after the plan.
Our honorable PM substantiates the cause for launching this campaign by the Department of Pharmaceuticals in association with CPPSU (Central Pharma Public Sector Undertakings) in this tweet.
Jan Aushadhi Pariyojana Kendras across India are at the forefront of providing affordable medicines to the poor. This initiative has added significant strength to the efforts of the Central Government to ensure every Indian has access to healthcare that is of good quality and is affordable. pic.twitter.com/2W8SuVmvqe

— Narendra Modi (@narendramodi) March 7, 2019
Types of Medicines Available at Jan Aushadhi Pariyojana Kendras
They majorly produce generic medicines. Now what are GENERIC Medicines? Generic medicines are those drugs marketed under non- proprietary or unauthorized names after the medicine or any brand. These drugs contain actual dosage, composition, effects as it should and brands are those who proprietary these medicines for personal benefit.  People with no agitation can rely upon these medicines available. The quality, safety and efficacy are ensured by testing the entire batch of medicines purchased from WHO-GMP certified manufacturers through the NABL accredited laboratory and conforming to the standards before the supply of the same to PMBJP stores. 

Jan Aushadhi Stores:
These stores are located across India. You can check them here 

The usual working hours of such stores are from 8AM to 8PM.

All therapeutic medicines are available in these stores

In addition to medicines and surgical products, these stores also supply associated medical products available in regular medical stores.

Over the counter products are sold without any prescription compulsion but to get scheduled drugs proper prescription from a registered medical practitioner is mandatory.
JAS store can be opened by NGO's, trusts, charitable institutions, unemployed pharmacists, individual entrepreneurs, private hospitals, doctors or any Organisations provided applicants should have employed B-pharma or D-pharma from recognized universities.

Jan Aushadhi Sugam App:
Jan Aushadhi Sugam is an application to help you get everything from this plan which is available from Playstore / Appstore for download.  This app helps
You witness the quality assurance of the products.

You locate a store near your place

You get the medicine you are looking for along with the price.

You compare how best they are from other brands on particular products.

It's our opportunity to enjoy the privilege from the government without compromising on any factors of consideration.
Jan Aushadhi Medince List
If you are looking for Jan Aushadhi Medince Price List you can check this link
Read about Light a Lamp Campaign by Narendra Modi