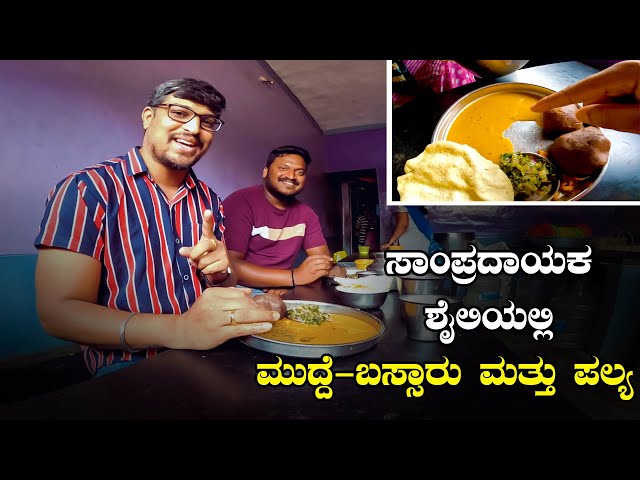 This blog or vlog is especially for people who love 

Ragi Mudde Bassaru

 and soppin palya (ragi ball with veg curry). This time we were able to explore Hotel Prakash in Magadi Road, Bangalore. 
Ragi (finger millet) is one of the staples of Karnataka. Ragi's nutrition value is very high. Rahi is include in most of the dishes in Karnataka, as its benefits are high. Traditional dishes like steamed rice and Ragi ball (Ragi Mudde) and different soppin saaru are some of the main cuisines of South Karnataka.
Hotel Prakash is a traditional restaurant well known for veg halli mane mudde oota (village nati style home food). They still use the traditional woodfire method to cook all the dishes that are served here. They are serving food since 37 years in this place. The hotel has always served good food keeping health in mind to the customer. You can experience the mothers' love and touch while having their dishes. Especially Ragi Mudde Bassaru is a great dish to try, a simple lunch with satisfaction at home if you are a fan of Mudde ( ragi ball ).
They are serving breakfast and lunch for the past 3 to 4 decades in Magadi Road, Bangalore. In the morning they serve, fresh and hot Idli and Chatni, Rice bath, Puri, and Chapati cooked on a woodfire. They taste good. Below are the details for traditional-style lunch.
Hotel Prakash Ragi Mudde Lunch menu:
Ragi Mudde Bassaru and soppin palya
Ragi mudde and sopinna saru and soppin palya
Ragi mudde Hulli sara, and palya
Ragi mudde Upsaaru and soppin palya
Rasama, Rice, Papad and Pickle
Address:
Hotel Prakash
Behind Magadi Busstand
To know more about this you can watch the below video and for similar vlogs, you can through our YouTube Channel.
Hope this information is useful, thank you – Masala Chai Media