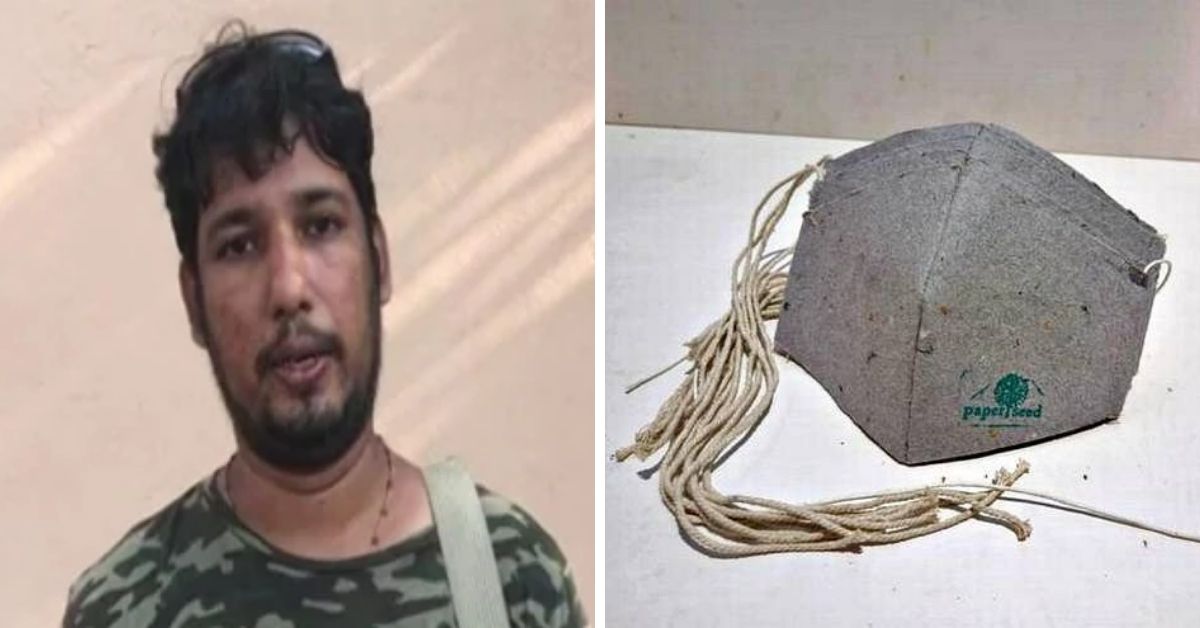 A man from Mangalore has developed a seed mask at his initiative Paper Seed Co, which when dropped into the soil grows into a plant. Cool isn't it?
Mask that grows into a plant?
As it has become necessary for every individual to wear masks to stop the spread of the Cobid-19, one often overlooks the environmental impact of abandoning single-use masks.
According to a report, masks and other Covid gears are being used then thrown away after every single use. Some masks waste are already being found on roads, waterbeds, and other public areas, destroying the health of the ecosystem.
To tackle this situation Mangalore's Paper Seed Co. has come up with a brilliant idea that will help solve this problem. Nitin Vas, an Activist from Karnataka, has an interesting seed mask, which when dropped into the soil grows into a plant.
"We all need to be safe in this pandemic but we seem to be so cold in our attitude towards the environment. The number of abandoned masks we find in our cleanup drives is just surprising," says Nitin.
"We as partners created this paper mask to conserve nature. The topmost layer of the mask is made up of cotton cloths and the innermost layer is made up of cotton coverings. The best thing is, once these masks are dropped in the soil, plants will grow out of them from the seeds deposited on these masks," he adds.
Till now the Paper Seed Co. has produced about 10,000 such masks.
Eco-friendly alternative
"The aim is to produce an eco-friendly alternative to the masks already being adopted by the public. We need to remember is that with the protection of human beings, we also need to worry about the animals, and other aquatic animals because these masks go and enter the oceans, polluting them and also wrecking the aquatic life," says Nitin.
Nitin tells that the mask consists of seeds such as tulsi, tomato, okra, and other vegetables. The masks are produced from recycled cloths and the interior coverings are made with cotton cloth, which is degradable. And of course, they are thick enough to stop the virus as well.
There are some other products developed by Paper Seed Co. which include invitation cards, note pads, visiting cards, and even pamphlets which when dropped into the soil grow into plants.
Contact Nitin on +91 90083 92618.
Source: The Better India