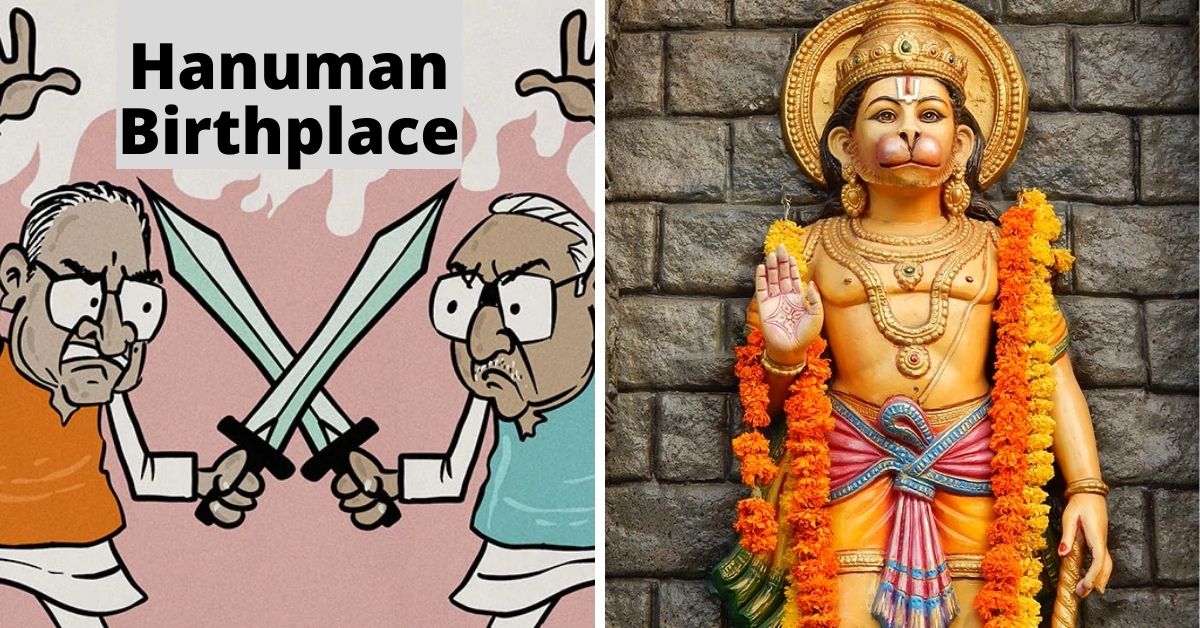 In recent times there is a new debate that is taking around between Karnataka and Andhra Pradesh as they both claim that the birthplace of Lord Hanuman is on their respective land.
Karnataka's Claim 
Previously, Karnataka had claimed that Hanuman was born on the Anjanadri hillock in Kishkinda, near Anegundi, Koppal district.
According to a report published in TOI, now, a spiritual leader from Shivamogga made a fresh claim, saying the soulful Bhakt of Lord Ram was born in Gokarna in Karnataka's Uttara Kannada district.
Taking the Ramayana as evidence, Raghaveshwara Bharathi, head of Ramachandrapura Mutt in Shivamogga, quotes that Hanuman had told Sita that he was born at the seaside of Gokarna. "Based on the evidence in Ramayana, we can say Gokarna is Hanuman's janmabhoomi and Anjanadri in Kishkinda was his karmabhoomi," he said.
Karnataka has also started on a project to declare Kishkinda's Anjanadri as Hanuman's birthplace. The hills of Kishkinda adjoining Hampi have a mention in Ramayana where it is described as the place where Lord Ram and Lakshman met Hanuman.
"Now, we will develop the place as a pilgrimage center with the redemption of the tag of Hanuman Janmasthala," Koppal district minister BC Patil said.
Andhra Pradesh's claim
With all the buzz, Andhra Pradesh, too, stepped in and has a claim – that Hanuman Birth Place is the hills of Tirupati – also named as Anjanadri.
Going to the next level, an expert panel established by the Tirumala Tirupati Devasthanams (TTD) is anticipated to submit its investigation report on the matter on April 21.
According to a report, the panel consists of the Vice-Chancellor of National Sanskrit University Prof. Muralidhar Sharma, Vice-Chancellor of SV Vedic University Prof. Sannidhanam Sharma, ISRO scientist Remella Murthy, Deputy Director of State Archaeology Vijaykumar, professors Ranisadasiva Murthy, J. Ramakrishna, and Sankara Narayana with the TTD SV Higher Vedic Studies project director Akella Vibhishana Sharma as the convener.
It is said that after numerous rounds of investigations and analysis, the committee lastly indicated to have collected sufficient evidence to prove that Anjanadri is the real birthplace of Lord Hanuman.
The evidence was based on Siva, Brahma, Brahmanda, Varaha, Matsya Puranas, Venkatachala Mahatyam, Varahamihira Brihatsamhita establishing the point that Anjanadri hills located in Tirumala are the actual birthplace of Anjaneya with relevance to the dates of that period.
"We've mythological and archaeological evidence to prove Anjanadri in Tirupati is where Hanuman was born," KS Jawahar Reddy, executive officer of TTD Trust Board, said.
Also Read: Curfew Will Do More Damage Than Curbing The Virus: Bangalore Traders