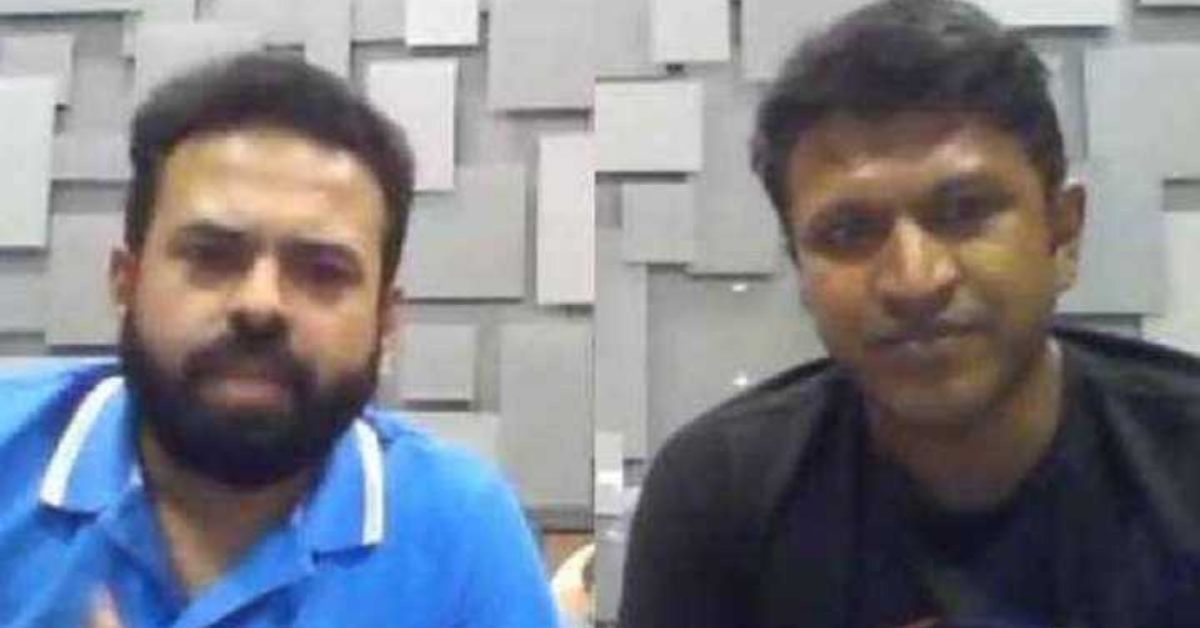 Seeing a jump in COVID-19 cases, the Karnataka state government has decided to take the necessary steps to curb the virus spread. Given this, the government has announced strict guidelines which came into force yesterday. The Govt. has also implemented a rule of 50% occupancy in cinemas which has affected newly released films especially Yuvarathnaa.
As per the new Covid guidelines, only 50% of occupancy in movie theatres will be allowed, which has unquestionably come in as a big blow to the owners of movie theatres, producers and actors. In the coming days, a lot of Kannada films are getting released and this 50% rule will surely impact viewership. 
Puneeth Rajkumar questions Govt.
Puneeth Rajkumar, who starred in the recently released film Yuvarathnaa has to face challenges because of this new regulation. 
After the new rule came into force yesterday, Puneeth Rajkumar and director Santosh Ananddram, came live on Facebook and requested the government to remove the 50% occupancy of the seats rule in theatres and instead give them 100% full occupancy.
Puneeth questioned the government as to why the harsh rules are just for movie theatres. "If the government had made an early call on the strict rules we wouldn't have released the movie. And now when the movie is released and it is getting a good response how can you restrict the occupancy in theatres? A good Kannada cinema is been killed."
"When we see, in election campaign meetings, people everywhere gathering, but we can't see any such rules there, why it is only for us?" he questioned. Source: Times Now
The new rule has been executed in 8 districts of Karnataka where cases were reportedly building. The districts include Bengaluru, Bengaluru rural, Kalaburagi, Bidar, Dakshina Kannada, Mysore, Udupi and Dharwad.
Speaking on the same Yuvarathnaa director Santosh said, "Without giving any hint, or information if such decisions are taken then where should the producers go? We have just released our film and it is doing well. Now, what will happen to us?" 
"All the necessary precautions like wear face masks and sanitizing hands will be followed strictly" and what we want is just removal of the 50% seat rule in theatres," added. 
Fans ask for the withdrawal of the
50% occupancy rule
Few fans have also shown frustration with this new rule and have termed it as injustice. One of the Twitter users wrote, "I think it's an injustice to call out for 50% occupancy in theatres when the most anticipated movie just released.. we hope for the best and in favour of everyone without any losses."
i think its an injustice to call out for 50% occupancy in theatres when the most anticipated movie just released.. we hope for the best and in favour of everyone without any losses. @PuneethRajkumar @hombalefilms @VKiragandur @SanthoshAnand15 #Yuvarathnaa #PuneethRajkumar

— Anchor Mahin (@anchormahin) April 3, 2021
OTT better ansthilwa iwaga just 2 days agide release agi so olle offer ge hogbodu ankothini
However OTT allli nam movies astenu sound madilla except 1 or 2
Idu right time ankothini ott ge
Iwaga 18days 50% occupancy ide adu munde continue ago chances ide

— Peaky_Blinder (@Abhay15102079) April 3, 2021
It's Injustice to #Yuvarathnaa movie by Karnataka Govt to make 50% occupancy the next day of its release atleast there should have been prior notice regarding this

Hope government takes back the decision @BSYBJP @mla_sudhakar #WeWant100PercentOccupancy

— Karnataka Box Office (@SandalwoodBoxO1) April 3, 2021
#Yuvarathnaa now requires every fans support which is going great in theaters
Let's stand with KFI
I request @BSYBJP to reconsider your decision of 50% occupancy in theaters.#Wewant100percentOccupancy @SanthoshAnand15 @PuneethRajkumar @hombalefilms #Roberrt #KGF2 #Kotigobba3

— Shashidhar Shashi (@dbossfan05) April 2, 2021
50% occupancy will not stop me (us) from watching #Yuvarathnaa watching it with my family today/tomorrow at Inox Galleria, Yelahanka. We are with you @hombalefilms @KRG_Connects @PuneethRajkumar @SanthoshAnand15 @Karthik1423 #Kannada #KannadaMovies #WeWant100PercentOccupancy

— Sachin Deshpande (@Sachinn5193) April 3, 2021
Kannada industry reacts
Meanwhile, the Kannada film industry stars like Kichcha Sudeep and Rakshit Shetty have also expressed their concern over the rule and the Yuvarathnaa film. 
Sudeep on his Twitter handle has tweeted, "Goin bk to 50% theatrical occupancy is surely a shocker to a film tats just released. Respecting the govt's decision too is our duty, keeping in mind it's for a reason. I wish team #Yuvaratna the best of strength to overcome this situation and come out victorious".
Goin bk to 50% theatrical occupancy is surely a shocker to a film tats jus released. Respecting the govts decision too is our duty, keeping in mind its for a reason. I wsh team #Yuvaratna the best of strength to over come this situation and come out victorious. @hombalefilms

— Kichcha Sudeepa (@KicchaSudeep) April 3, 2021
Reducing the theatres occupancy to 50% without any prior notice is extremely unfair. Your entertainment is someone's livelihood. Let's not forget that.
ಕನ್ನಡ ಚಿತ್ರರಂಗ ಉಳಿಯುವ ನಿಟ್ಟಿನಲ್ಲಿ ಚಿತ್ರಮಂದಿರಗಳಲ್ಲಿ 100% ಅನುಮತಿಯನ್ನು ಕೊಡಬೇಕು ಎಂದು ರಾಜ್ಯ ಸರ್ಕಾರದಲ್ಲಿ ವಿನಂಬ್ರ ಮನವಿ.@BSYBJP

— Rakshit Shetty (@rakshitshetty) April 3, 2021