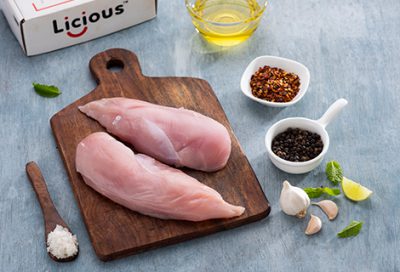 Bangalore is a place where you can order anything online these days. Starting from Plumbers to Medicines there are many Apps operating to make your life easy. There are good number of startups in Bangalore who does food delivery and If you are looking for ways to buy chicken online, I am sure this article will help you out. Chicken is one of the favorite recipes for most of the non-vegetarians.  We have listed down some of the Best Apps to buy chicken online in Bangalore.
1. Licious
Licious is one of the Best Apps which delivers chicken, mutton, and Seafood. According to their reviews and user ratings, their service quality is pretty good compared to any other providers. They also deliver half prepared ready to cook fish and chicken recipes which are easy to prepare. To order Chicken from Licious visit Licious.in
2. Big Basket
Big basket is another platform to buy chicken and mutton online in Bangalore. By downloading Big basket app you can buy nonveg things like Chicken, mutton, Fishes and other non-vegetarian food items online.
3. fresh To Home App
You can buy Chicken online from FreshTo Home App. You can order Chicken, Meat, and Fishes online by downloading their app or by dialing the contact number.
4. Eztrolley.com
Ezytrolley.com is another app to book Fish, Meat, and Chicken online in Bangalore. They have a variety of non-veg items to choose from.
Please note: Read instructions related to Halal, Delivery slots and delivery charges on respective websites to avoid confusion. Most of these apps have limited delivery slots and needs prior booking hours. Delivery rates are applicable as per the delivery location.
Hope this article helped you to find the best app to buy chicken online in Bangalore. If you are using any other Apps to buy chicken, mutton or Fishes in Bangalore, feel free to mention in a comments section below.
Also, find out Where can I buy Goat Milk in Bangalore