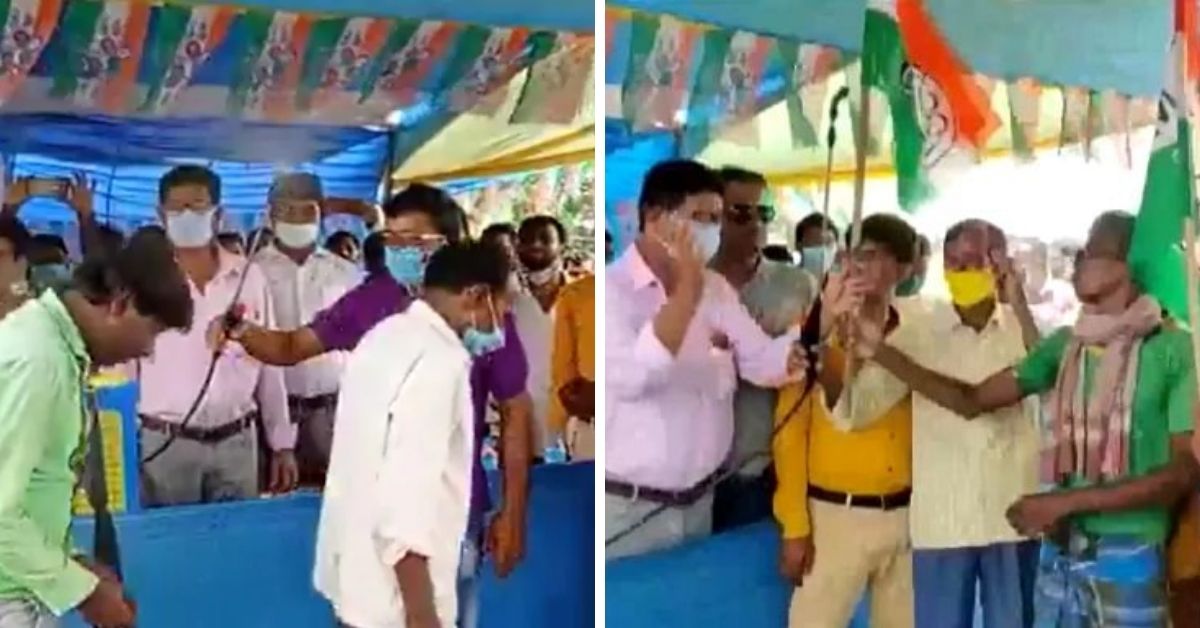 Indeed, both Trinamool Congress and Bharatiya Janata Party in West Bengal never go along together. But, with the elections that have come to an end, several party workers are returning to TMC from BJP. The ruling party, however, performed a bizarre ritual to welcome workers from BJP.
BJP Workers Sanitized
In a video shared by ANI, the Trinamool Congress' local leaders in the Ilambazar block of Birbhum conducted a purification ritual on the TMC workers after coming back from the BJP. The TMC worker literally sprayed sanitizer on the workers as they join again.
A month ago, the ruling Trinamool Congress and Bharatiya Janata Party went head to head in the West Bengal Assembly elections. It was Mamta Banarjee who tasted the victory and continued being the Chief Minister.
#WATCH| West Bengal: Trinamool Congress' local leaders in Ilambazar block of Birbhum perform 'purification' ritual of workers who are joining TMC from BJP, with the spraying of sanitizer. pic.twitter.com/Q4krju0fXT

— ANI (@ANI) June 24, 2021
A mistake
Previously, various TMC workers had join hands with the saffron party intending to bring changes in West Bengal.
Now, the BJP workers in Hooghly insisted that it was a blunder to join BJP. Surprisingly, they shaved their heads and sprinkled Gangajal to regret their mistake and returned to the TMC after being "purified"
Following this, these workers also held the TMC flag and joined hands with Arambagh MP Aparupa Poddar.