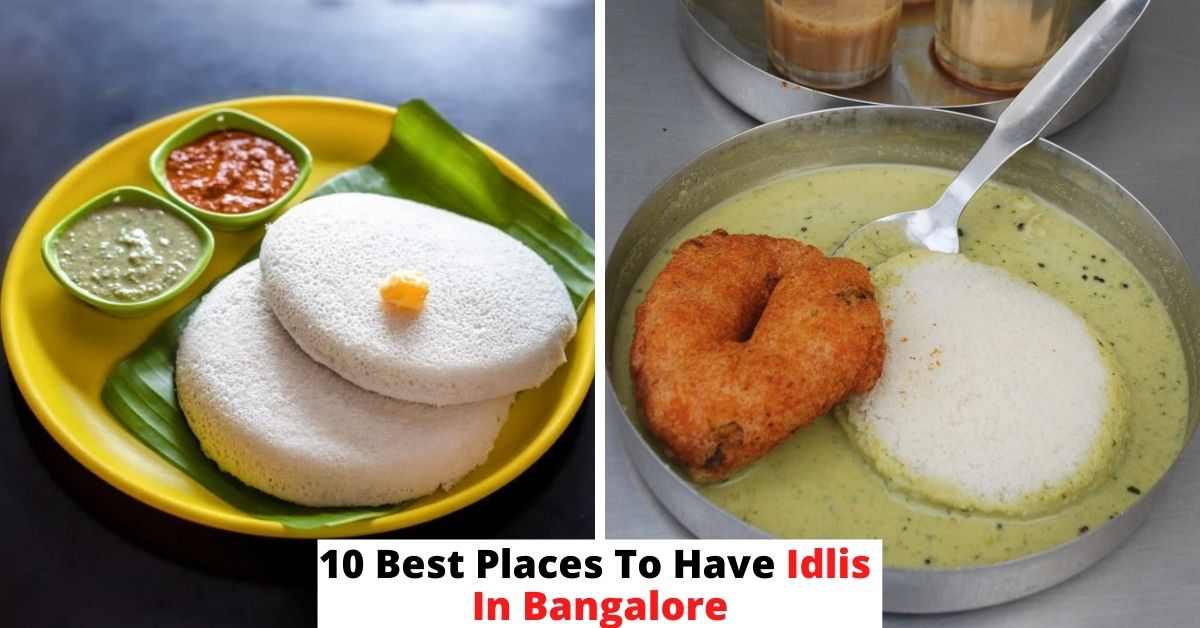 Are you searching for Best Idlis in Bangalore  for a breakfast? Breakfast is the most essential meal of the day. If you don't get your best meal at the start of the day, it will be the sole reason to have a bad mood for the rest of the time.
While some people may go for a heavy breakfast containing tons of ingredients, others go for an easy and light breakfast. And, when it comes to the final breakfast choice, especially for the Bengalureans, there is nothing as healthful as the good old traditional Idli with Sambar and Chutney.
But where to eat the best Idlis in Bangalore?
Well, here is the list of best outlets that bring authentic and traditional Idlis to your plate.
Best Places to have Idlis in Bangalore:
Central Tiffin Room

Brahmins Coffee Bar, Basavanagudi

Sri Raghavendra Stores Malleshwaram

Veena Stores

Brahmins Thatte Idli

SLV JP Nagar

Vasudev Adigas Jayanagar

Maiyas JP Nagar

New Krishna Bhavan, Malleshwaram

Madurai Idli Shop, Koramangala
#1 Central Tiffin Room
This place is selling the old and traditional Idlis for more than 25 years. Always crowded every day, people often come here to get a quick breakfast before they leave to their work. Dishes are served here as early as 7 am.
Idlis here are very soft, fluffy, spongy and goes well with sambar. The chutneys served here is tasty and heavenly.
Address: 7th Cross Rd, Srirampura, Bengaluru, Karnataka 560003
#2 Brahmins Coffee Bar, Basavanagudi
You have to stand and eat here, but tell you what, this one outlet serving idlis you don't want to miss. This restaurant is always buzzing and the reason is specific, the quality of dishes they serve. Idlis served here are super soft and with butter and coconut chutney, it's just a heavenly feeling.
Address: Ranga Rao Road, Near Basavanagudi, Bangalore
#3 Sri Raghavendra Stores Malleshwaram
You probably have to be from Bangalore to understand the importance of this outlet. The name ending with 'store' is absolutely a label for a restaurant that sells soft idlis and crispy vada. Idli vada dipped in Chutney is delicious served in Banana leaf enhancing the taste. The only best time to enjoy their meals are early mornings, and you will not be disappointed.
Again, this small place allows no seats; which means you have to stand and eat. But the customers are not really bothered about the difficulty, holding the plate filled with idly, vada, and chutney.
Address: Opposite Manipal North Side Hospital, Near Malleshwaram Railway Station, Malleshwaram, Bangalore.
#4 Veena Stores
Veena Stores at Malleshwaram is one of the legendary breakfast joints in the city. The old and traditional outlet has been serving delicious idlis for people for many decades. Again, this restaurant offers no seats, you have to stand and eat. But don't worry, you will not be too bothered about it and will be busy holding the plate filled with delicious dishes.
Address: 183, Margosa Rd, Malleshwaram, Bengaluru, Karnataka 560003
#5 Brahmins Thatte Idli
Brahmins Thatte Idli is a casual dining restaurant that serves authentic South Indian preparations especially mouth-watering Idlis. A well-known restaurant, it is appreciated for its timely service and is a nice joint to visit when one is looking to satiate hunger pangs with tasty, hygienic food at pocket-friendly prices.
As the name suggests, the place offers you Thatte idli which is a bit bigger as compared to the regular one. They are often served over a banana leaf which gives a fabulous feeling. Chutneys and Sambars are usually spicy here so watch yourself before digging your idlis to the core of the sambar.
Address: 8th Main Road, 17th Cross, Malleshwaram, Bangalore
#6 SLV JP Nagar
It is indeed a small place to deal with your hunger pangs but this restaurant offers quick bites for early morning breakfast which consists of delicious, lip-smacking Idlis and Vadas.
This Udupi-style vegetarian restaurant offers fluffy idlis that are usually big and eating three of them will keep your tummy full. And let's not ignore the fact about the quality they bring in their sambar and chutney which feels godly.
Apart from fluffy idlis served here, this place in Bangalore also serves other breakfast items such as Masala Dosa, Filter Coffee, Sambar, Vada, Kesri Bath and many more.
Address: Near Ragigudda Temple, 3rd Cross, 8th Main, Southend Road, 3rd Phase, JP Nagar, Bangalore
#7 Vasudev Adigas Jayanagar
A well-known dining restaurant, it is quite moderately decorated with both tables for sitting and a quick 'stand and eat' facility. They start serving at 7 AM with an astonishing breakfast menu, which later on stretches to various dishes from South Indian, North Indian and Chinese cuisines.
Idlis served here are the talk of the town. You simply cannot overlook the taste here. Though it is served simply over your plate, but when you eat it, you are just lost. However, people often complain over the quantity of sambar and chutney served but the taste remains top.
And if you like surprising your taste buds with a different taste, you can fancy yourself with a vegetable Idli, Ragi Idli, Palak Idli, and Idli Chaat.
Address: 12th Main, 27th Cross, 4th Block, Jayanagar, Bangalore
#8 Maiyas JP Nagar
A popular known restaurant that provides lip-smacking and authentic South Indian food. This outlet is spread over two floors- one is for buffets and another for regular service.
Coming to the Idlis served here, they place a piece of butter over idlis to give a different drive to your taste buds. The sambar served is close to Udupi Styled cooking which is sweet. However, the soft idlis could be a little bit costly as compared to a normal dinner but they provide equal hygiene.
One must also try here Curd Vada, Masala Dosa and Badam Halwa along with filter coffee.
Address: 648, Opposite Elita Promenade, 1st Cross, 5th Main Road, RBI Layout, JP Nagar, Bangalore
#9 New Krishna Bhavan, Malleswaram
Serving best Idlis since 1952, New Krishna Bhavan is a place you cannot ignore. If you come to this place and don't try their button Idlis then your search for unique idlis in Banglore will be incomplete. Believe it or not, button idlis dipped into sambar is just heavenly to eat.
They also have Green Masala Idlis. A tiny, button idlis fried up in ghee and soaked in a palak-based sauce. You would just go délicieuse!
Frequent visitors can also try their Idli Manchurian, Button Idli, Bonda Soup, Filtered Coffee, Neer Dosa, Masala Dosa.
Address: 547/547-1, Sirur Park Road, Sheshadripuram, Malleshwaram, Bangalore
#10 Madurai Idli Shop, Koramangala
If we are talking about South Indian dishes and we don't mention Madurai, then it will be an unfair discussion. Other than fluffy idlis served with fabulous sambar and chutney, this Idly Outlet in Bangalore also serves other breakfast items such as Pongal and the original filter coffee of Tamilnadu.
Idlis served here comes in two varieties; the regular one which could cost you Rs 15 apiece and mini idli which is quite unevenly shaped will cost you Rs 40 but will be served with 10 such Idlis.
Must-try: Curd Rice, Palak Cheese Dosa and Pongal.
Address: 507, Ko 338-419, KHB Colony, 1st B Main Road, Koramangala 7th Block, Bangalore
So here we are, at the end of the road. These are the  Places to eat Best Idlis in Bangalore. We have given you a lot of tips and hope it has helped you enough. If not, please let us know your views on the comment section. If you are searching for Best Dosa in Bangalore, Read our article to know more…
Where will i get Best Idlis in Bangalore?
There are many places to eat best idlis in Bangalore. We made list of 10 best places to eat idli in Bangalore.
Central Tiffin Room
Brahmins Coffee Bar, Basavanagudi
Sri Raghavendra Stores Malleshwaram
Veena Stores
Brahmins Thatte Idli
SLV JP Nagar
Vasudev Adigas Jayanagar
Maiyas JP Nagar
New Krishna Bhavan, Malleshwaram
Madurai Idli Shop, Koramangala
Where will i get Best Idli near me?
Are you searching for Best idli near me in Bangalore? Read our article. We made list of top 10 best places to eat idli in Bangalore