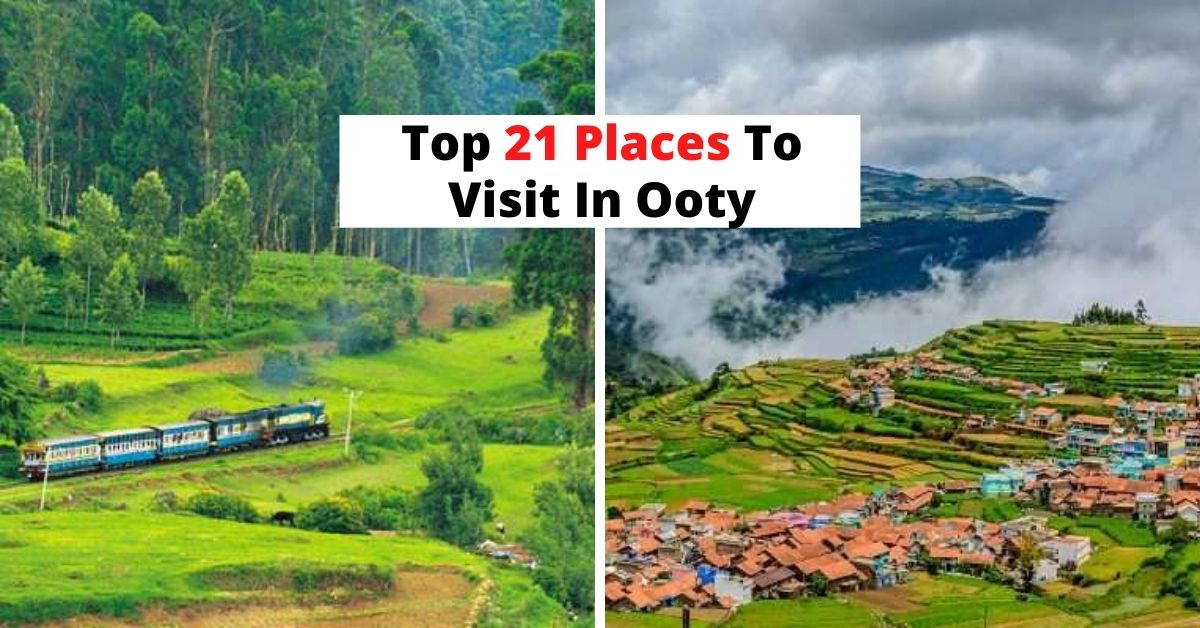 Ooty, the beautiful Hill stations, surprises you with beautiful fields, a peaceful environment, cold weather and a broad selection of travel places to visit and cherish.
People appreciate the beauty of Switzerland, Iceland and other parts of Europe mainly because of how green and beautiful the sites are. But have you been to Ooty? If not, then this place will surely surpass the countries that are above mentioned.
Don't believe me? Well, check out these places that have made through the list of the best places to visit and explore Ooty. It will surely leave you in awe.
#1 Nilgiri Mountain Railways
The Nilgiri Mountain Railways are a famous tourist attraction in Ooty. This was opened back in 1908, the railway is 46 kilometres long and moves through many tunnels, small waterfalls and many bridges. The ride is absolutely picturesque, so don't forget to take your cameras to click the best views which offer rocky terrains, tea plantations, bridges and forested hills. This ride on the Nilgiri Mountain Railways is an amazing experience altogether and surely you should not miss this.
#2 Ketti Valley View
Small houses clung to a sloppy hill, you might have seen these pictures in Switzerland or Ice Land. However, the Ketti Valley View in Ooty comes as a surprise. This place gives some amazing sights of its surrounding landscapes covering mountains and greenery valleys. The valley offers such striking views that it is often regarded as the mini Switzerland of South India.
#3 Rose Garden
The Rose Garden is another attraction place of Ooty which visited by many tourists around the year. This place is spread across 10 acres and this field is one of the biggest rose gardens in India. Organized in curved gardens, the rose farm homes to more than a hundred species of roses. It is said that many of the rose varieties were brought from several parts of the world.
#4 Pykara Falls
Adventure seekers and nature lovers will not want to miss the amazing beauty of Pykara Falls where water gushes down at full speed from a great height. Tourists can have an outstanding time here as it is deemed one of the choicest waterfalls in Ooty. The best thing about this fall is that the water drops in two divisions with a height of 55 metres and 61 metres through multiple layers and mixes up in a forest which is a treat to watch.
Here is a video on Pykara falls:
#5 Doddabetta Peak
This place is considered as Ooty's highest point and also the Nilgiri mountains' highest point. The Doddabetta peak sees a lot of visitors every year as it happens to be the most popular tourist attraction in the region. If you reach the top you will discover endless fields and a bunch of houses as you go about exploring the peak and its surroundings. There is also a telescope tower where one can get to watch the skyline of Ooty and look further to the comprehensive forests of the Bandipur National Park.
#6 Ooty Lake
One of the popular water bodies in the region, this huge artificial lake was created in 1824 by a European named John Sullivan. The lake is spread across 65 acres and is very popular for boating. Once you get on the boat, paddle your way exploring the place where you can find trees and birds chirping all over the place. This boat ride will make you forget all the problems you possess.
Here is a video: 
#7 Murugan Temple
As the name suggests, this temple is dedicated to Lord Murugan, and it is located at Elk Hill. The 42-feet tall golden-coloured statue of Lord Murugan is the biggest attraction here which is equally stunning. As it is positioned on the Elk Mountains, the area also offers amazing views of the surrounding.
#8 Mudumalai National Park
Other than hills and mountains, Ooty also has a Mudumalai National Park that shelters a large portion of flora and fauna. Resting on the north-western front of the Nilgiri Mountains, this National Park is a must-visit place while you visit Ooty. The park is home to a great number of royal Bengal Tigers, Wild Cats, Leopard, Sambar Deer, Chital deer, Reptiles, Snakes and many more.
#9 Thunder World
A beautiful place that has no amusement park, well, that isn't possible. The Thunder World is a famous tourist destination in Ooty that attracts thousands of visitors throughout the year. It is also known as the Dinosaur Park and it houses statues of several species of Dinosaurs. This place is best for kids.
#10 Botanical Garden
Another garden in Ooty is spread across 22 acres at the lower slopes of the Dodabetta Peak. This Garden is an amazing sight to observe a collection of beautiful flowers and trees. The terraced layout and the wider area is just an amazing place to hang out with your loved ones. The garden houses thousands of unique plants which consist of shrubs, herbs and bonsai plants.
#11 Avalanche Lake
Yet another popular water body in the Nilgiri mountain ranges. This Avalanche Lake offers picturesque views of nature and its surrounding areas make for an ideal camping site. Though it's located a little away from the main Ooty city centre, adventure seekers can come to this place to experience the best part of nature. You can discover many beautiful flowers, plants and much more in the surrounding valleys. And travellers who wish to camp at the site may carry a tent along with them.
#12 Kamraj Sagar Dam
If you are looking for a place to do picnics with your family and loved ones, well, this is the right place. This dam is located around 10 km from the Ooty bus stand and people can visit this place for bird watching as well as for fishing. This dam offers a peaceful environment with beautiful surroundings and it is a popular site for researchers who come to study environments.
#13 Mukurthi National Park
We have added one more National Park to the list and it is a part of the Nilgiri Bio reserve. The Mukurthi National Park guarantees a great time for the ones who expect to see the scenic beauty and rich nature. Spread across 80 sq. km, this national park offers many streams and rivers flowing, which adds up to the overall appeal of this place. Many animals and birds can be spotted through the watchtowers located inside the national park and it is also a popular destination for trekking.
#14 Ooty Toy Train
Ooty Toy Train comes under a part of Nilgiri Mountain Railway. It operates from Mettupalayam to Ooty through Coonoor. A 46 km ride on the toy Train is totally different as compared to other train rides. This train will pass through lush green landscapes and breathtaking Nilgiri mountains. There are two categories; first-class and second class coaches where you get to choose from.
#15 Parsons Valley Reservoir Ooty
Parson valley reservoir is spread across 200 hectares and is located at a height of 2,196 meters above sea level. Travelled by road, this hydel reservoir can be reached only after getting permission from the forest department. It is the beautiful view of the valley that attracts visitors and it is worth travelling for.
#16 St Stephens Church
St. Stephan Church was built in the 19th century, and the reason why you should visit this place is for its architectural beauty and religious significance. This church has beautiful interiors and also has painted glass windows. It is believed that the timber utilised in the formation of this church was brought from Srinangapatna as well as from the Tipu Sultan Palace. This is a place you surely don't want to miss.
#17 Ooty Stone House
Considered as the first bungalow built in Ooty, it was constructed by John Sullivan in 1822. Still, people call it a Kal Bungalow which means stone bungalow, and it was built on the land which was brought from the Toda (tribal) people. The ancient architecture is the reason why many tourists visit this place.
#18 Toda Huts Ooty
One more attraction that is associated with the Toda people and it is one of the most attractive and unique travel places in Ooty. The Toda Huts are the living homes for the Toda people, one of the original tribes of Ooty. The huts are built in the shape of a semi-barrel and have no windows but a very low door where one has to bow and enter. Toda people lived here and were dependent on cattle herding and farming.
#19 Wax World Ooty
Not only in London, of course, Ooty also has its own wax statue museum. It is located at a distance of 2 km from the centre of the town, and the place has several real-like statues of great Indian personalities. You can find statues of Mahatma Gandhi, Bal Gangadhar Tilak, Mother Teresa, Gopal Krishna Gokhale, late Dr.A.P.J. Abdul Kalam and many more. There is also a replica of local people and their living styles displayed here.
#20 Doddabetta Tea Factory, Ooty
Tea estates are a must when a place has a landscape as beautiful as Ooty. Hence, the Doddabetta Tea Factory and Museum automatically highlight in the table of Ooty tourist places. At this place, you can witness several types of machinery and other things related to tea leaves and the process of making tea powder. You can look into the different stages of tea production and also learn about the popularity of tea globally. By the end of the tour, you will also be offered a cup of tea for free.
#21 Mariamman Temple, Ooty
As the name suggests, this temple is dedicated to Goddess Mariamma, which is also considered the regional goddess of the rain. Mariamman Temple is famous amongst locals as well as tourists.
Here is a video you would like to watch which will help you know more about how to travel to Ooty via Bandipur. 
If you find this article helpful, please share it with your friends and loved ones. If you have any suggestions, please let us know in the comment section.