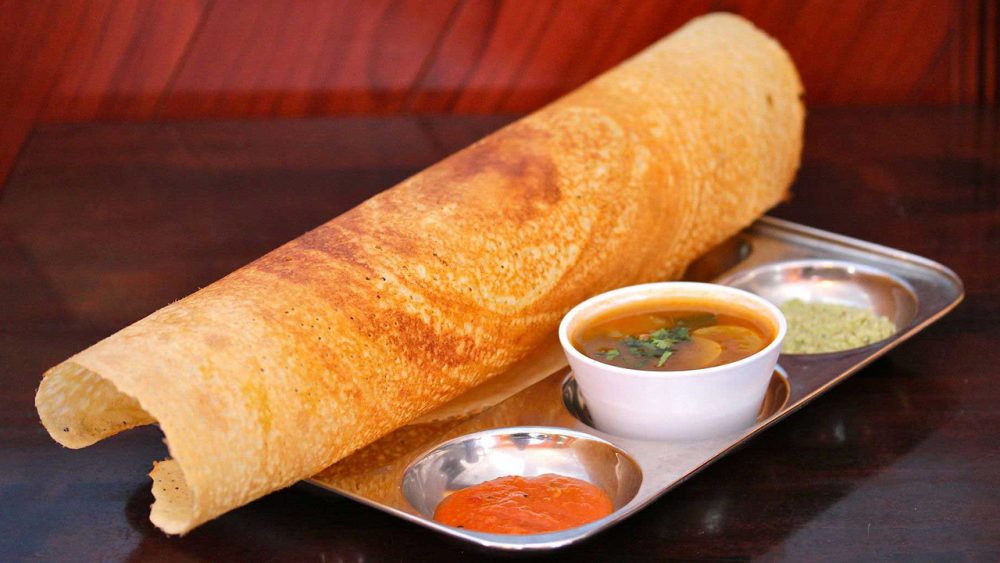 If you are looking for a super-awesome breakfast or delicious dinner, the Choices of the Best – the grandeur Masala Dosa. It's the King of All Dosas
To make your wonderful with taste rich experience, we bring you the Hotels or the places that serve Best Masala Dosa In Bangalore!
Best Masala Dosa In Bangalore
1.MTR, Lalbagh
Bengaluru's 95-year-old MTR(Mavalli Tiffin Room) is powered by tradition which serves the golden brown Masala Dosa capped with a tiny bowl of liquefied ghee. Queues not only for public even the Chief Minister of Karnataka stood in a queue to have masala dosa at this restaurant.
It does maintain its old-world charm serving the exquisite masala dosas along with flawless chutney and this splash of chutney will leave you wanting more! Breakfast is not complete until you sip a tiny glass of filter coffee which is as famous as Masala Dosa
in MTR.
Address:
Main Branch: 14, Lal Bagh Main Road, Sampangi Rama Nagar, Bengaluru, Karnataka 560027
Address: Multiple outlets across Bengaluru
Timings: 6:30 am to 11 pm and 12:30 pm to 9 pm
2.Masala Dosa Sidhappa Hotel, Sampangi Rama Nagar
Whatever you call – Half Masala Dosa, Mini Masala Dosa, Chikka Masala Dosa, it's here at Sidhappa Hotel, Sampangi Rama Nagar.
The house-converted-hotel with woody benches in all places. The waiting time can go up to an hour
on weekends.
The highlight is masala dosa here though they serve Idlis, other dosa flavors. Half masala dosa is very crispy and delightful to eat with the provided ideal chutney, The Best Combination.
You think of acidity, then this is the place you must try to have food because the ingredients are
cautiously chosen. The food is served hot and is yummy.
Address:
Sidhappa Hotel, Ashwath Nagar, 7th Block, Sampangi Rama Nagar, Bengaluru, Karnataka
560027
Timings: 8 am to 11 pm
3.RK Dosa Camp
You love Dosa, then it's the RK DOSA Camp, Also called DOSA LOVERS CAMP It's a heavenly place to take hold of early breakfast as service begins as early as 6:30 am. It Serves You a 4ft Dosa with diverse Varieties of Chutney And Sambar. The quality of their dosa is top-class though one might wonder that it's a low-key outlet at Wilson
Garden, Bengaluru.
Address:
320, 9th Cross, BTS Main Road, Wilson Garden, Bangalore
Timings: 6:30 pm to 11 pm
4. Masala Dosa At Vidyarthi Bhavan
If you are A foodie guy, stop here, you will go with a vintage sense of taste. The utmost realistic South Indian feast joints in Bangalore, it's one of the toppers. The 77 years old VidyarthiBhavan in Basavanagudi serves some of the best dosas in Bangalore. The ghee soaked
dosa here surely tantalizes the taste bud. The habitation is always lively with activity and people
across all age groups.
The Notable Karnataka Legend Dr. Rajkumar got his dosas packed from here. The butter masala dosa is among the supreme dishes served here (along with saagu-masale), puri-saagu, idli sambar, uppittu, chow-chow bath and rave vade have personage status!
Address:
No 32, Gandhi Bazar Main Road, Basavanagudi, Bengaluru, Karnataka 560004
5. Legendary Masala Dosa @ CTR (Central Tiffin Room), Malleshwaram
So-called Legendry Masala Dosa which you should flavor it at Shri Sagar,
Central Tiffin Room (or CTR).
In the 1920s, it was the World War Times, that CTR was established. The molten butter and crunchy Masala Dosa will certainly become habitual nourishment for the soul. Trust the dosas are still as appealing and tempting as endlessly.
Address:
7th Cross, Margosa Road, Malleshwaram, Bangalore
Timings: 7:30 am to 12:30 pm and 4 pm to 9 pm
These are some of our Top Suggestions for Best Masala Dosa in Bangalore. Which is your Favourite one? Please drop them in the comments section below.
Also read: Best Places to Eat in Bangalore