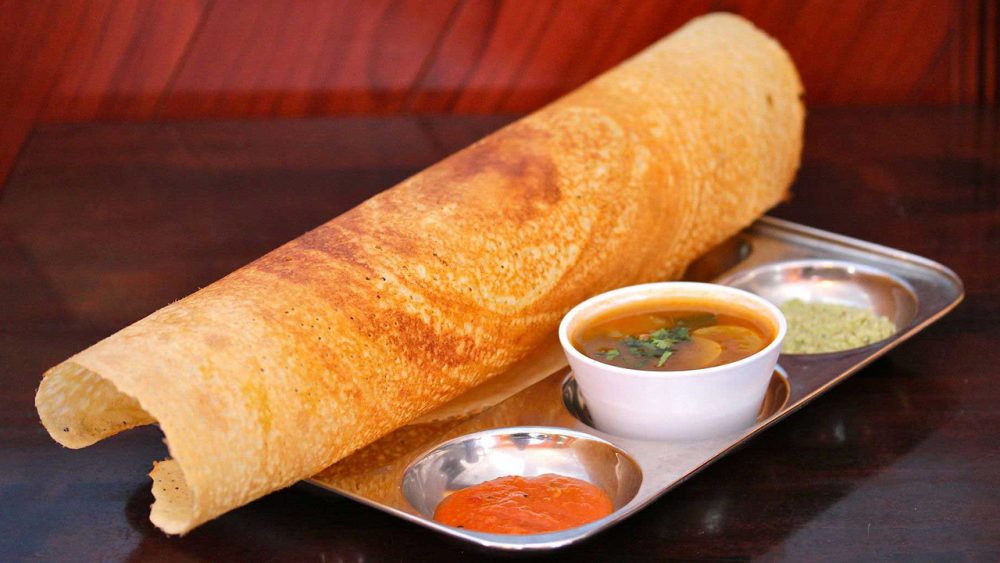 Are you bored of eating the same Gobi Manchurian and masala dosa from the hotel which is on the next road of your house? Are you a foodie and a person who would love to try varieties every weekend? Don't worry we have a few Best Places to Eat in Bangalore for you to make your weekend exciting by satisfying your tasting buds.
Local areas in Bangalore do have their own set of hotels, restaurants, eateries and food streets which fascinates the food lovers from all across. Next time when you are in and around the areas mentioned below you must try special and famous foods.
32 Best Places to Eat in Bangalore
Food street in Sajjan Rao Circle – Not just one shop but bunches of eateries giving Sajjan Rao circle as Food street, from Potato twister to Avarebele dosa, pani puri to sweet corn. You would find hundreds of variety of chat foods here. You will not just try one when you are here.
Food street in Nagarathpet (Khav galli) Thindi Beedi – Many have written and spoken about VV puram's food street but often we forget about other competitors which are bustling and undeniably good street food. Thindi Beedi at nagarathpet is one of it. Especially in the evening, the crowded streets gets filled with carts, stalls and shops showing up delicious foods. The place you must visit and undoubtedly one of the Best Places to Eat in Bangalore.
Karnataka Bhel house – Chamrajpet – Since 1975, a small food joint in Chamrajpet is very famous for its delicious chaat. Seating is very limited so it's a common scene where hungry visitors standing on the pavement. Dishes like crisp masala puri prepared with a mixture of spices. Sev puri, Dahi aloo puri, Bhel puri etc served fast and everything is reasonably priced. They also serve different ice cream flavors.
Bhramins coffee bar – Basavanagudi – An iconic spot. One of the best south Indian breakfast is eaten here. An old school charm and nostalgia is what will strike when you visit. Idlis and vadas are hot favorites for the foodies here along with the Coffee. You can't leave the place without trying their fabulous coffee. Breakfasts here perpetually ends with a glass of their fizzing, strong filter coffee.
Meghana Biriyani – Many branches – Whenever you sight Meghan's restaurant when you are craving to eat biriyani you must visit Meghana which is a favorite of all Bangaloreans! Andhra style Biriyani is what Makes It Awesome – Strong flavors like bay leaf and saffron with other spices are what bringing the foodies back to the hotel.  Last tips – The place gets crowded during lunch hours so we suggest you visit it during non-peak hours.
Shivaji military hotel Biriyani – Jayanagar, Bengaluru – A century-old iconic eatery of Bengaluru serving the most genuine Donne Biryani Which has a great history behind. They are cooking a mixture of Marathi and Kannada flavors. Be it a weekday or a weekend the hotel will be filled with Biriyani lovers Donne biryani is served in a dried leaf bowl, which is known as Donne in Kannada.
Empire for Butter chicken and Ghee rice – Empire has many branches all over Bangalore you must try delicious Butter chicken and ghee rice at least once.
Corner house and Naturals for Ice cream – Famous for different flavors ice cream and deserts Tender Coconut, Malai And Mango Try Natural Ice Creams At This Iconic Chain What you must stay try the ice-creams made out of seasonal fruits such as Litchi, sita phal, mango, strawberry, Kala Jamun, strawberry and guava among others.
Kaggis Bakery – Masala bun is must eat here along with other bakery items like puffs, rusk, and Dilpasands.
Roti ghar – Small bites to fill your mouth, Well Known and best veg restaurant in Bangalore, parking space is limited and bit crowded as the demand is more But believe me it's worth the wait. You could try North n south Indian best foods at very reasonable prices.
Best south Indian meals – Nagarjuna – When you are super hungry and want to try full meals of South India like rice, daal, vegetables and other Andra spices.
Vidyarthi bhavan in Gandhi bazzar – A heritage South Indian vegetarian restaurant, started in 1943, An old and authentic hotel famous for Masala Dosa and other south Indian breakfasts It is a local landmark of old "Bangalore" architecture and heritage
Veenas store in Malleshwaram –A local condiment store in 1977 and is now one of the best eateries in Namma Bengaluru. The idlis here which melt in your mouth and the crunchy vada along with coconut chutney are the hot favorites of people. Best for the early morning breakfast with BFFs.
Hari super sandwich – Branches available – You get a lot of options in a sandwich at a reasonable price range. it is nice to go with friends and order up all variety and having a taste of all. My most favorite are the sweet corn sandwich and chocolate sandwich. do try them
Cool corner in VV Puram – Variety of breakfast menus, Onion dosa is very tasty here. Set dosa, Masala dosa, Akki roti, Ragi dosa very cool place as its names to hand out. Jain food is also available. Anyone who hasn't tried this place yet you have to! It's a must-try Dosa corner in Bangalore.
Kentucky opposite to ITC hotel near Chinna stadium it's a very small shop but the chilly chicken is just to die for. I bet you will love it whatever you eat here. Great place for dosa chicken and other types of chicken starters.
Albek – Huge rush of a crowd is what you will see as soon as you enter you can either take away or dine in..for casual or groups or family dinners..this is a budget-friendly place.. if you are a hardcore non-vegetarian this is definitely one of the Best Places to Eat in Bangalore. Make sure to order the lime juice as you take huge bites of the delicious chicken tandoori.
Infinitea or TEA HOUSE – One of the finest tea restaurants in the whole of Bangalore. The decor and ambiance is amazing. The service was pretty fast. The feel of sipping tea in a cozy place like this is very great. A wide assortment of teas to choose from which never disappoints.
Truffles ice and spice St marks road or Koramangala – Undeniably the best burgers and all other menu items, one can't walk dissatisfied. One of the great eatery you'll find in Bangalore. You'll find a fine dish here both in taste notion and price. The Burgers are unbelievably tasty. Tasty burgers are the talk of the town from Truffles.
Sri Raj lassi bar – Commercial street and branches available for wide varieties of floured lassi Their lassi is so good that you will crave for more. They not only offer lassi but also milkshakes, juices, ice cream and so on.
Bhagath Ram's – Gulab jamun in Commercial street 50-year-old sweet shop and it is absolutely fab. You will just love the gulab jamun and kashi halwa. The shop is quite old but renovated. The shop is a bit difficult to spot even if u r walking on the road in search of it.
The egg factory – JP Nagar – This is one of the authenticated places where you can enjoy egg and chicken meals and cuisines you can enjoy different variety of dishes with the unlimited quantity you can have different variety of Italian and Spanish egg, chicken and rice item along with meals.
Koshy's English breakfast – An old rustic place in the midst of greenery and at the junction provides a perfect place and ambiance for English breakfast. Their fruit cake is just fab. A famous English breakfast fuels you up, the cream eggs, strips of greasy bacon, stack of sausages and silken mash. Fit for royalty.
Hole in the wall – A house converted into a restaurant wherever you go inside it feels homely as each corner gives a feel of a different room of a house and it's totally different from another. Pancakes and waffles! A must-try for any foodie who likes to have this. A lot of variety and almost everything tastes amazing! And the prices are very reasonable!
Sri guru Koteshwara Davanagere benne dosa – Basavanagudi – Dishes like Girmit etc are very tasty. One should give it a try if they reside nearby the NR colony. three most popular items, Davangere benne masala dosa, Paddu and Mandakki Oggarane with chili bhaji (a popular Tindi from Davangere.
Airlines hotel – Open-air facility provides for an unmatched ambiance and environment. Best place to have your coffee and match it with a piping hot Mysore Dosa, which I highly recommend.
Ganesh darshan in 3rd block Jayanagar – This place had a disrupting effect on the South Bangalore hotel industry when they launched the Dose Camp concept 33 years ago. Their USP is Village type food without any artificial colors or flavors. Do try their Banaras Dosa, a novel take on Disa with crispbread cubes embedded in it, and topped with the masala. Other must-haves are mango Holige and black gram Holige.
MTR South Indian meal – Lal bagh road The best South Indian cuisine is served here. They serve the food in the typical South Indian style. The only exception is that is served in a plate rather than on a banana leaf, in fact, some other customer would be breathing down your neck to occupy the seat you're expected to vacate. If you can tolerate everything else negative but for good food, do visit
Rahams – Mutton biriyani is must-try food here, It is one of those places you need to know what to order for non-vegetarians. It is one of the Best Places to Eat in Bangalore.
Kabab Magic – Best place for chicken lovers. Chicken roll with grape juice is the best to try it out, the shawarma, the burgers, and the pizza to enjoy their complete range!
Chetty's corner – Located next to Gullu's chats, this place offers all the items which Gullu's chats offer. Still the best place for the bun butternut! And all the buns that they make. Twistato and masala Pepsi?
CTR's Mangalore Bajji at Malleshwaram – South Indian Karnataka breakfast. Must visit. Yes, it will be crowded mornings and evenings. Before 12noon you should visit if you want more variety of food. One of the oldest hotels in Malleshwawam, Feels nostalgic for the ones who love 90's hotel looks.
These are our 32 Best Places to Eat in Bangalore for you. Share your suggestions with our readers, Comment below about your favorite places that we must visit.
Also check where to buy chicken online in Bangalore