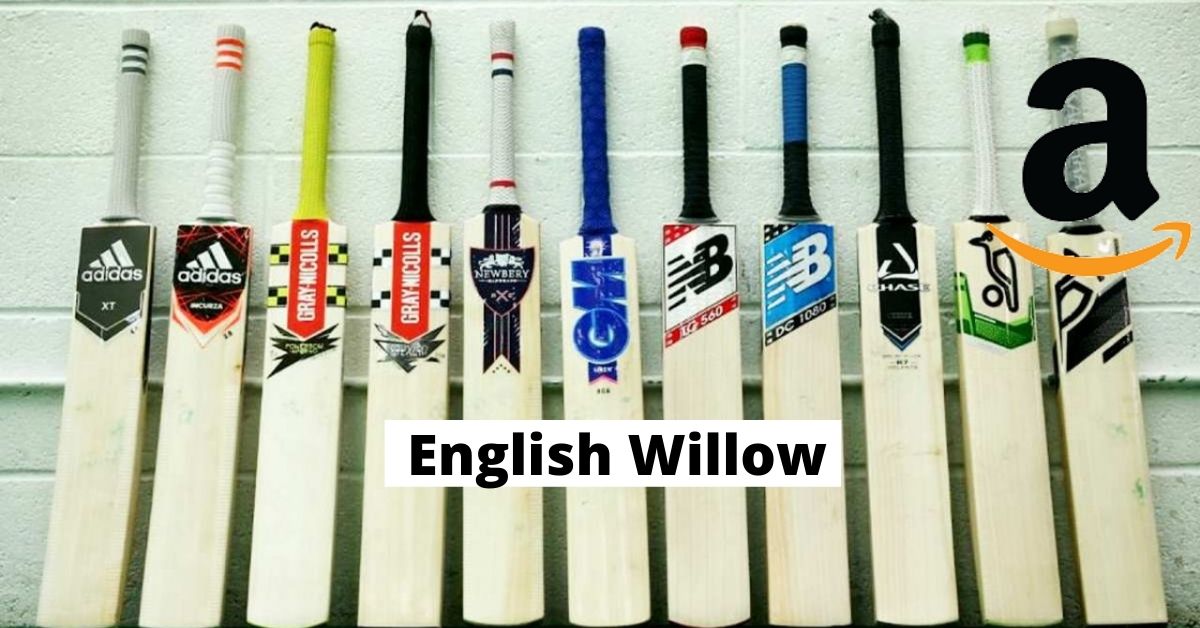 For cricket fans who are looking to become skilled batsmen, the first and most important piece of equipment is a cricket bat. In this world cricket, there are two of the most prestigious cricket bats that are highly bought-Kashmir Willow and English Willow. The difference is, English Willow cricket bat is preferred more, because of their fabulous impact with the ball. 
These English Willow cricket bats are made using fine fibrous timber and are known for their premium performance. In the previous article, we listed out the best Kashmir willow cricket bats. This time we have come with a list of English willow bats that are available on Social Media.
Best English Willow Cricket Bat
#1 SS Magnum English Willow 
Sareen Sports is a famous company for cricket accessories that also offer the best quality cricket bat English willow at a reasonable price. The SS Magnum is manufactured using the first-string air-dried willow shipped from the UK so you can expect a better performance. 
Along with this, the outer shell of this cricket bat is made using high-impact repellent polypropylene and sweat-absorbent fabric. Coming to the handle, it is made up of Sawark cane which has a high shock-absorbing ability and it has a balanced grip made up of rubber. The cricket bat price: Rs 2,417.
back to menu ↑
#2 MRF Genius English willow cricket bat
MRF Genius Cricket Bat is made with English willow which gives you exceptional performance along with durability. The bat is famously known because Virat Kohli has a curved blade and a thick blade for the sweet spot. The best thing is that the MRF cricket bat comes with a toe guard protector for long life and it is built from the world's top-quality wood. The weight of the cricket bat English willow comes with 1180-1250 grams. The MRF cricket bat can be used by any player profile.
back to menu ↑
#3 SG King Cobra Grade English Willow
SG cricket bat, which is famously used by some well-known cricketers Cheteshwar Pujara, Rishab Pant and Hardik Pandya, comes with the best quality wood. The SG English willow cricket bat is suitable for the all-around type of play skills. On this bat, the sweet spot is mid to low which is very helpful to maintain the weight of the bat. Moreover, the SG cricket bat comes with the world's most precise English willow hard pressed & traditionally shaped for superb strokes. 
The sturdy handle is created with Singapore cane with special 3-way addition of tap in between splits for improved flexibility and shock absorption. The cricket bat weight is around 1160-1200gm. The cricket bat price: Rs 6,907.
back to menu ↑
#4 Wolfer Tarsier English willow cricket bat
The WOLFER cricket bats are specifically produced for professional and practice matches. Comes with Grade 4 English Willow, this bat is a handmade bat produced from fully pressed English willow. The wood is selected considering important features like right moisture, minimal or no marks, extracted from the appropriately mature part of the tree, therefore it requires minimum force in playing shot and can be used for playing aggressive shots.
This lightweight bat is made as per ICC standards and the bat comes with a toe guard for extra protection. It is furnished with an imported Singapore cane handle for longer life with the superior quality rubber grip which makes it very comfortable to handle and helps swing the bat easily.
back to menu ↑
#5 Gray Nicolls Kronus English willow cricket bat
This Gray-Nicolls English Willow cricket bat comes with a mid-blade suitable for all-round shots. It is available with curved sculpting that offers perfect stability, making it suitable for professional players. Furthermore, this cricket bat is fitted with a zone pro grip that not just offers an enhanced feel but also helps you in keeping precise control over your shots. The handle is Semi oval which is specially designed for comfort and complete control. The cricket bat price: Rs 6,500.
back to menu ↑
#6 ADIDAS English Willow Cricket Bat
The Adidas brand is famously known for its bats which were used by cricketing legends like Sachin Tendulkar and Kevin Pietersen. This bat comes with English willow which offers super durability and performance. It is a lightweight English willow bat and it is specifically produced for the advanced level of cricket player. The bat that comes with a nine-piece cane handle, is developed by keeping in mind modern game needs. It comes with a lightly pressed face and a bigger edge profile to make the batting look much easy.
back to menu ↑
#7 KOOKABURRA Adult English Willow KB Blaze 700
This Kookaburra cricket bat will provide you with immeasurable performance and present you with better quality. This bat is best suited for players who love to hit 360 degrees across the park. The kookaburra blaze 700 Cricket Batting made with club-quality unbleached English willow. The curved edges and an elegant sweet spot generate supreme balance for the batsman. 
The super finest spine shows the durability and shock resistance ability of the bat. With this ability, a batter will get more strength while hitting around the ground. The cricket bat price: Rs 2,499.
back to menu ↑
#8 Spartan MSD Edition Grade 5 English Willow
SPARTAN's MSD edition cricket bat weighs around 1200 grams and has a sweet spot in the middle to play powerful strokes. The only thing is, this product comes with a compact handle, which guarantees its sturdiness and marvellous pickup. 
The offered Spartan English willow leather bat has thick edges and a bent blade that supports you in playing good strokes with excellent control and stability.
back to menu ↑
#9 GM Six6 Bullet English Willow
GM offers you a high-quality English Willow cricket bat at a reasonable price. This cricket bat is comprehended for its moulded edge and concave back profile which helps in stabilizing. This cricket bat is made using premium class timber and is known for its excellent finish, beautiful stroke play, and high shock resistance.
back to menu ↑
#10 DSC Condor Drive English Willow
This DSC cricket bat comes in size 5 and grains ranging between 4-5. The cricket bat weight is around 750-780 grams and it comes with a mid to low sweet spot. Along with this, the offered product is made using the supreme quality English willow leather bat and is known for its delicate balance and heavy edges. 
Coming to the handles it is made with Treble Spring Singapore Cane for shock absorption on impact with the ball. The Advanced Grip Technology is extra soft, ergonomically shaped and vibration dampening which makes it suitable for professional cricketers. 
Why buying a cricket bat online is reasonable? 
It is better to buy products online. We live in a society where most of us are too busy to go shopping. Hence, we do most of our shopping online from the ease of our home or office and get everything we need to deliver at our doorstep. You don't need to jump from one shop to another to find the desired product. When you shop online, you can find everything you need in one place.
If you find this article helpful, please share it with your friends and loved ones. If you have any suggestions, please let us know in the comment section. 
Which one is the best English willow cricket bat?
There are many Best English willow cricket bats are good for playing cricket. Here we shortlisted Top 10 English willow cricket bats. They are:
SS Magnum English Willow
MRF Genius English willow cricket bat
SG King Cobra Grade English Willow
Wolfer Tarsier English willow cricket bat
Gray Nicolls Kronus English willow cricket bat
ADIDAS English Willow Cricket Bat
KOOKABURRA Adult English Willow KB Blaze 700
Spartan MSD Edition Grade 5 English Willow
GM Six6 Bullet English Willow
DSC Condor Drive English Willow