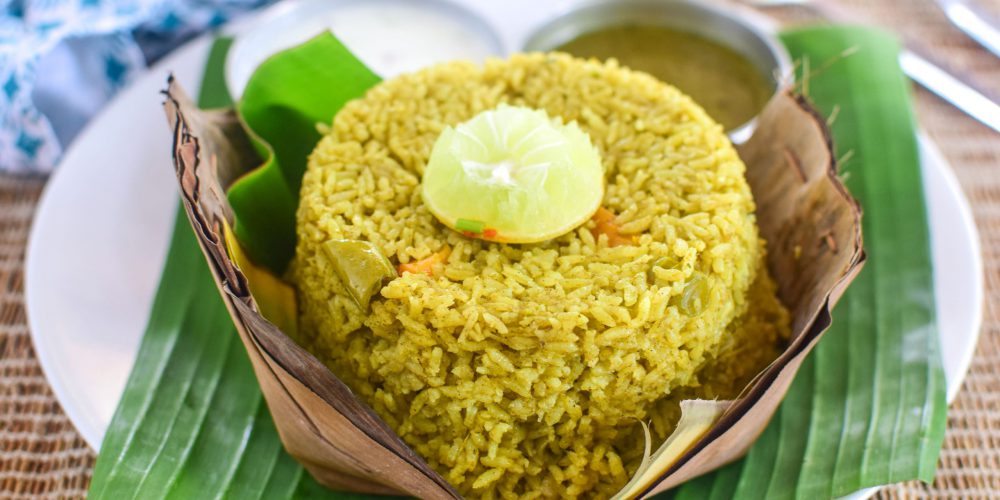 Best Donne Biryani House in Bangalore: Recent survey and the stats from one of the leading food delivery startup Zomato says – Biriyani is the most ordered food in India. Biriyani is very dear to everyone. People in Bangalore would not live without eating Biriyani I would say. Donne biriyani is an emotion to the people out here.
What is Donne Biryani?
The biriyani served in a leaf cup/bowl made of the banana leaf which is called as Donne or Jonne has given the name Donne biriyani. It does taste different than the one you eat in a steel or ceramic bowl.
To feel the authentic taste of the spices used in making biriyani would justify only when it is served in a Donne or banana leaf.
We find numerous hotels and cuisines in Bangalore who serve biriyani, But the authentic taste of eating Donne biriyani in a few places is heaven. Beat its Hyderabadi or Ambur, Chicken or Motton, The biriyani unites the people all over the city.
Ah, I know the feeling, the spicy, meaty, mesmerizing aroma when we have delicious biriyani served in a Donne on the table. Each biriyani lovers do have their list of places where we get mouthwatering biriyanis, That said, if you are craving for some, Even we do have a list of top 10 hotels which serve "Donne Biriyani".
Best Donne Biryani Houses in Bangalore
Shivaji Military Hotel 8th Block, Jayanagar
Regardless to mention Shivaji Military hotel is the king of military hotels in Bangalore, Be it for breakfast, lunch or dinner, the Donne Biryani here will not disappoint. A century-old iconic eatery of Bengaluru serving the most genuine Donne Biryani. Which has a great history behind? They are cooking a mixture of Marathi and Kannada flavors. Be it a weekday or a weekend the hotel will be filled with Biriyani lovers. Utterly overcrowded at times so plan your visit during non-peek hours.
Ranganna Military Hotel 7th Block, Jayanagar
This is one of the famous military hotels for authentic Donne biryani and other nonveg items, It's a proper naati style nonveg food server. A short but impressive menu, nothing will disappoint you except wait and sitting arrangement, however, this is a common issue with authentic food joints across India or perhaps the world over. Mutton pulao, Kaal soup, idli, mutton fry, mutton khaima gujju..best ever!
Malgudi's Donne Biriyani, Koramangala 5th Block
A must-visit eatery for all the non-vegetarian foodies. Ask for mutton chops and mutton Donne Biryani.  Chicken is good too. Lip-smacking! Tasty, spicy and hot biriyani is how I would describe it.
New Govind Rao Military Hotel, Cottonpet
Who are searching for village homemade nonveg food, go here and enjoy. As one of the oldest hotels in Bangalore over 100 yrs old serving hot Donne Biriyani and starters, Tender and well-cooked mutton and chicken dishes.
SGS Nonveg Gundupalav Museum Rd, Shanthala Nagar
The moment you enter the hotel the aroma of Donne biriyani will make you WOW! Chicken palav tastes awesome here. Nowhere else in the world gives so tasty chicken palav except in this sgs gundu palav and it's the franchise. This shop is more than 50years old and they maintain their taste till now. This biryani is made by the community known as the "pattegars". traditionally made and for sure very tasty that has a touch of spices, the meat, and rice which is the best combination. If you're planning to have the best biryani in Bangalore it is worth going to this place.
Halli Jonne Biryani, 4th T Block East, KV Layout, Jayanagar
This is a small place but they make very good biryani. The leg soup is also worth trying. they serve the Biryani in banana leaf bowls. One can find a lot of pictures on the wall that emphasizes on Kannada culture. Very good food at affordable prices. This is a different type of Donne biryani. Tastes different from other Donne biryani coz they use bullet rice which is used in Ambur biryani. No artificial colors to look yummy and simple to look bit delicious food.
Sri Maruthi Military Hotel, Rajaji Nagar
Simple yet delicious the biryani here will curb your craving, A small and lesser-known cuisine in Rajajinagar, But it's the best place for Donne biriyani lovers, Mutton fry or even pepper chicken also are other 2 must-eat foods here. The crowd over there validates the popularity of this place. It is one of the Best Donne Biryani House in Bangalore.
Ambur Biryani Point 1st Block, Koramangala
For all you biryani lovers here's a place you'll fall in love with if you're not confining, this no extra, self-service place is good for a quick bite. A dash of pepper on this makes it more delightful. The First Ambur Biryani in Bangalore. Anytime you go you get fresh hot mouth-watering Briyani and Kebabs.
Meghana Biriyani
If you are craving to eat hot and yummy homemade style biryani.. this is a place to go, the Delicious plate of smoking Hot Donne biriyani is what welcomes you when you enter this place. Very tasty & finger-licking food. Andhra style Biriyani is what Makes It Awesome – Strong flavors like bay leaf and saffron with other spices are what bringing the foodies back to the hotel.
Shivajinagar Gardi Ustad Pehlwan Kale Bhai Biryani, Shivaji Nagar
The best biryani shop in Bangalore. The aroma of the biryani itself is Soo tempting. The best part of this biryani is that the price is very reasonable. Simply brilliant!! Must visit only Friday.food is 5 stars any day. Food is made for the king. If you are looking for king size meal this place is must visit. You will find the typical Muslim style biriyani here.
We hope this Best Donne Biryani House in Bangalore article finds you great, What's your favorite Donne biriyani hotel? Comment below
Also Read about 32 Best Places to Eat in Bangalore