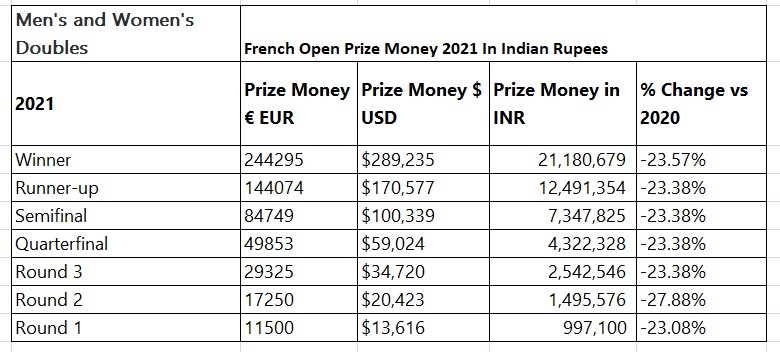 Winner of Singles French Open Novak Djokovic 2021 will take home $1,894,332. In Indian rupees it accounts close to 124,103,613/-  Though the prize amount looks too big it is  -12.5% less than last year's Champions.
Runner up of the Singles championship will take home approximately 66,484,052/- Indian Rupees or $907,880.
This is applicable for both Men's and Women's Championships.

Prize Money Breakdown for the French Open 2021 in Indian Rupees
Men's and Women's Singles
French Open Prize Money 2021 In Indian Rupees
2021
Prize Money € EUR
Prize Money $ USD
Prize Money in INR
% Change vs 2020
Winner
1400000
$1,694,710
       124,103,613
-12.50%
Runner-up
750000
$907,880
         66,484,052
-6.25%
Semifinal
375000
$453,940
         33,242,026
-11.82%
Quarterfinal
255000
$308,679
         22,604,563
-10.05%
Round 4
170000
$205,786
         15,069,709
-10.05%
Round 3
113000
$136,787
         10,016,912
-10.32%
Round 2
84000
$101,683
           7,446,246
0.00%
Round 1
60000
$72,630
           5,318,695
0.00%
Q3
25600
$30,989
           2,269,324
0.00%
Q2
16000
$19,368
           1,418,319
0.00%
Q1
10000
$12,105
              886,449
0.00%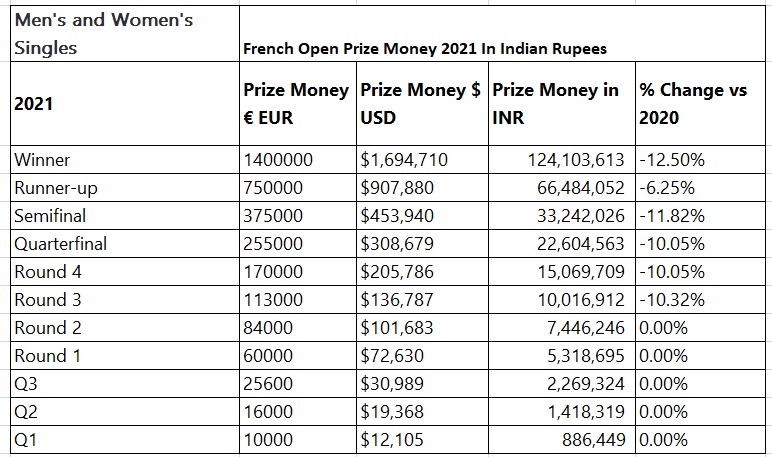 Men's and Women's Doubles
French Open Prize Money 2021 In Indian Rupees
2021
Prize Money € EUR
Prize Money $ USD
Prize Money in INR
% Change vs 2020
Winner
244295
$289,235
         21,180,679
-23.57%
Runner-up
144074
$170,577
         12,491,354
-23.38%
Semifinal
84749
$100,339
           7,347,825
-23.38%
Quarterfinal
49853
$59,024
           4,322,328
-23.38%
Round 3
29325
$34,720
           2,542,546
-23.38%
Round 2
17250
$20,423
           1,495,576
-27.88%
Round 1
11500
$13,616
              997,100
-23.08%