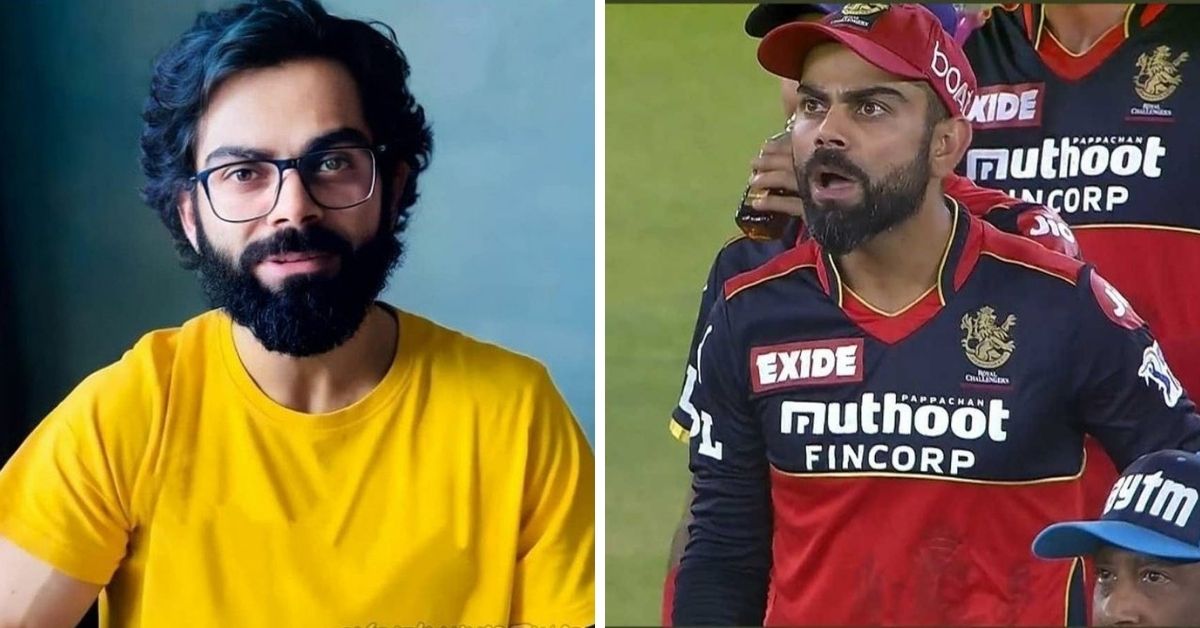 Twitter is getting viral with Indian Captain Virat Kohli's new look. Netizens are comparing him to the professor from the famous Netflix series Money Heist and few are also comparing him with Shahid Kapoor from the movie Kabir Singh.
Kohli's new look real?
A new picture of Kohli with a dense beard look and big glasses has gone viral on social media. In the picture, Kohli seems to have grown his hair and beard during the quarantine. The picture, however, is assumed to be photoshopped as he couldn't do that in such a short timeline.
With long hair and a thick beard, Kohli's picture surfaced on social media, many began to wonder how the legendary cricketer managed to grow his hair and beard to such an extent in such a short time.
Many users believed that it was Kohli's ICC World Test Championship Final 2021 look where India is set to face New Zealand at The Rose Bowl, Southampton this June.
#ViratKohli's new look for WTC ❤️ pic.twitter.com/gHjJe7CIui

— Tamil Viratians 🏏 (@Tamil_Viratians) May 24, 2021
Kohli had returned home in Mumbai after the Indian Premier League (IPL) season 14 was called off due to the surge in the Covid-19 cases amongst the players. Since then, the 31-year-old has appeared a few times on social media along with his wife Anushka Sharma. Both had appeared on social media for the fundraising campaign to help the covid victims.
Twitter reaction
With Kohli's looks, some even compared to that of the professor in the famous Netflix web series Money Heist, which released its 5th season trailer. Some even brought comparisons between the cricketer and character Kabir Singh from the movie of the same name.
Professor first look from Trophy Heist. Releasing June 18 pic.twitter.com/hDksy9pdrE

— Rishabh Srivastava (@AskRishabh) May 24, 2021
The look you know || The inspiration you don't. #lordboby #ViratKohli pic.twitter.com/eaGRkw498f

— 𝖘𝖞𝖊𝖉 𝖘𝖚𝖍𝖆𝖎𝖑 (@Lambda__Velorum) May 24, 2021
Virat Kohli "Kabir Singh " version 😭 pic.twitter.com/IxryqKbyTW

— AnKit Singh (@bhaiYag_ismile) May 23, 2021
Virat Kohli looks like that engineer from a service based company who plays Woh Lamhe on guitar to impress girls, has a long running account on all the local cigarette shops, and goes out of the house wearing boxer shorts. pic.twitter.com/gXJlvyXN2A

— Pakchikpak Raja Babu (@HaramiParindey) May 24, 2021
Virat kohli new look inspired by #MoneyHeist professor #AlvaroMorte pic.twitter.com/EoJ4ClqQ1g

— Abhimanyu (@creatorbala_) May 24, 2021
Chiku virat new look 👌 pic.twitter.com/1n2xPqa1K2

— 𝑸𝒂𝒔𝒊𝒎 𝑯𝒖𝒔𝒂𝒊𝒏 シ︎ (@qasim_says_) May 24, 2021