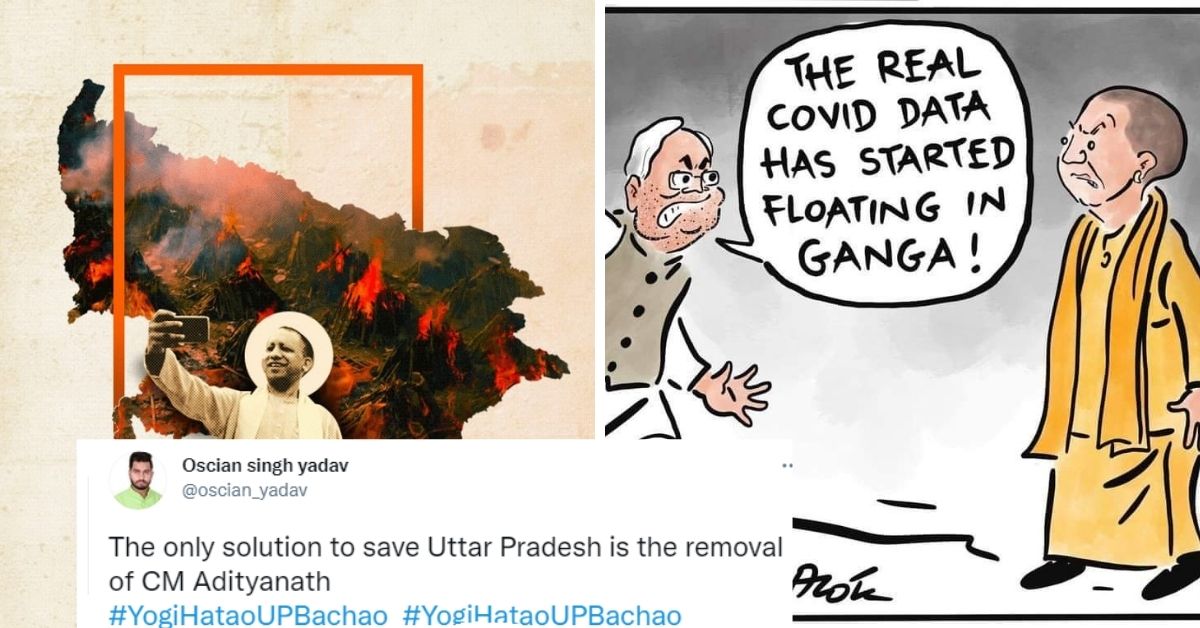 Ever since 100 bodies, suspected to be that of covid-19 patients, were found floating in the Gangas in Ghazipur Uttar Pradesh. People are calling it a complete system failure, as the government is unable to handle the situation in Uttar Pradesh.
Is govt. hiding numbers?
Many even said that the Uttar Pradesh government was hiding the actual Covid diseased numbers. Few even say that if the government was cautious since day one of the coronavirus pandemic, things would have been different.
Going by the media claims, the number of deaths now is much higher than what is being officially recorded. According to some anonymous reports, the number of fatalities in some cities is almost 10-15 times what is being published.
The actual numbers are just the estimates we know. The numbers we do not know could be more than we can imagine.
Twitter trends Yogi Hatao UP Bachao
Model UP. Thi is perfect model says by WHO.#YogiHataoUPBachao pic.twitter.com/XmCLsDFa58

— Tripura Pradesh Youth Congress (@iyctripura) May 12, 2021
State of two double engine powered States pic.twitter.com/Fjd11hezGz#YogiHataoUPBachao@yadavtejashwi

— Mini Nagrare (@MiniforIYC) May 12, 2021
Ajay Mohan Bisht.
In whose wake corpses of Covid victims float down the River Ganges…😭😭

#YogiHataoUPBachao pic.twitter.com/4WxfrzNAjY

— sangeeta mehra (@sango20) May 12, 2021
People across the globe have died due to Covid.
But only India saw dead bodies floating in rivers.#YogiHataoUPBachao#TakeBack_FarmLaws pic.twitter.com/0u8Z3oHNhg

— ਇਕਬਾਲ ਸਿੰਘ ਸਮਰਾ (@Samrasinghtweet) May 12, 2021
To downplay the pandemic in the state… Yogi reduced testing, built boundaries around cremation sites, threatened citizens with criminal action but now dead bodies are floating down the Ganges… Will he try to stop the flow of the river next ?#YogiHataoUPBachao https://t.co/5O61hrcs4x

— Pankhuri Pathak पंखुड़ी पाठक پنکھڑی (@pankhuripathak) May 12, 2021
UP is the only state where you have horrific news of living one & more horrific news of ones who are dead !#YogiHataoUPbachao #HighCourtSlamsYogi pic.twitter.com/ARDYBqWsAK

— Niraj Bhatia (@bhatia_niraj23) May 12, 2021
Where are Modi and Shah? Has anyone seen them lately?

India's PM & HM have vanished during our greatest ever crisis.

Modi and Shah put much more effort to fight a MUNICIPALITY ELECTION than they are putting now in the fight against COVID.

— PatriotNation (@Patriot53165850) May 12, 2021
The only solution to save Uttar Pradesh is the removal of CM Adityanath#YogiHataoUPBachao #YogiHataoUPBachao pic.twitter.com/44NOFehOGU

— Oscian singh yadav (@oscian_yadav) May 12, 2021