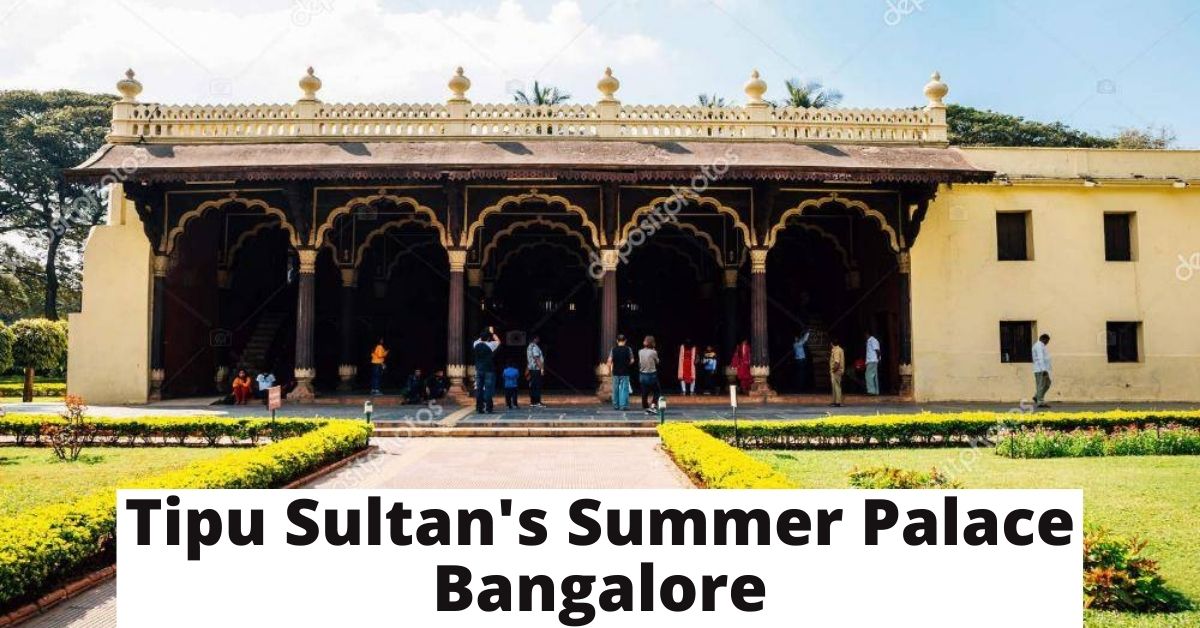 Tipu Sultan's Summer Palace Bangalore is an example of Indo-Islamic architecture wonder. This place was built as the summer residence of the Mysorean ruler Tipu Sultan. Hyder Ali started its construction within the walls of the Bangalore Fort, and it was built during the reign of Tipu Sultan in 1791.
Who was Tipu Sultan?
Before learning about the palaces that related to Tipu Sultan, one must understand who he was. Born in 1750, he was known as one of the most devastating rulers of the Kingdom of Mysore following his rise to the top upon his father's death in 1782.
History tells us that he was a focused figure, but well recognised for his never-ending fight with British colonization. Tipu Sultan died fighting in a battle with yet another British attack on the fort at Srirangapatna. He was executed at the Srirangapatna Fort's walls and was also buried next to his father's grave at the fort.
Tipu Sultan's Summer Palace Bangalore
The Tipu Sultan Summer Palace in Bangalore is part of the Bangalore (Tipu's) Fort and lies across from the city market. Tipu Sultan used this place as his summer palace and also to control his administration from Bangalore. After his in 1799 during the fourth Anglo-Mysorean war the palace and the fort was captured by the British who used the palace as an office before they relocated to Attara Kacheri. However, after Independence, the historical monument was given to the Archaeological Survey of India.
The architecture of Tipu Sultan's Summer Palace
Though the place is losing its appeal, the palace has been quite well preserved. Tipu Sultan's Summer Palace is a fine example of Indo- Saracenic style of architecture. The two-storeyed palace has been constructed solely of wood, teak, stone, mortar and plaster, and is held by huge wooden pillars with bases of stones.
The rectangular building and the ceilings have been remodelled and have lovely carvings on them. The interiors and the walls have been elegantly prepared with detailed paintings and floral motifs. However, the outer walls have scars of wars and historical events.
The gardens outside are equally impressive, and in the surrounding environment where there is generally dust, the gardens provide quite the opposite.
Meanwhile, there is also a Venkataramana Temple located next to the Summer Palace. This temple was built long before Tipu created his palace, and he used to visit here regularly.
This place is a symbolic monument fascinating not only tourists around the world but a place of interest for historians and archaeologists.
Museum
The rooms on the ground floor have been transformed into a small museum showcasing various acts of Tipu Sultan and his administration. This place also shows artefacts used by Tipu Sultan and his family. Be it Clothes, coins, weapons, silver utensils and crowns, this place has everything used by Tipu Sultan and Hyder Ali. There are also several paintings depicting key people and historic events. Furthermore, it has sketches and portraits of notable rulers of the Mughal era. There is also a replica of Tipu's Tiger, which is in the Victoria and Albert Museum in London.
Where is Tipu's Summer Palace Bangalore?
Tippu Sultan Palace Rd, Chamrajpet, Bengaluru, Karnataka 560018 (MAP)
How to reach the Summer Palace?
The closest bus stop is Kempe Gowda (approximately 2.7 km) or the Kempe Gowda Railway Station, just over three km away.
Best Time & Tips
Having pleasant weather in Bangalore throughout the year, tourists can visit here any time. Nevertheless, it is best to visit this place from September to December. After the monsoon, this place turns into green heavens.
Also, the palace is open every day from 8.30 am until 5.30 pm. However, it is prohibited to take photos or videos inside the palace without permission.
Tipu Sultan Summer Palace Mysore
There is one more Tipu Sultan Summer Palace that can be found in Mysore. This palace is also recognised as Daria Daulat and is located in Sriangapatna. The palace is now converted into a museum and is located inside the Daria Daulat Bagh garden.
This palace is located 22 km north of Mysore. The town of Srirangapatna displays significant historical, cultural and religious influence.
This place, however, was built in 1784. This summer palace contains a strong architectural similarity to the summer palace in Bangalore. This palace stands on a concrete base, which is built with strong use of teak. This place is a must-visit location with the likes of beautiful balconies, impressive curved archways, carvings, and paintings.
Both of Tipu Sultan's Summer Palaces are equally impressive, although individually you might have a different opinion. Both the palaces highlight the interesting design styles visible at the time and showcase the rich history of the area and those who existed here.