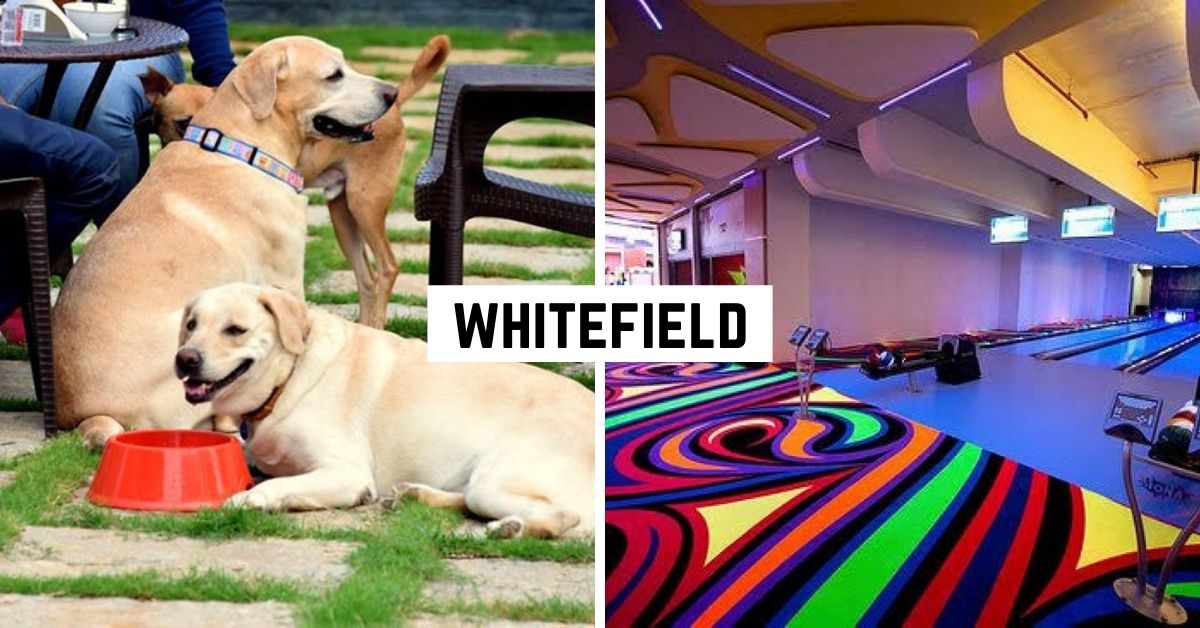 When you hear the world Whitefield in Bangalore the first thing that strikes your mind is buzzing traffic and IT sectors. Well, this place is more than that. If Whitefield is your next stop, you have varieties of places to explore here. From shopping malls to authentic pubs, this place is full of surprises. The best thing is we have a list that would help you decide which place to jump into.
#1 Phoenix Marketcity
You can do loads of shopping here. The place is filled with loads of shops (270 shops) which can help you update your wardrobe, bookshelf, and house. Fill your shopping bags with top-class brands such as Adidas, Reebok, Nike, and Puma. Shopping can be exhausting sometimes, so they have got you covered with e a lot of places to dine, in the mall. You can feast on fast food joints like McDonald's, KFC, Subway, and Domino's Pizza.
Catch your breath, we have more, PVR has a branch here too. So you can watch your favorite movies here, with your loved ones. You can even play video games here.
Timings: 10am–9:30pm
Address: Whitefield Main Rd, Devasandra Industrial Estate, Mahadevpura, Bengaluru, Karnataka 560048
#2 Anand Sweets & Savories
Dessert and Chaats lovers can head to this place if you want to have some exclusive sweets, desserts, bakes, and street food. This place has a beautiful ambiance and a very beautiful sitting area. You can come here to relax and enjoy your dishes. The best treats to try here:
Chaats: Raj Kachori, Dahi Balla, Samosa Chole, Chole Bature, Aloo Tikki with chole, Matar Kulcha
Sweets: Gulab Jamun, Rasmalai, Raj Bhog, Madka Rabadi, Moong Dal Halwa.
Timings: 9am–10:30pm
Address: Whitefield Main Rd, Whitefield, Bengaluru, Karnataka 560066
#3 TherPup – The Dog Café
Therpup is the place where you can bring along your pet and can spend the whole day chilling on a chair or enjoying all sorts of games in the place. While playing with your pets you can also eat some of the delights such as French Toast, Bombay Sandwich, Chicken Tikka Sandwich, Fruit Juices, Peri Peri Fries, Veg Burger, Milkshakes, sandwiches, and hot beverages. There are also munches for your puppies like cookies, sweet potato treats, and boiled chicken. People without their pets can also visit here.
Timings: 11:30am–9pm
Address: Therpup Dog Cafe, Kaithota Road, Whitefield Road, Nagondanahalli, Bengaluru, Karnataka 560066
#4 Inorbit Mall Whitefield
Still not satisfied with shopping? Well then head to this place, they have all high-street brands and hand-crafted products, available at reasonable prices. They also have here food court, restaurants, Inorbit Mall, to make your day busy. Don't forget about the INOX, they have good quality screens to make your cinema experience fun.
Timings: 11 am–9 pm
Address: 75, Rd Number 7, EPIP Zone, Whitefield, Bengaluru, Karnataka 560066
#5 IONA – Fun Ka Boss
If you are a fan of Virtual Reality games, Iona Entertainment has everything you want, from football turf to fitness games, bowling alley to air hockey, this place is so much fun. And if you are hungry they also have a cafe to help you satisfy yours craves.
Timings: 11am–8:30pm
Address: Virginia Mall, 2nd, Varthur Rd, Varthur Kodi, Palm Meadows, Ramagondanahalli, Whitefield, Bengaluru, Karnataka 560066
#6 Orbis Restaurant
Orbis Restaurant is an easygoing dining restaurant serving North Indian, Arabian, Biryani, Mughalai preparations. This place is popular for its fashionable presentation and cool ambiance. Dishes to try out: Chicken Lajawab, Malabar Chicken Biryani, Chicken Tikka Biryani, Mutton Korma, Chicken Lazeez, Chicken Pepper salt.
Timings: 11am–11:30pm
Address: 147/1, Ozone Entrance Rd, Prestige Ozone, Whitefield, Bengaluru, Karnataka 560066
#7 Ayurvedagram
Out of this buzzing world experience this health and wellness resort based on the Ayurvedic medicinal system. In Ayurvedagram they have wellness packages, yoga, and healing programs as well as beauty therapies. You can start your day by hearing the sound of birds while walking, alongside a yoga session. Get yourself head and face massages and herbal steam baths, it will be unwinding.
Timings: Open 24 hours
Address: Hemandanahalli, Samethanahalli, Post, Whitefield, Bengaluru, Karnataka 560067
#8 Bangalore Mandarin
This place is best known for Chinese and Sea Food. They have mouth-watering extra spicy Chinese foods, which are best prepared out of rare herbs. The eye-catching colorful décor, beautiful Chinese roof lamps, cozy couches, and a calm ambiance will make your day feel special. Their Bacon Wrapped Prawn, Dragon Rolls, Burnt Garlic Noodles, Wonton, Kung Pao Chicken, Mixed Fried Rice, Drums of Heaven- are best to try.
Timings: 12–3:30pm, 6:30–10:30pm
Address: 619, 2nd Floor, Dr. Meer Complex, Whitefield Main Road, Byrappa Layout, Sathya Sai Layout, Whitefield, Bengaluru, Karnataka 560066
#9 Moriz Restaurant
For all the foodies that visit Whitefield, Moriz Restaurant brings a whole menu where one can find something or the other to satisfy hunger pangs. The delicious food and courteous staff become customer's favorite. It offers heavenly food at an affordable price that will not burn your pocket. Try their Malabar Chicken Biryani, Hyderabadi Mutton Biryani, Veg Pulao, Fried Chicken, Chicken Wrap.
Timings: 11:30am–12am
Address: 104, Narayanappa Garden, Whitefield, Bengaluru, Karnataka 560066
#10 Thalassery Restaurant
With their authentic flavors and recipes of Arabian, Kerala, Seafood Chinese, and North Indian, they will push you to a delightful mood with the help of their genuine flavors. From the land of Kerala, they bring you authentic Appam, Fish curry, Chicken Pothichoru, Prawns Pothichoru which will turn you into a regular customer. Do try their Kadala Curry, Mutton Stew, Grilled Chicken Steak, Appam.
Timings: 8am–11:30pm
Address: Pattandur Agrahara Near Bank of Baroda, ITPL Main Rd, Prasanth Layout, Prasanth Extension, Whitefield, Bengaluru, Karnataka 560066
#11 The Fat Chef
The Fat Chef is a popular dining restaurant serving Italian, Japanese, American, Asian, Steak, and North Indian preparations. This place is highly praised for its appropriate services and beautiful decor. It is the best place to visit when one is looking to satisfy hunger pangs with tasty, hygienic food at fair prices. Best for romantic dinner, this place has the best Lemon Zest, New York Cheesecake, Pepper Prawns, Chicken Fingers, Chilli Cheese Toast, Grilled Fish.
Timings: 11am–3:30pm, 6–11pm
Address: Varthur Rd, adjacent to Adarsh, Palm Meadows, Ramagondanahalli, Whitefield, Bengaluru, Karnataka 560066
#12 Prost Brew Pub
This place is best known for serving American, Continental, Pizza, and North Indian preparations. This brewery is located on the 11th floor of the building, which allows open-air ambiance, and the best Bangalore view. They have here all kinds of handcrafted beer alongside delicious food which makes it a perfect place to hang out. With the perfect ambiance, this place has both indoor seating and open-air seating arrangements. We recommend you to have Jalapeno Cheese Balls, Brewed Beer, Pepperoni Pizza, Blueberry Cheesecake, and Pork Ribs.
Timings: 11am–11:30pm
Address: 11th Floor, Trifecta Adatto, 21, ITPL Main Rd, Garudachar Palya, Mahadevapura, Bengaluru, Karnataka 560048
#13 Harry's Bar And Cafe
Rejoice your nightlife in Harry's Bar and Cafe in Whitefield. They offer delicacies of Thai, Italian, Chinese, Fast Food, Beverages, and Bar Menu. The eye-catching interiors, fancy decor, and attractive seating will make your evening fantastic. They also have a Pool Table just in case you wanna have some extra fun here. Best things to try out: Spicy Chicken Satay, Blue Breeze, Drunken Chicken, Grilled Cottage Cheese, Chocolate Drink, Bbq Pizza.
Timings: 10:30am–11pm
Address: No.510, Level 2, Phoenix Mall, Mahadevpura, Whitefield, Bengaluru, Karnataka 560048
#14 M Café
M Cafe always gives its customers a beautiful fine dining experience with the best foods on its menu. They have lip-smacking dishes from Continental, Italian, Thai, and North Indian that will leave your taste buds entertained. The beautiful lightings, alongside a live kitchen, is the perfect dining place to spend some quality time with your loved ones. The best of the best dishes you must try are Dinner Buffet, Rasmalai, Bacon, Salads, Deserts, Mutton Biryani.
Timings: Open 24 hours
Address: Plot No 75, 8th Rd, EPIP Zone, Whitefield, Bengaluru, Karnataka 560066
If you find this article helpful please share it with your friends and loved ones. If you have any suggestions please let us know in the comment section.