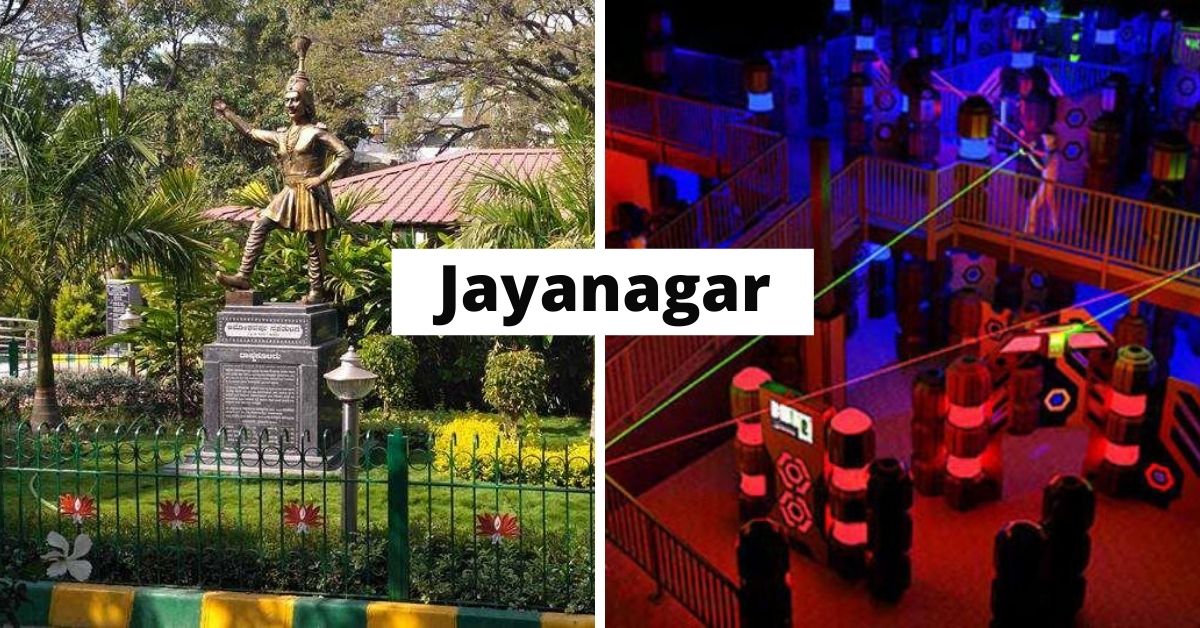 Jayanagar is also known as a lively neighbourhood, with traditional-style single-story homes, commercial shops and several street foods. It is surrounded by other lovely areas like Basavanagudi, JP Nagar, Wilson Garden, Banashankari, Gurappanapalya, Suddaguntepalya and BTM Layout. It is the most liveable places in Bangalore and still maintains the old charm of the city. If you are looking to hang out in this place, we got you covered. We have prepared a list of things that can be done in Jayanagar.
#1 Ragigudda Sri Prasanna Anjaneyaswamy Temple
The Ragigudda temple is one such place where you can finally find inner peace above all troubles and worries. Dedicated to Lord Hanuman, this temple gets beautiful when you take a look from the top of the hillock. The beautiful atmosphere and the Bajans that is sung in the temple is just breathtaking. The place also worships a Shivalinga along with Rama, Sita, Lakshmana, Hanuman shrine in the same temple. We only suggest you go during weekdays as on Saturdays and Sundays you may have to face the crowd.
Timing: 8–11:30 am, 5–8 pm
Address: KSRTC Layout, Jayanagara 9th Block, Jayanagar, Bengaluru, Karnataka 560069
#2 Gufha Restaurant
The name itself describes the ambience of the place. The place possesses beautiful decor and a pleasant earthly atmosphere that makes you feel dumbfounded. You can come here with your family or friends. They offer delicious cuisines like North Indian, Mughlai and Afghani cuisines which are chefs special recipes. Don't forget to try their Sea Food Platter and Paneer Tikka, it's just exceptional. If you ask us, Gufa restaurant is a perfect place to experience a lavish meal with someone special.
Additionally, the restaurant also has a full bar which comes with effective service.
Open on all days: 12–4 pm 7–11 pm
Address: 79/8, Diagonal Road, Jayanagar East, Jaya Nagar 1st Block, Jayanagar, Bengaluru, Karnataka 560001
#3 Yelaneer Adda
Tired of the sun gazing you thought the day? Get yourself some cool and refreshing coconut drink and ice cream in all-new Yelaneer Adda in Jayanagar. All items here are made with coconut water and pulp. The desserts to watch out for are: Yelneer halwa with ice cream, dry fruits shake, Tender coco oreo, tender coco mint cooler, and tender coco pulp. So what are you waiting for? Head to the place to satisfy your food craving.
#4 Empire Restaurant
This popular easygoing dining restaurant offers a broad range of delectable multi-cuisine food. For people who are fond of having a late-night dinner then this is just the place. Known to be a pocket-friendly outlet, offers delightful Ghee Rice and spicy chicken which is certainly a feast to have.
If you are planning to have lunch here then you should try their thalis: Non-veg thali, Fish Thali, Veg Thali, and Mini Thali.
Open on all days: 11 am–1 am
Address: No. 4, Old No. 464, 21st Main Road, 3rd Block Opposite NMKRV College, Jayanagar, Bengaluru, Karnataka 560011
#5 Laser Tag
This weekend, try to skip the same old clubs and bars, instead, jump into an engaging game of laser tag. Their activities offer you a lot of fun, laughter, entertainment, and celebration. So, what is stopping you? buckle up and set your self for an exhilarating activity filled with excitement and adventure.
Timings: 11:00 AM to 09:00 PM
Address: 2nd floor, HM Zeta, 11 Th Main, Sri Aurobindo Marg, 4th Block, Jayanagar
#6 Books Bonanza
The books that you can find here are fiction, non-fiction, children's literature, dictionaries, self-help books, journals, biography, cultural books, novels and many more. It is up to you to find a perfect book as you can snoop around freely.
Interestingly, the books here are marketed by weight and individual prices. So if you are looking for filling up your library then this is just the place. The prices here start at Rs 200 per kilo, while novels and fiction are priced between Rs 80 and Rs 300 apiece.
Opens on all days. 10:30am–8:30pm
Address: 46, 3rd Cross Rd, Ward Number 153, 1st Block, Someshwara Nagar, Jayanagar, Bengaluru, Karnataka 560011
#7 Taaza Thindi
Are you crazy for a South Indian delight? This restaurant in Jayanagar brings you a fine option with a budget-friendly South Indian menu. This place, however, is a small food outlet that serves regular but popular South Indian meals alongside quick bites that are also at very low price.
With the likes of Chowchow bath, Kharabath and Kesari bath, you can just fall in love with it and make you feel like coming again. One thing that can bother is that there's no place to sit, you can come here for a quick meal while advancing to your workplace.
Open on all days: 7am–12pm 4:30–9:30pm
Address: 1004, 26th Main Rd, 4th T Block East, Jayanagara 9th Block, Jayanagar, Bengaluru, Karnataka 560041
#8 Avon Bar And Kitchen
Avon bar & kitchen is a famous bar and restaurant that serves a variety of delicious preparations at a reasonable price. Its unique presentation and quality food draw in endless crowds.
If you need an opinion go for Fried Rice, Hot & Sour Soup, Manchurian and Tandoori Chicken, they are simply lip-smacking. Coming to the drinks, if you are planning to come all with your friends you will have the exact vibe that you fancied.
Open on all days: 10 am–12:30 am
Address: 5, 2, Hosur Rd, Chikku Lakshmaiah Layout, Adugodi, Bengaluru, Karnataka 56002
#9 Ranadheera Kanteerava Park
Ranadheera Kanteerava Park, which is located in Jayanagar, is one of the most attractive and well-maintained parks in the city. It has several notable sculptures of ancient rulers and kings. Adding to that, the park also has notes of the poetry of various famous Kannada poets. Righ adjacent to the park there is an open gym available for both men and women.
Open on all days: 5–9 am, 4–7 pm
Address: Rashtriya Vidyalaya Rd, Jayanagar, Bengaluru, Karnataka 560041
#10 Go bowling at Amoeba
Perfect place to hang out with friends if you are up for a bowling challenge. It will cost Rs 200 per person. For the parents, it is an ideal place for your kids as they can enjoy a variety of games here. They have a wide variety of games for the entire family like bowling, gift games, video games, kids rides and air speeders etc.
Open on all days: 11 am–9:30 pm
Address: 18, 22nd Cross Rd, Jayanagar East, Jaya Nagar 1st Block, Byrasandra, Jayanagar, Bengaluru, Karnataka 560011
#11 Esc Gaming Cafe
Gamers who want to prefer to play at a nearby place in Jayanagar then head to ESC gaming cafe. This cafe provides every gamer with a good gaming experience as all PC are gaming configuration. So what are you waiting for?
Open all days: 10:30 am–9 pm
Address: #35/29, 3rd floor, 11th Main Rd, 5th Block, Jayanagar, Bengaluru, Karnataka 560041
#12 Hari Super Sandwich Jayanagar 
This place is a popular station for youngster and families. This place serves the state of the art veg sandwiches with a desi mix. Here sandwiches come in 14 different kinds, all of them clothed with lots of butter and cheese slice. Once grilled, the sandwiches are cut into six bite-size portions. Don't forget to try their famous Chocolate Sandwich, where a whole chocolate bar is placed between bread with an Amul slice. Yummy!
Open on all day: 10:30am–10pm
Address: 121/A, 8th Main Road, Jayanagar, 3rd Block, Bengaluru, Karnataka 560011
#13 Hogey
All the ice cream fans, tell you what, this Ice cream parlour is a heavenly place with mouth-watering ice cream flavour.
Their menu includes Vanilla Nut Sundae, Madonna Sundae, Hogey Special, Traffic Jam, Racco Baracco Special and many more.
They also serve fresh fruit juices, sandwiches, lassi, sodas, and their trademark ice cream is- Dragon's Breath, which is an exceptional way to have enjoyment with desserts.
Opens all day: 7:30am-4pm 7pm-10pm
Address: South End 'C' Road, Ragigudda Temple Road, 9Th Block, Jayanagar, Bangalore
#14 Subz
Are you looking for a luxurious buffet at really affordable prices, then this place is just for you. This place is particularly famous for its all-you-can-eat menu and amazing variety including dishes such as Dal Makhani and Veg Money Bags. The dim lights here makes the meal even more special.
Open on all days: 12–3:30 pm, 7–11 pm
Address: Cosmopolitan Club, Ground Floor, 22nd Cross Rd, Jayanagar East, Jayanagar, Bengaluru, Karnataka 560011
#15 The Lassi Park Jayanagar
This place is easily approachable to people of all age types. The menu here is categorized into Regular Flavours, Special Flavours which further consists of Sweet Lassi, Fruit and cream Lassi, Pudina Lassi, Jeera Lassi, Pineapple Lassi, Mango Lassi, Strawberry Lassi, Royal Lassi, Chocolate Lassi and the list goes on.
Open all days: 11:30 am–12 am
Address: Jayanagar East, Jaya Nagar 1st Block, Jayanagar, Bengaluru, Karnataka 560041
#16 Upahara Darshini
We have another restaurant on the list that serves lip-smacking South Indian dishes. Upahara Darshini is well known for its famous Masala Dosas, Rava Dosas and Veg Meals, which are prepared with a large serving of butter. Here they also serve a variety of Chinese and North Indian items.
Open on all days: 7:30 am–10:30 pm
Address: 3rd block, 22 & 26, 22nd Main Rd, Opp. Corporation Bank, Jayanagar East, Jaya Nagar 1st Block, Jaya Nagar East, J. P. Nagar, Bengaluru, Karnataka 560011
#17 Chutney Chang Jayanagar 
This place is well known for serving genuine and distinctive Chinese and North Indian delights with a premium buffet system. In Chutney Chang they have a chaat station, a grill point, the main course point which has treats from Punjab to Sikkim, and a dessert stall to complete the menu. Interestingly, there is also a bowling lane to lift one's appetite or have fun with friends.
Open on all days: 12–3:30 pm, 7–11:30 pm
Address: Cosmopolitan Club, 22nd Cross Rd, Jayanagar East, Jaya Nagar 1st Block, Byrasandra, Jayanagar, Bengaluru, Karnataka 560011
If you find this article helpful please share it with your friends and loved ones. If you have any suggestions please let us know in the comment section.