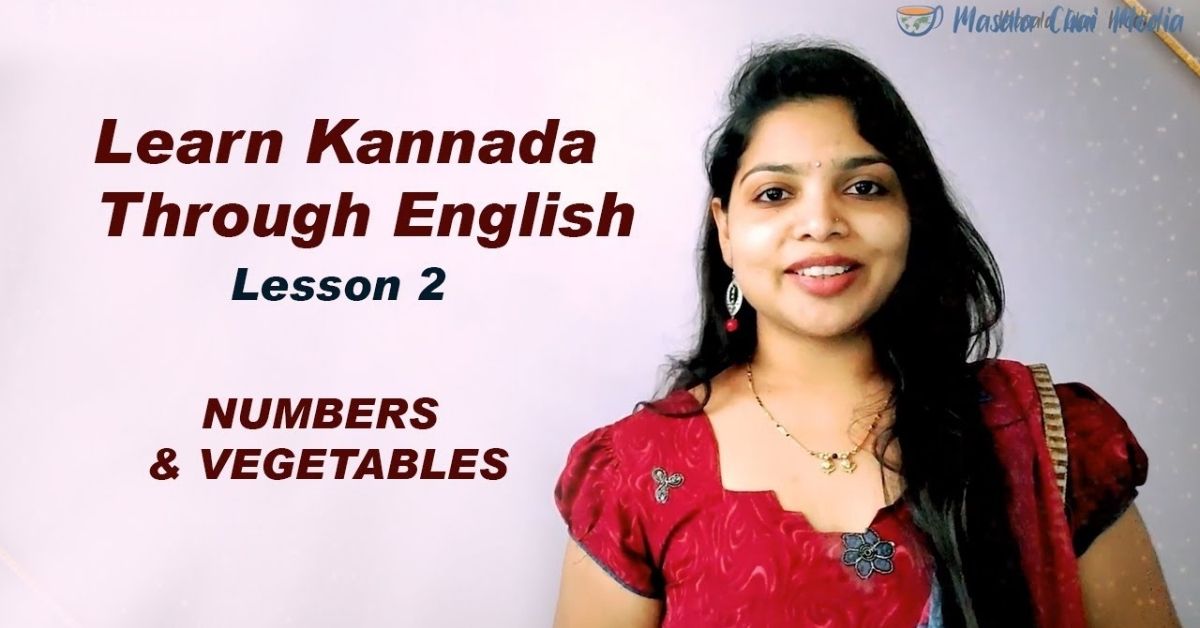 Welcome to another episode of learn Kannada through English. In today's Spoken Kannada lesson we will discuss more about 'numbers' and 'vegetables'.
Learn Kannada Online
Masala Chai Media gives you this right opportunity to Learn Kannada Online. We are starting Spoken Kannada Classes where you can learn the Kannada Language through English. If you have missed Lesson 1′, then follow the link.
Here, watch the full video of the second lesson of learn Kannada through English:
Numbers
| | |
| --- | --- |
| Number in English | Pronunciation |
| 0 | sonne |
| 1 | ondu |
| 2 | Eradu |
| 3 | mooru |
| 4 | nalku |
| 5 | aidu |
| 6 | aaru |
| 7 | elu |
| 8 | entu |
| 9 | ombattu |
| 10 | hattu |
Vegetables
| | |
| --- | --- |
| English | Kannada Transliteration |
| Vegetable | Tarakari |
| Beans /Green Beans | Hurali kaayi |
| Bitter gourd | Haagala kaayi |
| Bottle gourd | Sore kaaye |
| Brinjal | Badane kaayi |
| Cabbage | Yele kosu |
| Capsicum | Donne Menasina kaayi / Dappa Menasina kaayi |
| Carrot | Gajjari |
| Cauliflower | Hoo kosu |
| Chow-chow | Seemebadne |
| Coriander leaves | Kotthambari Soppu |
| Cucumber | Southe kaayi |
| Curry leaves | Karibevu |
| Flat Beans | Gorikai |
| Garlic | Belulli |
| Knol-Khol | GeDDee kosu |
| Ginger | Shunti |
| Green chilli | Hasiru menasina kaayi |
| Greens | Soppu |
| Lady's finger / Okra | Bende kaayi |
| Lemon | Nimbe hannu |
| Onion | Eerulli, Ullagadde |
| Peas | Batani |
| Potato | Aaloo gadde |
| Radish | Moolangi Mulli |
Our next lesson will be on 'numbers' and 'vegetables'. Please follow the link for Learn Kannada through English Lesson 3