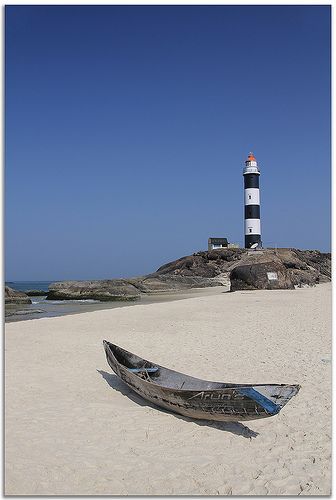 Kapu Light House – If you have ever visited the sea shores, you would have seen these tall tower-style lighthouses. Let's know some information about these lighthouses. Lighthouses are of great convenience to seafarers. These light houses indicate where the sailors are. These lighthouses are usually found on seashores. Sometimes lighthouses are also built in dangerous places. This helps sailors to stay away from that place.
After the invention of electricity, electric lights are being used in these lighthouses, in ancient time firewood and kerosene lamps were used in lighthouses. Before lighthouses were invented, sea voyages were very difficult. Sailors used to lose their way in the middle of the passage, even at night the ships collided with dangerous rocks and accidents happened. Thus these lighthouses helped the mariners in many ways. It is remarkable that these lighthouses are functioning despite the recent use of GPS devices.
Kapu Beach Light House:
Kapu Lighthouse is a popular tourist destination located in the Udupi district of Karnataka, India. It is situated on a rocky promontory overlooking the Arabian Sea, and it offers breathtaking views of the coastline and the sea.
The Brits constructed the Kapu light house around the beginning of the 20th century, and it is still in use today. It has a height of 27 meters and a 24-nautical mile range. Tourists can go to the lighthouse's summit and take in the expansive views of the surroundings. A modest museum with exhibits on the history of the lighthouse and its technology is also located on the property.
Road access is available to the Kapu Light house, which is about 10 kilometers from Udupi. It is a well-known location for watching the sunset and a must-see attraction for everyone visiting Udupi or the neighborhood. So if you are looking for the Best tourist places in Udupi, Don't miss this Unique place. Kapu beach Lighthouse will surely make your day much more memorable.
Also Read about – 16 Must-Visit Places at Udupi For a Whole Lot of Fun
– Light House information in Kannada
To know more about Places, Foods, etc follow – Masala Chai Media 
Thank you
Which is the Famous Light house in Karnataka?
Kapu light house is the one of the famous light house in Karnataka. Kapu light house situated near kapu, Udupi District.
What is the Kapu light house location?
The Kapu beach house is located near Udupi. which is about 10 kilometers from Udupi.