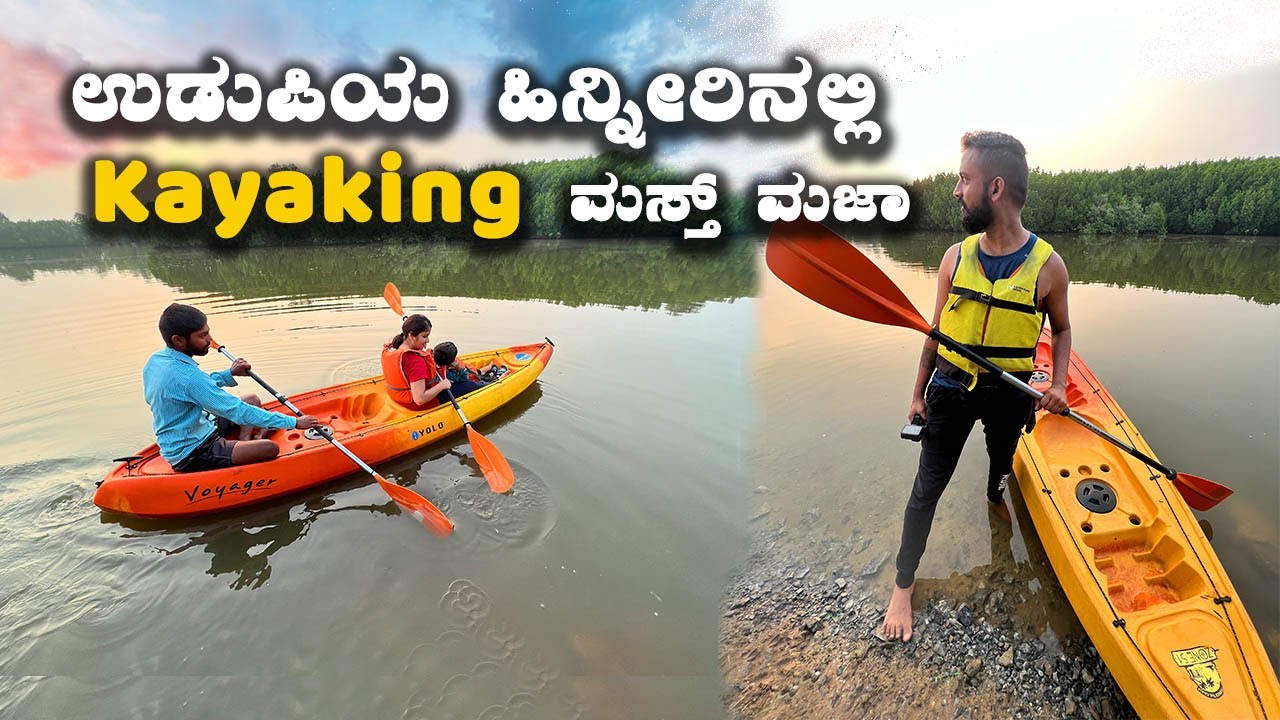 Udupi is a city in the Indian state of Karnataka known for its beaches, temples, and natural beauty. Get ready to explore the diverse landscapes of Udupi – from lush beaches and beautiful temples to natural parks and exciting cultural activities. Whether you're looking for a peaceful getaway or an adventure-filled weekend, there's something here for everyone. Here are the top 16 places to visit in Udupi that you must check out on your next trip!
Some popular Places at Udupi you must visit:
St. Mary's Island

Udupi Sri Krishna Temple

Toddy Point at Hoode Beach

Malpe Beach

Kaup Beach

Mattu Beach

Kudlu Theertha Falls

Arbi Waterfalls

Kayaking Zone

Kodi Beach

Koragajja Temple Udupi

Kola / Dhaivaaradhane

Manipal Museum of Anatomy & Pathology

Karkala

Kundapur

Kambala

Mitra Samaja for Breakfast
St. Mary's Island:
A group of four small islands located off the coast of Udupi, known for their scenic beauty and crystal-clear waters.
Udupi Sri Krishna Temple:
A famous Hindu temple dedicated to Lord Krishna and one of the seven Mukti Sthalas.

Toddy Point at Hoode Beach:
The toddy point at Hoode Beach is one of the famous tourist spots in the Udupi district. Here you will get Fresh Toddy (Neera) with the best quality seafood. If you want to taste Neera, you can drink neera with beautiful scenery on the beach here. Hoode Beach looks stunning at dusk, and a glass of Toddy or Neera with some mouthwatering fish fries will transport you to another planet. Unquestionably, this is among the best things to do in Udupi.
Malpe Beach:
A popular beach destination located near Udupi, known for its clean waters and beautiful sunsets.

Kaup Beach
Kaup Beach is one of Udupi's most popular attractions. This beach, with its stunning scenery, is a great place to spend the day relaxing, swimming, or even fishing. Visitors can take in some breathtaking views of the lighthouse and nearby hills. The beach also serves up some delicious seafood that you can enjoy overlooking the beach's mesmerizing sea view!
Mattu Beach:
Mattu Beach is a beautiful beach located in the Udupi district of Karnataka, India. It is a serene and secluded beach that is popular among locals and tourists alike. The beach is situated about 10 kilometers from Udupi and can be easily reached by road. Mattu beach is also famous for its unique view. Here one side is the beach and another side is the backwaters. It is a perfect view for Drone shoots. If you are in Udupi, don't miss this place.
Kudlu Theertha Falls
Kudlu Theertha Falls is located in Hebri near agumbe. It's situated in a lush green and dense forest. This place has been blessed with natural beauty and will leave you mesmerized as you visit it. Whether you're looking for some adventure or just want to relax, this place should definitely be on your list when you visit Udupi! The waterfall provides picturesque views and a serene atmosphere which makes it perfect for some soul-soothing activities like yoga or walking.
Arbi Waterfalls
Arbi Waterfalls is located near Manipal, just about 15 minutes journey from Udupi. We wanted to visit these waterfalls as we were Travelling around Udupi. This small waterfall is peaceful to visit and when we visited we couldn't see much water. Thick foliage & boulders surround this small waterfall, most powerful during & after monsoon rains.

Kayaking Zone
A new exciting water sports activity launched in Udupi backwaters "Kayaking". I recently visited Zone 51 Kodi point with family to experience kayaking on backwaters. It was an amazing feeling to float over the saltwater lake. There are varieties of Kayaking activities conducted here which is very friendly for families and kids. Short Kayaking (2-3km) and long (6-8km) kayaking is also available. The best time for Kayaking activity is either sunrise or sunset.
Kodi Beach
Kodi Beach is located on a small island near the Seetha River and is the perfect place for water sports lovers. At the beach, you will get to experience activities like jet skiing and kayaking in addition to a beautiful view. The best part of Kodi Beach is that it's less crowded than other beaches in the area so you can feel relaxed while enjoying its calming atmosphere. Apart from taking in some sun and fun at this beach, there are plenty of restaurants around and even some famous temples which makes it an ideal spot for exploring Udupi!
Koragajja Temple Udupi
Kola / Dhaivaaradhane
Dhaivaradhane or Bhuta Kola is a ritual performed in the different parts of Coastal Karnataka. The dance involves the priests, who are dressed in elaborate costumes and ornaments, performing a series of graceful and intricate movements to the accompaniment of devotional music. The dance is considered to be a form of worship and is performed as part of various religious ceremonies and festivals. The Dhaivaradhane is an important part of the cultural heritage of Udupi and attracts many visitors from all over the world. If you are lucky, you can witness this awesome experience.

Manipal Museum of Anatomy & Pathology
Anatomy & pathology museum featuring human & animal specimens including skeletons & diseased organs.
A nearby town is known for its educational institutions and natural beauty.
Karkala:
A nearby town is famous for its giant statue of Lord Gommateshwara, a Jain saint.
Kundapur:
A nearby town known for its beautiful beaches and backwaters.
Kambala
Kambala is a traditional sport that is popular in the coastal region of Karnataka, India. It involves buffaloes being raced along a muddy track, often through rice fields or paddy fields. The buffaloes are yoked to a plough and are driven by a pair of drivers, one at the front and one at the back, who steer and encourage the buffaloes to run as fast as possible. Kambala is typically held from November to March and is considered a celebration of the region's agrarian culture. The sport is steeped in tradition and is an important part of the cultural heritage of the area. Kambala events draw large crowds of spectators, who come to cheer on the buffaloes and their drivers. Despite facing some criticism and controversy in recent years over animal welfare concerns, Kambala remains a popular and beloved tradition in the region.
Mitra Samaja for Breakfast:
Mitra Samaja is a famous hotel in Udupi. The Mitra samaj is located near Udupi Sri Krishna Temple. They are serving quality foods for many years. The Golibaje or Mangalore baje, Masala dosa, Buns, and Bullet idli are the famous dishes available here. If you are searching for the best hotel for breakfast in Udupi, visit Mitra Samaja hotel.
These are just a few of the many beautiful places to visit in and around Udupi. 
Also, read – Kapu Light House Udupi 
Some of The Frequently Asked Questions on Udupi Travel Places

What are the places to visit near Udupi within 100 kms?
There are several Must Visit Places near Udupi within 100 Kms. Main Attractions are St Mary's Island, Malpe Beach, Sri Krishna Mutt, Malpe Fish Market, Arbi Waterfalls, Kayak Zone Etc.
What are the places to visit in udupi in 2 days?
For two days Udupi Trip you can consider visiting  St Mary's Island, Malpe Beach, Sri Krishna Mutt, Kodi Waterfalls, Kayak Zone Etc.
What are the best places to visit in Udupi for couples?
You can visit Arbi Waterfalls if you are looking for Privacy, St Mary's Islands and Kayak Zone can also be worth considering.
Which is the Best Hotel for breakfast in Udupi?
If you are looking for Best Hotel for Breakfast in Udupi, Visit Mitra samaja Hotel. This Hotel is located near Udupi Sri Krishna Temple.
Where will i get Best Toddy in Udupi?
In Udupi, you will get Best Toddy points in many places. The famous spots are Hoode beach Toddy point, and Mattu beach toddy point.