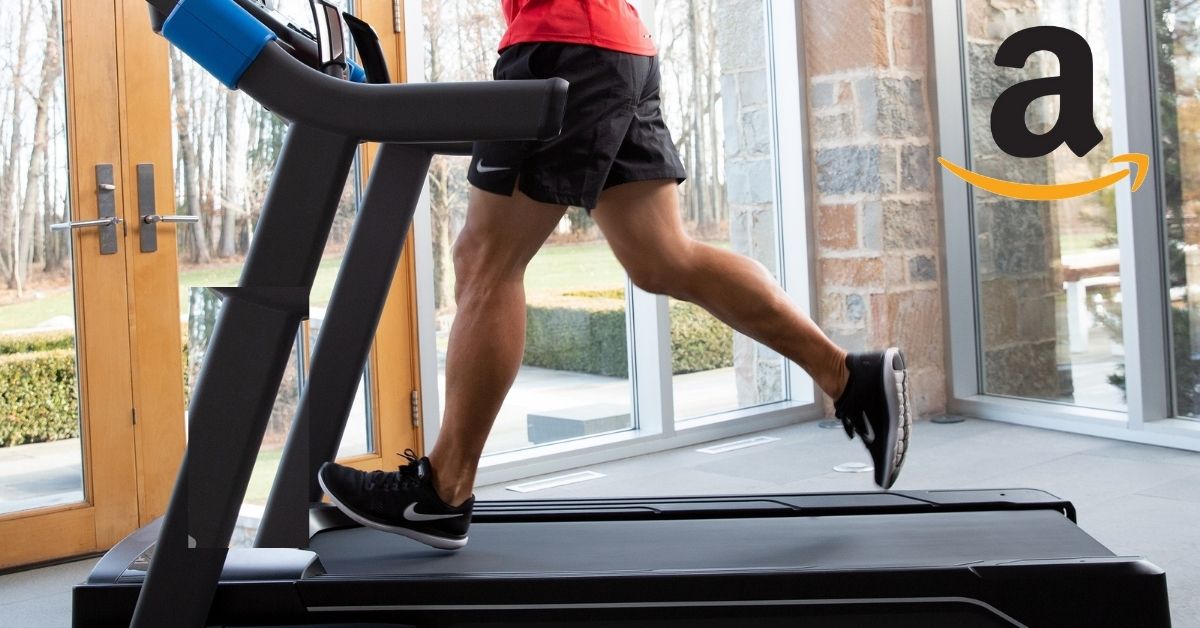 Looking for a treadmill for home? You have landed at the right place. As we stay home during this Covid situation, we need to stay fit as we miss hitting the gym or taking a jog along the park. To solve this problem, Treadmills are your go-to fitness machine. A well decked running machine that you can place in your home, this fitness equipment lets you jog, run or walk anytime as per your schedule.
In such a case, you must know which treadmill to purchase. We have prepared a list for you which will help you buy the best-suited machine for you. You can buy a treadmill online. (The treadmill price range from Rs 15,000 to Rs 25,000 category)
#1 MAXPRO 2HP treadmill for home
The MaxPro treadmill for home use comes with a 2.0 HP(4 HP Peak) DC motor that delivers power for interval, speed, or stamina training. It has a 3-Level manual approach for an intense workout. 
The 5″ Blue LCDs reveal hand pulse, time, speed, distance, and calories. It jas 1 to 14 km/hr speed levels; you can select different speeds based on your physical condition and exercise routine. This treadmill can hold up to 110kg of weight. 
It comes with 12 pre-set programs for efficient workout & an H1-H3 Program. It also has a heart rate calculator with built-in thumb sensors that help you monitor your heart rate throughout your workout This treadmill also has features like a mobile/ tablet holder, USB Port, MP3 Speakers for your comfort. The best thing is that it can be easily folded and has wheels for easy transportation. The treadmill price is Rs 25,750
back to menu ↑
#2 Cockatoo CTM-04 Series 
The Cockatoo treadmill for home is considered an ultimate tool for people who are desperately seeking options for becoming fit and healthy while staying at home.
It allows you a running surface of (LxB):1100 x 390 mm (43.3″ x 15.3″). It is equipped with motor horsepower with data 1.5 HP Continuous ( 2 HP Peak). It has 0.8 to 14 km/hr and can take max weight support up to 90 Kilograms. It is the best treadmill in India.
The monitor 5″ LED Screen display shows Time, Speed, Distance, Calorie, Pulse, Fat Measure to keep your health goals under the radar. The key features that exist in the treadmill- AUX input, Foldable & Moveable, Easy Installation. The treadmill cost is Rs 21,990
back to menu ↑
#3 Healthgenie 3911M 2.5 HP Peak Motorized Treadmill
The HealthGenie 3911M comes with a 90% installed model, and its tools and fittings are given for self-installation, which is relatively easy.  It is the best treadmill for home use in India.
It comes with a powerful and noiseless motor named 1.0 HP DC Motor (2.5 HP at Peak). This treadmill is best recommended for home use, and one can adjust the speed between 0.8 to 10 Km/Hr. It allows a running surface of (L x B): 1100mm x 395mm (43-inch x 15 inches).
Bearing up to 95kgs, it also includes quality speakers, enabling a good sound experience while running on the treadmill. Easily foldable to maximize space usage. 
The quality LED display shows Time, Distance, Speed, Calories burned, Heart Rate, 12 Pre-set programs, MP3 Speakers, Aux Port, and Aux Cable. It also comes with smooth wheels for easy transportation. The treadmill cost is Rs 16,399
back to menu ↑
#4 Fitkit FT98 carbon 1.25HP 
This Fitkit treadmill has a belt size of 47.24 X 16.53 with the motor type-DC-Motorized-horsepower data up to 1.25HP Continuous ( 2HP Peak). Speed ranging from 0.8-14km/hr and max weight support up to 90 Kilograms.
The bright LED shows speed, time, distance, calories burned. This machine is a basic model with basic features. 
The benefits of using the Fitkit treadmill are they are easy to use: it can help to track your workout progress, it also helps in losing weight faster than running out the door, allows you to choose pre-set workout programs, improves muscles and calves toning. The treadmill price is Rs 14,999
back to menu ↑
#5 Lifelong Fit Pro 2 HP Motorized
The Lifelong Fit pro 2 HP treadmill for home use is equipped with a powerful 2HP (Continuous) efficient DC Motor. It allows a maximum speed of 12km/hr for extensive workouts at home and can take a maximum user weight capacity of up to 100kg.
It also comes with eight rubber pads under the deck for shock absorption, and it can incline up to 2 levels near the running belt. It is the best treadmill in India.
It has extra space in the display pad, which consists heart rate sensor, bottle holder, and convenient phone/tablet holder. It also features an anti-skid rubber surface with a high-density belt for maximum comfort and safety. It allows a running belt surface of 6-layer 1000*380mm and gives lots of space to walk, run, or sprint comfortably. The treadmill price is Rs 13,499
Why buy

 treadmill

online? 
It is better to buy products online. We live in a society where most of us are too busy to go shopping. Hence, we do most of our shopping online from the ease of our home or office and get everything we need to deliver at our doorstep. You don't need to jump from one shop to another to find the desired product. When you shop online, you can find everything you need in one place. 
If you find this article helpful, please share it with your friends and loved ones. If you have any suggestions, please let us know in the comment section.