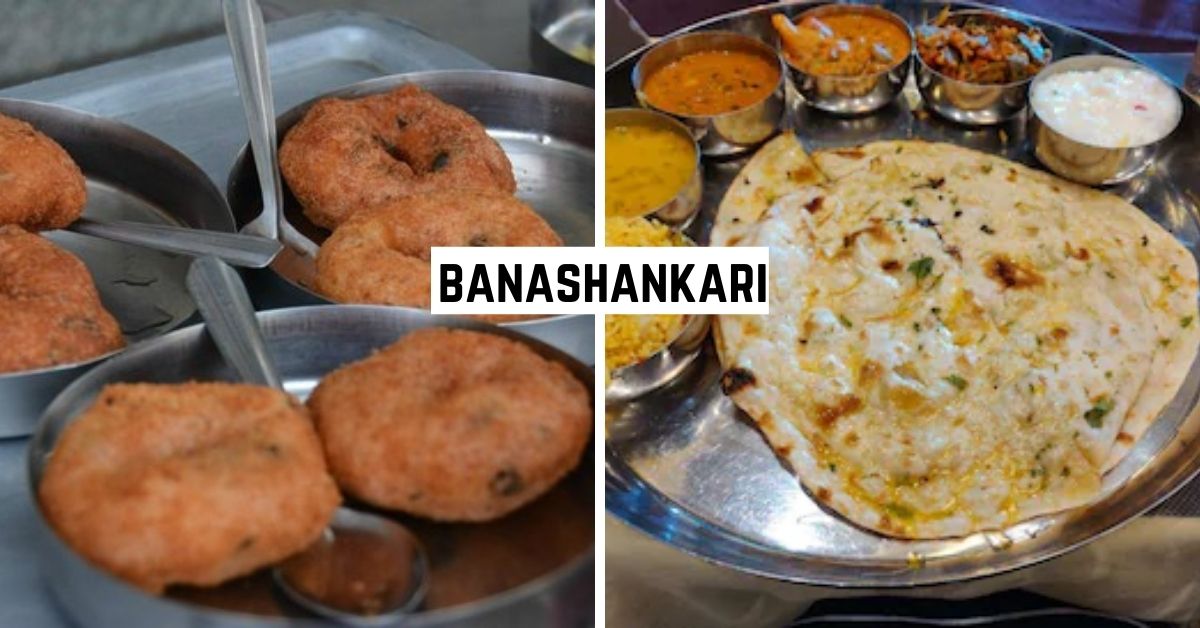 Banashankari in Bangalore is mainly popular for its cheerful atmosphere and different options to spend time with. From shopping markets, street foods, restaurants, cafes, and pubs there are a lot of places where people can make an interesting visit. In today's read, we bring you the list of places you should go while visiting Banashankari.
#1 Banashankari Temple
The area itself is named after this temple. It is indeed one of the most popular temples in the city where Goddess Banashankari is worshipped. Known as the oldest temples in Bangalore, people who are looking to have some peacetime can visit this place. This Devi temple is so potent that every energy here makes you fall in love in devotion.
Timings: 6am–1:30pm, 4:30–8:30pm
Address: Kanakapura Rd, Sarbandapalya, Banashankari Temple Ward, Bengaluru, Karnataka 560070
#2 Taaza Thindi
If you are looking for some lip-smacking South Indian breakfast at a very low price. This place serves you one of the best dishes that will make you fall in love with it. From their menu Khara Bhath, Kesaribath, Filtered Coffee, Masala Dosa, Vada are the go-to dishes.
Timings: 7am–12pm, 4–9:30pm
Address: 3rd phase, 115, Outer Ring Rd, 5th Block, Banashankari 3rd Stage, Banashankari, Bengaluru, Karnataka 560085
#3 Shopping at BDA Complex
For those who are looking for full-day shopping, BDA Complex is the place you would like to go. Just like a mini-Commercial Street, this place sells all kinds of stuff from dresses, adornments, handbags, and homeware to stationery. Meanwhile, in case your tummy screams after all your shopping, there's plenty of eateries around here too.
Address: BDA complex, Siddanna Layout
#4 Anna Kuteera
Anna Kuteera is a delight for vegetarians. This place serves some delicious bites from South Indian, North Indian, and Chinese cuisines. The best dishes to watch out for are Paneer Tikka, Jeera Rice, Fried Rice, Starters.
Timings: 7am–10:30pm
Address: Plot No. 21, Kathriguppe Main Road 3rd Phase, 4th Block, Phase 3, Banashankari, Bengaluru, Karnataka 560085
#5 1947 Restaurant
This place is popularly known for its ambiance and good food. You can enjoy a good time sitting on the top floor enjoying the view of the outside. The calming instrumental music will also help your mood while you experiencing authentic vegetarian North Indian dishes. Must-haves: Tarangi Paneer, Tikka, Subzi Lajawab, Butter Kulcha, Naan, Buffet, Roti, Soup, and Starters.
Timings: 12–3:30pm, 7–10:30pm
Address: Kathriguppe IV Phase, Gururaja Layout, Banashankari, Bengaluru, Karnataka 560070
#6 'Mysuru Mallige' KS Narasimhaswamy Park
Take a lovely morning walk or a peaceful meditation, the 'Mysuru Mallige' KS Narasimhaswamy Park, is the place to be. Covering a charmingly open area, the park has a long jogger's track, a kid's play area, and a vast area covered with flora.
Timings: 5:30am–10pm
Address: Water Tank Rd, 4th Block, Banashankari 3rd Stage, Banashankari, Bengaluru, Karnataka 560085
#7 JCubez
Get a drink with your friends with some classy music playing in the background and an open dance floor just in case you wanna show your awesome moves.
The ambiance here will cheer up your mood and can make you party here till the dawn. They have an extended menu for both food and drinks which will make sure that you have a wholesome time there and make it a night to remember. The treats that are offered here are Finger food, fast food, North Indian, Mangalorean.
Timings: 11 am–1 am
Address: 22nd Cross Road, Banashankari Stage II, Banashankari, Bengaluru, Karnataka 560070
#8 Sri Karya Siddhi Anjaneya Swamy temple
A believer of Lord Hanuman will never miss visiting this peaceful temple. Take a day off from your busy life head to this famous temple, you will surely come back again experiencing the positivity here.
Timings: 8am–12:30pm, 5:30–8pm
Address: 3rd C main Rd, 1st phase Girinagar, Kadavanthra, Banashankari, Bengaluru, Karnataka 560085
#9 Stoned Monkey
Delight yourself with a variety of icecreams in this place. Mr. Rocher, Minty Gum, Date the nuts, Chocomagic, Monday Blues are some icecreams you don't want to miss. The point of being popular amongst its regular customer is its reasonable price.
Timings: 12 pm–1 am
Address: No.419, 9th Main, 24th Cross, Banashankari 2nd Stage, Bengaluru, Karnataka 560070
#10 Brahmin Cafe
Surprise yourself with some delicious South Indian dishes in Brahmin Cafe. This outlet is very well-known for its friendly staff, mouth-watering dishes, and ambiance.
At a budget-friendly price, this place serves authentic Brahmin dishes. Khara bath, Vade Sambar, Benne Kalli Dose, Bonda Soup, Open Masala Dosa, and filter coffee are the best ones to watch out for.
Timings: 6:30am–12pm, 4–9pm
Address: No.6, 10th Main, opposite Banashankari stage 1 post office, Bangalore, 2nd Block, SBM Colony, Banashankari Stage I, Banashankari, Bengaluru, Karnataka 560050
# 11 Rajathadri Palace (3km)
This restaurant is popularly known for serving delicious Rajasthani and South Indian preparations. This casual dining restaurant opens up as early as 7 AM to serve you some of the best and hygienic breakfast. Interestingly, this place has both indoor and outdoor seating arrangements which will make it comfortable for the customer who wants to have a great time. If you ask us, we will suggest you try their Golden Fried Baby Corn and Chilli Paneer. Paneer Butter Masala, Manchow Soup, Vada, Starters.
Timings: 7 am–11 pm
Address: 103/1 & 103 2 Uttarahalli Main Road, Lake, opp. Uttarahalli, Uttarahalli Hobli, Bengaluru, Karnataka 560061
If you find this article helpful please share it with your friends and loved ones. If you have any suggestions please let us know in the comment section.