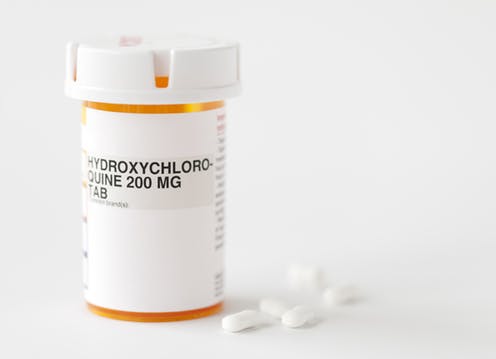 COVID -19 pandemic is raising incredibly all across the world and posing a greater challenge day by day to humans to fight against. A new untried comeback in this regard is that tweet by the American president, Donald Trump in late March.
This is What Donald Trump Tweeted On Hydroxychloroquine
HYDROXYCHLOROQUINE & AZITHROMYCIN, taken together, have a real chance to be one of the biggest game changers in the history of medicine. The FDA has moved mountains – Thank You! Hopefully they will BOTH (H works better with A, International Journal of Antimicrobial Agents)…..

— Donald J. Trump (@realDonaldTrump) March 21, 2020
"HYDROXYCHLOROQUINE & AZITHROMYCIN, taken together, have a real chance to be one of the biggest game-changers in the history of medicine"
Since then he has praised the morality of this cocktail, even as his medical expert advisers along with their team have sympathized with this matter. It is also so true that there is no proof that this combination is really effective.
Does hydroxychloroquine cure Covid19?  The very next dilemma is that is this right time to risk on this combination?
A little history of this HCQ reveals that it's a generic medication for malaria, lupus, and arthritis is cheap and widely available in simple pills. This works by deteriorating the multiplication of the virus. Thus theory proves better recovery for small, early and subsequently denounced trials. The combination of hydroxychloroquine-azithromycin appears to have helped many people recover from their early stages of diagnosed COVID-19 and this has helped by preventing them from most severe symptoms. Though the lab experiments have concluded that HCQ has some anti-viral effect on COVID-19, the response to the pandemic is anecdotal and further studies are required to prove them.
The story of evidence goes like this:
A total of 62 patients in China were treated for COVID-19 in the month of February and patients treated with HCQ were found fast recovery than the control group. 31 among them stopped coughing and had reduced fever earlier than 31 patients in the control group.  Another study made by France medical team also found the anecdotal evidence that this combination is effective by late March.  French team made a study on 42 patients where 26 of them were treated with HCQ and 16 of them in the control group. The study explained a startling 100% recovery rate among the patients treated with HCQ on the patients in the control group. Overall there seems to be a promising start for treating COVID-19 with least move forward along with more trials. On the conclusion side of this story is that everyone agrees more studies are essential and they will come soon is also the other part of the study which is happy to hear. For now, China and South Korea have already recommended doctors the use of drugs for this pandemic.
The medical team in France has been prescribing this HCQ. And many more doctors from the USA seem convincing about the hydroxychloroquine is at least worth trying. So it seems a lot of medical experts agree from the writing of Chinese from February stating considering that there is no better option, for now, it is simply a promising practice to apply HCQ to this pandemic under reasonable management.
What is HCQ being between India and the US?
Hydroxychloroquine is used to treat malaria, lupus and rheumatoid. US had no production of hydroxychloroquine simply because they don't encounter these diseases. This made the US seek this drug from India. The other side of scene was that 12 essential medicines were banned by Directorate General of Foreign Trade (DGFT) to export a month ago. The list of medicines is hydroxychloroquine, tinidazole, metronidazole, acyclovir, vitamin B1, vitamin B6, vitamin B12, progesterone, chloramphenicol, erythromycin, clindamycin and ornidazole.
The ministry of external affairs on 7th April 2020 came after USA president Donald Trump threatened retaliation if India refused to supply paracetamols and hydroxychloroquine in appropriate quantities. In this regard India had to withdraw the ban imposed on export of those 12 bulk drugs with immediate effect. India has agreed to supply all necessary drug materials to nations who have been particularly badly affected by COVID-19 and the ministry of an external affair has also thrown light on the intention of action not being politicized and India's action is always to maintain strong solidarity with an international community in the view of Pandemic. Explaining these concerns the ministry of external affairs also mentions that India's first obligation is to ensure that country has adequate stocks of medicines for the country's requirement of its own people.

All about HCQ producers:
Indian pharmaceutical companies are hiking the production of HCQ to about 40MT (million Tonnes) by the end of this month and five to six times approximating to about 70 MT by next month. Highest capacity production is likely to produce 35 crore tablets of 200 mg dose in a month's time. India itself is estimating requirements of 10 crore tablets for which the order is already placed with the leading manufacturing laboratories Zydus Cadila and Ipca laboratories. The cost of one tablet in India is approximated to be less than three Rs. per tablet. Industry experts estimate that 10 crore tablet is good enough to treat 7 crore people. The surplus, as decided will be exported to the countries including the USA which need them. The other laboratories into the manufacture of HCQ are Intas Pharmaceuticals, McW Healthcare of Indore, Macleods Pharmaceuticals, Cipla and Lupin.
It is also important to know that API (Active Pharmaceutical Ingredient) suppliers for this particular drug are Abbott India, Rusan Pharma, Mangalam Drugs, Unichem Remedies, Laurus Labs etc. These laboratories import raw materials and some intermediates from China or Italy or South Korea or Finland. The current situation is somehow forcing to import some intermediate materials required for the manufacturing of HCQ from China (sources tell).
HCQ is a ray of hope to fight against COVID-19 and further researches in the same line may help the medical team eradicate it completely. A novel vaccine to this novel virus is yet to be discovered till then home quarantine is the best and only prevention from COVID-19.
Also check out other Health Articles