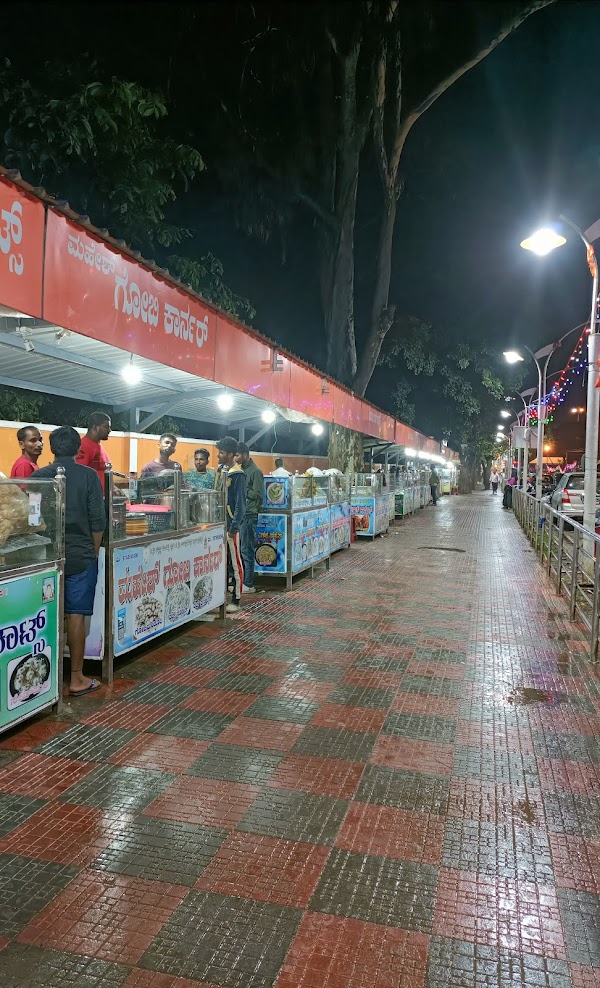 Hassan Food Street is an amazing destination for foodies, offering a wide range of mouth-watering dishes from local vendors. Enjoy the unique atmosphere and treat yourself to some truly authentic street food. There are many restaurants in Hassan but you will get a unique food experience here.
 Hassan food street:
This place is located in Salagame road, Hassan. In the Hassan Food Street around 70+ shops are there. Every shops are serving good and Hygienic food. They serve many types of foods like,  Idli, Dosa, rotti, chats, ice cream, juices, rice items etc. You will also get pure drinking water facility, parking facilities. There are many good things you can experience in Hassan food court.
We visited some shops in Hassan food court. Watch the full video to know more…
Visit the various vendors and explore their menus:
One of the best things about Food street Hassan is that you can explore the various vendors and their menus. From vegan to spicy curries, the choice is endless – you may even find a dish you've never heard of before! Be sure to ask one of the friendly staff at Food Court Hassan for advice on which vendors offer dishes that you'll surely enjoy.
Sample a variety of local delicacies for a truly unique experience:
Whether you're a fan of spicy curries, vegetarian delicacies or sweet treats, this place has something for everyone. Sample the different flavors from local vendors and enjoy a truly unique culinary experience. Plus, you can be sure that the ingredients used to make these dishes have been locally sourced so you know you're getting an authentic taste.
Ask the vendors questions about how they prepare their dishes and the ingredients used in their recipes:
Get to know the local vendors and learn more about the art of cooking from them. Ask them questions about how they prepare their dishes and what kind of ingredients they use in their recipes. You can even ask for specific recommendations or if there are any modifications you can make if you're not feeling adventurous enough to try something new. Hearing their stories first-hand will make your experience much more meaningful!
Enjoy Eating Outdoors at Food Court Hassan's courtyard seating area:
The best way to experience Food Hassan food street is outdoors in their courtyard seating area. Get the chance to feel the warmth of the sun and enjoy flavorful dishes from the local vendors in the atmosphere of the surrounding greenery. The atmosphere is perfect for casual hangouts with family or friends, as you get to have a private little corner to yourselves while indulging in all that delicious street food!
Try dishes you might never have tasted before in order to discover new flavours and unique combinations of ingredients:
One of the best parts about Food Street Hassan is that it gives you a chance to try some of the most unusual dishes and snacks from the local vendors. The vendors offer traditional and unexpected recipes, so you can get a taste of something truly unique. Experiment with new tastes by trying different dishes in small portions, so you can discover even more unexplored flavors!
If you are passing near by Hassan, don't miss this place. To know more about Foods, places and more visit our page – Masala Chai Media