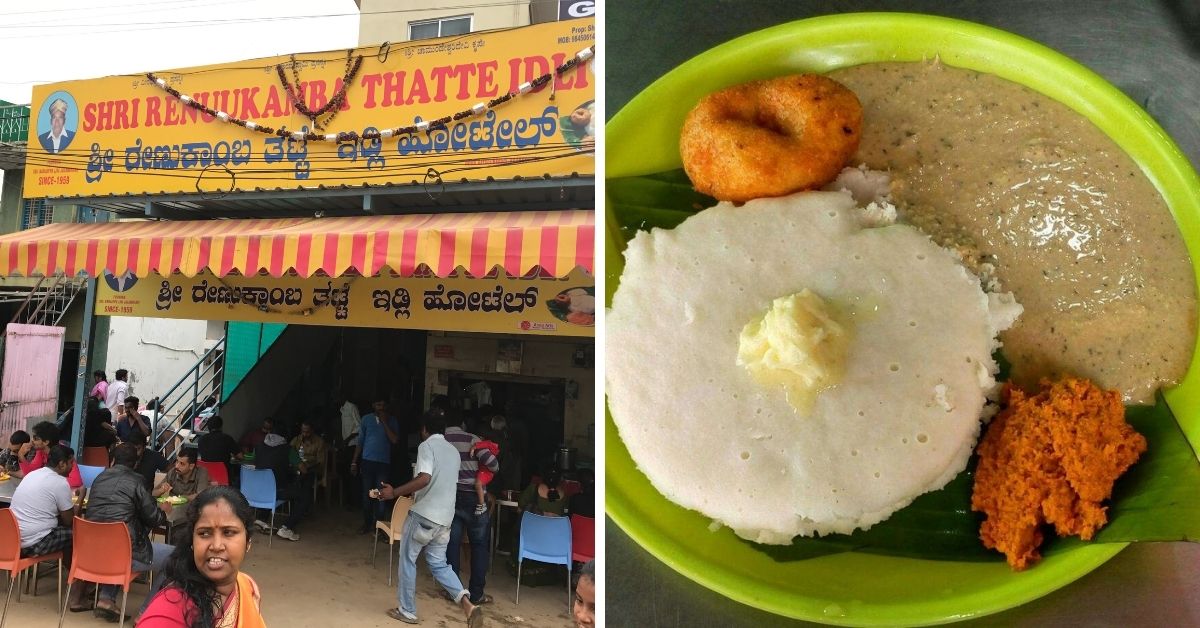 Planning an early morning bike ride from Bangalore to Mysore? You will certainly be looking for a place to have breakfast during the journey. Hold your breaks, park your bike, and feast on some fluffy thatte idlis at Sree Renukambha Thatte idli in Bidadi.
Famous Thatte Idlis of Bidadi
Order a plate of fluffy idlis alongside a lightly spiced thick coconut chutney and a vegetable sambar topped with butter. It is the best way to have breakfast while traveling.
We all have come across the usual Idlis which is normally served with chutney and sambar. However, Bidadi, a town on the outskirts of Bangalore, takes this dish to a next level.
Bidadi lies 34 kilometers from Bangalore on NH 275. As you ride towards Mysore, you will come across several tiny restaurants and thatte idli stand on the roadside in Bidadi. Every joint here declare themselves as the best idli selling outlet. But it's a trap. The only way to spot the one and only Bidadi Thatte Idli restaurant for the flat idli is to watch for those that are mostly packed with customers.
What is Thatte Idli?
Thatte usually means 'plate' in Kannada. The dish was named such because of its peculiar shape. Unlike its smaller version, the thatte idli is flat, somewhat thinner, and larger in size. One thatte idli is equivalent to two regular fat idlis. The price of the Thatte idli is usually higher than the normal one because of the size. There is also one more version of the dish which is called as Brahmins' Thatte Idli.
A single plate won't be able to satisfy your hunger pangs. You should go for two or more. Or try to match it with vada and you have a perfect feast on your plate. Lemon rice is another dish that is served here, alongside Masala Dosa, Plain Dosa, and Kesri bath.
The price of two thatte idlis alongside one vada is priced at Rs 50 while a single thatte idli costs INR 20. Price of lemon Price is 30 whereas Masala dosa and Plain Dosa can cost you Rs 50. Meanwhile, Vada, tea, and coffee are priced at INR 10.
The place opens at 5.30 am early morning, it continues to serve thatte idlis all day long till 11.30 pm.
If you find this article helpful please share it with your friends and loved ones. If you have any suggestions please let us know in the comment section.