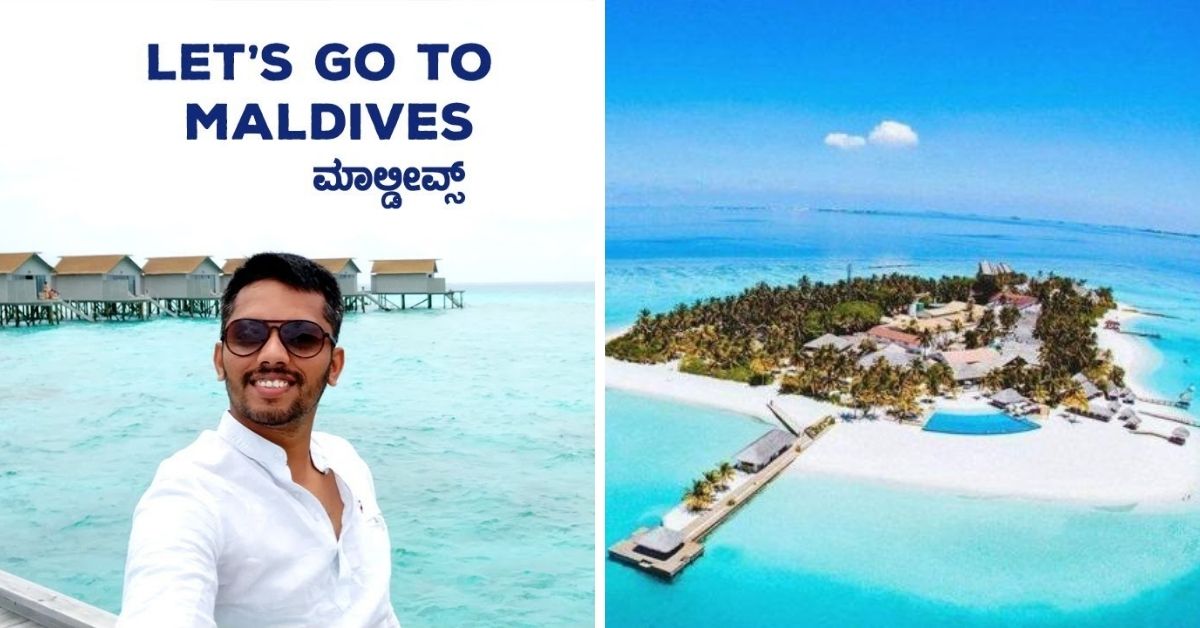 Are you looking for a low budget Maldives trip? Well, you are at the right place. If someone asks me about my dream holiday destinations. I would definitely say the Maldives. I hope you are also a person who agrees with me on that. And why won't it be? The amazing white sand beaches with clean and crystal water- appeals to any human being on this planet. And if you are a couple, the romantic vibe will make your trip memorable.
The only thing we do bother about a Maldives trip is 'Budget'. When you imagine the Maldives, you might think of relaxing outside an over-water bungalow, looking at the beaches, with staff serving you elegant wines. It's a dreamy luxury. But when we look down at our pockets you know how that feels.
Resorts cost thousand of rupees a night and some don't even have food. The restaurants and some fancy activities here can burn your pocket within seconds. Surely, the Maldives will be a breathtaking trip but at what cost. When we try to look into the expenses that could occur during the trip, the first thing that will strike your head is, "I cannot afford that."
But wait a minute.
What if I told you that you can travel economically to the Maldives without having to stay in high-priced resorts or eating expensive food?
Well, here are some tips that would help you plan a low budget Maldives trip.
How to Save on Flights to the Maldives
From even the most extensive airports in India, flights to the Maldives' main airport in Malé can cost around 18,000 ₹. However, if you book flights via Bangalore it could cost you around 6,600 ₹. As of now, the prices are higher, but in normal situations going from Cochin could cost cheaper (5,000 ₹). Note: Prices are subject to change depending on the situation.
Upon arrival to Malé from the airport, get a taxi to the main ferry station to access the other islands, costing you around 350₹.
After reaching the beloved place the next task is to decide on where to stay.
How to Find Affordable Maldives Hotels?
The dream overwater bungalows come with more than just a view. These bungalows will rip your pockets with a heavy price tag. But if you don't want to lose 50,000 ₹ a night or more on paradise, there are also budget-friendly options to be observed that are just as fair.
As most of the islands in the Maldives are privately owned islands, but several islands are local, and those local islands offer guesthouses for a reasonable price. These guesthouses can cost around 3,600 ₹ to 8,750 ₹ a night, which, reasonable as compared to 50,000 ₹ a night for an overwater bungalow.
Consider going on islands like Maafushi, Fulidhoo, and Guraidhoo that offer low-cost guesthouses. In these places, you'll find charming beaches.
However, it is also best advised to visit the Maldives in an off-season (May-August) to have a much cheaper guest house. Let's say it could be around 2,000 -4,000 ₹ a night. Additionally, you will have a clean, modern, and spacious room with air conditioning, a hot shower, free breakfasts, snorkeling gear, a bottle of water each day, twice daily room cleaning, and fast Wi-Fi. What else one can desire?
But mind you, unlike a resort, you won't be able to entertain yourself with alcohol in this Muslim country.
It is advised to book hotels before visiting the Maldives.
How to go low on food?
In common, small islands don't have a lot of restaurants, so you'll find most guesthouses cooking meals at their regular rate.
One can find chicken fried rice, curry, rice, or a fish grill for just 300 ₹. There are plenty of food options that you may try for variations.
Dining prices
• Sandwiches 72 ₹
• Burgers 200 ₹
• Cocktails 250 ₹
• Tea 72 ₹
• Juices 140 ₹
• Buns Donuts 60 ₹
• Ice Cream 65 ₹
• Popcorn 50 ₹
International cuisine
• Pizza 600 ₹
• Pasta 360 ₹
• Seafood 510 ₹
• Green salad 300 ₹
• Banana Pancake 550 ₹
• Chicken cream soup 210 ₹
• Fruit plate 200 ₹
Lunch and dinner consisted mainly of fish, curries, rice, etc.
But in case, your guesthouse doesn't provide meals, local restaurants are very expensive to go for. As they are very small in number (restaurants), a whole day meal can cost you around 21,000 ₹ if you want to fancy yourself with luxury cuisines.
However, you can try the local Maldivian cuisine which is quite reasonable and pocket-friendly.
Meanwhile, Coffee houses on the island serve coffee from early morning until late at night for around 130 ₹. They also offer snacks, sandwiches, and noodles for 300 ₹ to 500 ₹.
And for the vegetarians. It is surely going to be a good quest for you in the Maldives.
Alcohol: Once again, alcohol is banned for the local population in the Maldives, but nearly all resorts and liveaboard boats are allowed to serve alcohol.
Note: Bring US Dollars. ATMs are very few in places, and only U.S. dollars and Maldivian Rufiyaa are in interest in the Maldives.
Next thing is to decide What to do
Cheap Excursions
If you ask us, the cheapest way to go on an excursion is to book it through your guesthouse. But, if your guesthouse doesn't give these tours, ask the local resorts what they could provide. Some resorts or guesthouses are willing to let you join their excursions even though you're not staying with them.
Remember it is best advised to wander into four or five guesthouses and query for their prices before you make a decision. Additionally, see what's covered in the price as some guesthouses may offer lunch, water, and a soft drink.
Some excursion includes fishing on a local fisherman's boat for 1,500 ₹, to visit a nearby lonely island (3600 ₹). You can also have a private tour guide each day, who will advise you based on your budget.
One more option for excursions includes lots of snorkeling tours. If you're fortunate to be visiting during whale shark season, you'll be able to arrange a trip to swim with them. Sound scary but this is fun.
It will cost you around 3,700 ₹ per person for a half-day snorkeling trip. You can enjoy the beauty of thousands of tropical fishes, and even delightful sea turtles swimming alongside.
Scuba Diving and Snorkeling
Scuba diving is a must-try activity. This is where you can get in touch with nature. However, it could be expensive, say 5,300₹.
If your budget is at check, skip the diving and get on a snorkeling trip. The Maldives can allow you a glimpse of sharks, rays, turtles, and coral.
With all this, it is best advised to all travelers to do their research online and opt for what suits them.
Do's
• It is advised to carry light clothes, as the weather is hot, and remains constant throughout the day.
• It is best to carry your own snorkeling gear, a waterproof camera, to capture amazing memories.
• Carry US Dollar currency notes. Only Dollars are accepted everywhere.
• Carry enough swimwear. The Maldives is the best place on earth to boast them. But make sure you stay away from the towns and cities as it's a Muslim country and they hate such practice.
• Carry only a single pair of slippers or flip-flops.
Don'ts
• Don't engage in watersports or other activities very early. It is best to do research.
• Don't dirty the place. The place here is maintained well and cleanliness will keep marine life safe.
• Picking corals are strictly prohibited.
• Alcohol at most places is prohibited. Only some resorts have a license.
With all the above-given points. The total cost for a person per day will be 6,900 ₹ in the Maldives excluding flight cost. If the flight cost is included with both coming to the Maldives from India or visa versa. It will cost a person 21,000 ₹ for a one-day trip. Isn't it wonderful? So what are you waiting for? Book your ticket. Pack your bags and fly the Maldives.
If you find this article helpful, please share it with your friends and loved ones. If you have any suggestions, please let us know in the comment section.